DPS trooper injured following Phoenix shooting, 2 suspects arrested
PHOENIX - Two suspects have been identified and arrested after an Arizona trooper was shot on Thursday.
The incident, according to Phoenix Police, happened in an area near Loop 101 and 19th Avenue. Phoenix Police officers were called to the scene at around 12:40 p.m. to back up a DPS trooper.
"Details on the call indicated that the DPS Trooper was involved in a shooting and had suffered at least one gunshot wound," read a portion of police's statement.
DPS officials said the trooper who was taken to the hospital and is in stable condition. On May 26, DPS officials said the trooper was shot several times, but is in good spirits. The trooper is also expected to fully recover from the injuries sustained.
The suspect, identified by police as 34-year-old Howard Lamar Johnson, was later tracked to an apartment complex in the area of 67th Avenue and Olive. 
"After a short barricade, the man was taken into custody.  The man was transported to a local hospital to be treated for injuries he suffered in the original incident with the DPS Trooper," read a portion of the police statement.
Johnson was arrested and booked on multiple charges, including aggravated assault.
Another woman, 27-year-old Sonia Hernandez was also arrested for allegedly helping Johnson after the shooting happened.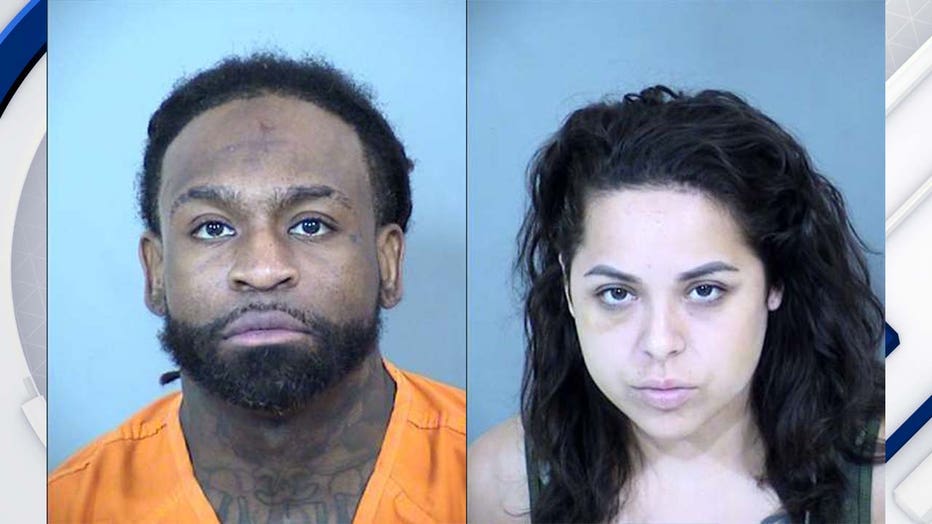 Howard Lamar Johnson, Sonia Hernandez
It's still unknown what caused the shooting, and few details have been released about what happened after the gunfire.
Witnesses describe scene
As the investigation continues, we spoke with a witness who saw the incident unfold.
According to the woman, she was driving home from Chandler when she saw an officer chasing a man down the sidewalk. She said he ran in front of traffic, and eventually, the two ended up in the gravel.
That's when she saw guns drawn, and later heard several pops. The man being chased later got up, hopped into a white car that was driving by, and then took off.
"I'm calming down now. It hit me immediately. I didn't know if there were enough other witnesses, but either way, I pulled off. I'm shaking," said Jennifer Isch.
Another witness said he was inside an office building when it all unfolded, and that gunfire hit his building, and broke through a window.
"I heard the pop of the glass, and that was it," said Michael Gonzalez. "And then right after that, my security guard told me there was a bunch of police here, and they were taking a gentleman away."
Where the incident happened: