Super Bowl LVII: Eagles quarterback Jalen Hurts' dad reacts, coached son at Channelview High School
HOUSTON - For the first time, both starting quarterbacks in the Super Bowl are from Texas, and one is from right here in the Houston area.
Jalen Hurts of the Philadelphia Eagles graduated from Channelview High School in 2016.
MORE: Both Super Bowl LVII quarterbacks are from Texas
The Eagles quarterback's dad, Averion Hurts, is still the head football coach in Channelview. He shared his reaction to his son's team reaching the Super Bowl.
"I was happy and proud for him and his teammates," Averion says. "I understand the hard work that they put in. And so it's just great for them to have the opportunity to continue, and wish them the best next week."
MORE: Hurts, Mahomes to be first Black quarterbacks to face off in historic Super Bowl matchup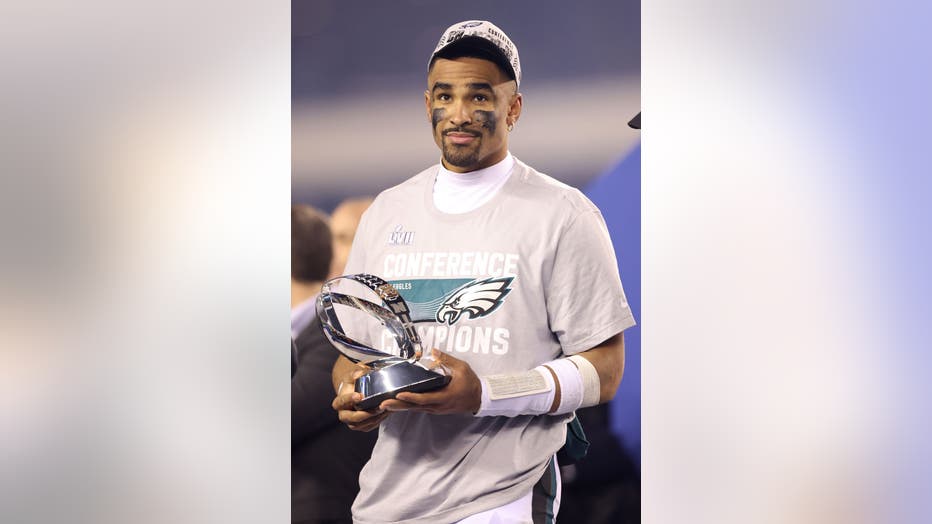 PHILADELPHIA, PENNSYLVANIA - JANUARY 29: Jalen Hurts #1 of the Philadelphia Eagles holds the George Halas Trophy after defeating the San Francisco 49ers to win the NFC Championship Game at Lincoln Financial Field on January 29, 2023 in Philadelphia,
The game will also be historic for another reason. It is the first time two Black quarterbacks will face off in a Super Bowl. Jalen's dad calls it "a humbling experience".
"It's a historic moment. And to have your child, you know, playing a Super Bowl, but be paired against another Black quarterback who is also from Texas is a great deal. For, you know, all young kids to be able to see and have an opportunity to aspire," Averion says.
FROM 2015: Channelview's Jalen Hurts wins Greater Houston Honda Player of the Year
Averion coached the Channelview High School football team when they made it to the playoffs Jalen's senior year. Averion says Jalen was "a heck of a quarterback."
"He was a great player, great student-athlete, so just fortunate to have him play for us here, and just humbling that he happened to be my son," Averion says.
As the family prepares to watch Jalen in the Super Bowl, Averion says they will "take one day at a time and try to enjoy every moment."