3 dead in wrong-way crash on Loop 101 at Camelback Road in Glendale
GLENDALE, Ariz. - The Loop 101 Agua Fria northbound was closed at Camelback Road following a deadly wrong-way crash early Sunday morning, the Department of Public Safety (DPS) said.
The crash happened at 2:30 a.m. on May 2 after a Nissan Altima driven by Caleb Bencomo, 23, of Phoenix, was reported traveling the wrong-way from Maryland Avenue southbound in the northbound lanes. The car later collided head-on with a Dodge sedan in the HOV lane.
"After impact, the Altima rolled over and came to a final rest blocking the HOV and #1 lane. The driver of the Altima was ejected and pronounced deceased on scene. Following impact, the Dodge sedan struck a Nissan Xterra and rolled over. The Dodge sedan came to an uncontrolled final rest blocking the #1 lane," explained DPS' Bart Graves.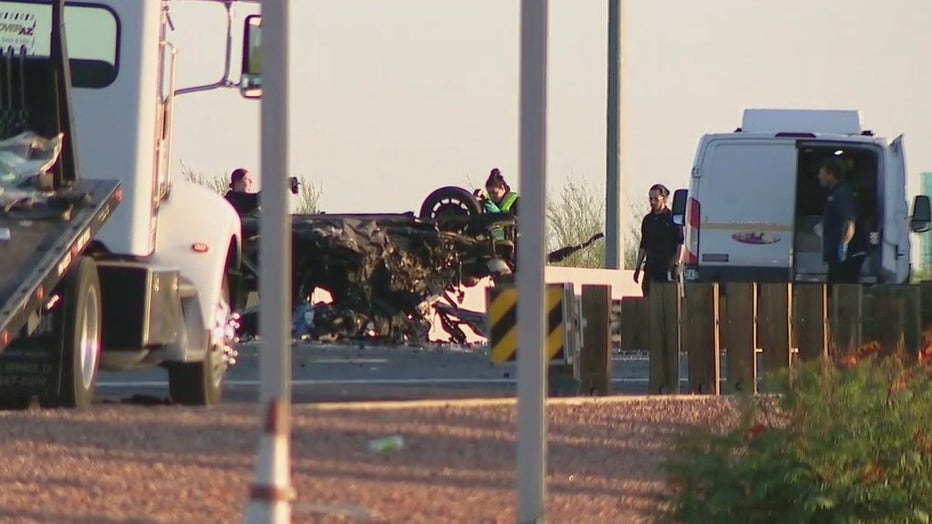 Three people, including a wrong-way driver, died in a crash on the Loop 101 near Camelback Road on May 2
The freeway was closed for several hours for the investigation, but has since reopened.
"It's a very sad scene. ..we're out here all night and it's our job to patrol the freeway and we take it to heart when it happens because if there's nothing we can do, we always go as quick as we can and try to intervene and do what we can and there's troopers that have put their lives in danger, rammed these cars and try to stop them. Whatever we have to do to get them off the roadway, and when we can't get there, it's just sad," said DPS Sgt. Jacob Melki.
The driver and passenger in the Dodge sedan were identified as Angel Carrillo-Lopez, 29, of Glendale and Reginald Porter, 27, of Los Angeles.
"The Nissan SUV came to a final rest in the emergency lane. The driver of that vehicle sustained minor injuries," stated Graves.
With the number of wrong-way drivers in Arizona, DPS says they partnered with the Arizona Department of Transportation (ADOT) to alert them immediately when there is a car that goes the wrong way through traffic cameras.
"In the Valley, we have dozens of ramps so not every ramp has them at this time. So that's one of the tools that we have and obviously, people call in and we deploy troopers from all over the Valley. Unfortunately, it's a very fast-paced incident so troopers are out and it takes time to get to these, but sometimes it's too fast to get there and tragedy happens," Melki said.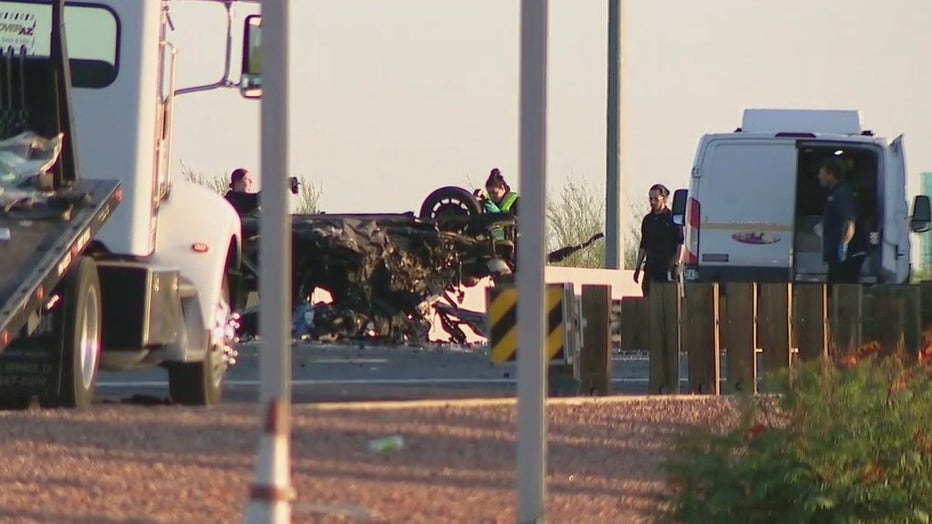 In total, four cars were involved in the crash on the Loop 101 Agua Fria near Camelback Road.
For the latest local news, download the FOX 10 News app.
Tune in to FOX 10 Phoenix for the latest news:
More Arizona headlines: