Tyre Nichols death: Arizona leaders react to bodycam video showing beating that led to man's death
PHOENIX - On Jan. 27, after authorities in Memphis, Tenn. released body camera video taken during a deadly incident involving Tyre Nichols, police and city leaders in Arizona are speaking out about what happened.
The incident that led to Nichols' death happened on Jan. 7, when Nichols was pulled over by police for an alleged traffic violation. A confrontation ensued, and Nichols was beaten by five Memphis police officers in an encounter that is recorded by police body cameras.
Nichols died on Jan. 10, and the officers involved, since identified as Tadarrius Bean, Demetrius Haley, Emmitt Martin III, Desmond Mills Jr. and Justin Smith, have been fired from the police force, and are facing murder charges.
Read More: A timeline of events in the Tyre Nichols case
In the video released on Jan. 27, five Memphis officers can be seen beating Nichols at least three minutes. It appears, at times, that some officers hold Nichols while others kick or strike him. The officers can be seen pepper-spraying Nichols as he cries out, "Mom, Mom!"
Nichols can then be seen struggling to catch his breath, saying "alright," while the officers continue kicking his head and pepper-spraying him.
Read More: Tyre Nichols bodycam video shows police beating Memphis father for several minutes (NOTE: Content may be disturbing for some. Discretion is advised)
Arizona Governor Katie Hobbs
There are no words when these unnecessary and unjust deaths occur at the hands of law enforcement, and I share in the outrage and horror that is felt.
Tyre Nichols was a 29-year-old father and he deserved to grow old and watch his child grow up. I send my deep condolences to his family and the Memphis community at this time.
We need accountability when law enforcement officers violate their oaths, and we need to restore the public's trust in the institution. I'm committed to solutions that center public safety and take a holistic approach to the community safety interventions available to address crime and people in need of help.
As we respond to the police footage, I want to echo the call of Tyre's mother for protests to remain peaceful.
Attorney Benjamin Taylor
"It's sad that year in and year in we see multiple high profile cases were young men and women are dying at the hands of police."
East Valley NAACP President Kiana Maria Sears
"It's still so visceral. I'm a mother. I have brothers. Obviously I have a father, so when I look at that, it's just so close to home. As the NAACP, we are calling for the stop to all police brutality. We are tired of dying in the streets."
Gilbert Police Chief Michael Soelberg
I am deeply concerned and troubled by the death of Tyre Nichols due to the actions of five police officers with the Memphis (TN) Police Department. The actions of these officers are despicable, unnecessary, and illegal. These types of incidents erode the trust between communities and law enforcement agencies.
In Gilbert, we value our relationships with our community members who trust us to fairly and impartially maintain the peace within our community. We are committed to emphasizing the dignity and respect of everyone we serve.
Maricopa County Sheriff Paul Penzone
This event depicts the worst in human behavior and abuse by law enforcement. I have the utmost respect for Chief Davis' honesty. I believe all law enforcement leaders should have the courage and commitment when addressing any type of police brutality in our communities.
Page Police Chief Tim Lange
Upon viewing video related to the death of Tyre Nichols at the hands of five Memphis police officers, I am sickened by what I saw.
The violence demonstrated by these five individuals, who took an oath to protect others, is despicable and CANNOT be tolerated.
I pray that the court system will provide justice for those most affected by this horrific event and that there will not be any additional violence.
The majority of officers live and will die for the oath they took. The actions of those five individuals DO NOT reflect the belief of most officers, and those actions need to be adequately addressed.
I am saddened for the community of Memphis and for the rest of us who strive to do what is right.
Phoenix City Manager Jeff Barton
As many across the nation have just done, I watched the horrific actions officers took against Tyre Nichols. It was challenging for me to watch -- specifically as a black man and a father of two young black sons. My heart grieves for Tyre's family, and I am compelled to express my disgust towards the reprehensible actions of the officers.
As public servants, we must do more to prevent these tragedies from occurring. We must continue having difficult conversations and working alongside the community to build a future where everyone is treated with respect and decency.
As City Manager, I remain committed to holding City of Phoenix employees accountable to these basic principles. I commend the City of Memphis for their swift and decisive disciplinary measures to hold the officers involved accountable for their appalling actions.'
Phoenix Law Enforcement Association (PLEA) President Darrell Kriplean
The Phoenix Law Enforcement Association has viewed the abhorrent and disturbing footage of five Memphis police officers violently assaulting Tyre Nichols resulting in his death. The behavior displayed in the video is not reflective of the ethics and standards we teach our police officers.
We mourn the loss of Mr. Nichols and grieve with his family and the community tonight. These police officers must be held accountable for this senseless loss of life.
Phoenix Police Interim Chief Michael Sullivan
I am deeply troubled by the circumstances surrounding the death of Tyre Nichols. Quite frankly, what is seen on the video released is infuriating and offensive to the noble profession I love. I condemn the actions of those responsible.
One of the core principles of policing is respecting the sanctity of life. The actions of those individuals go against that principle as well as the culture, training and values instilled in law enforcement officers.
I understand that trust is the foundation of policing and we work hard every day to cultivate and maintain that trust. It saddens me that again, the actions of a few, have the capacity to cast a broad negative brush on the law enforcement profession.
I am proud to lead the members of this department who put their lives on the line everyday as they strive to protect the community they serve with pride and dignity. I commit to pushing our department to be a self-assessing, self-correcting agency with a strong process for accountability. I am grateful for the community's partnership in maintaining a safe and vibrant city.
Tune in to FOX 10 Phoenix for the latest news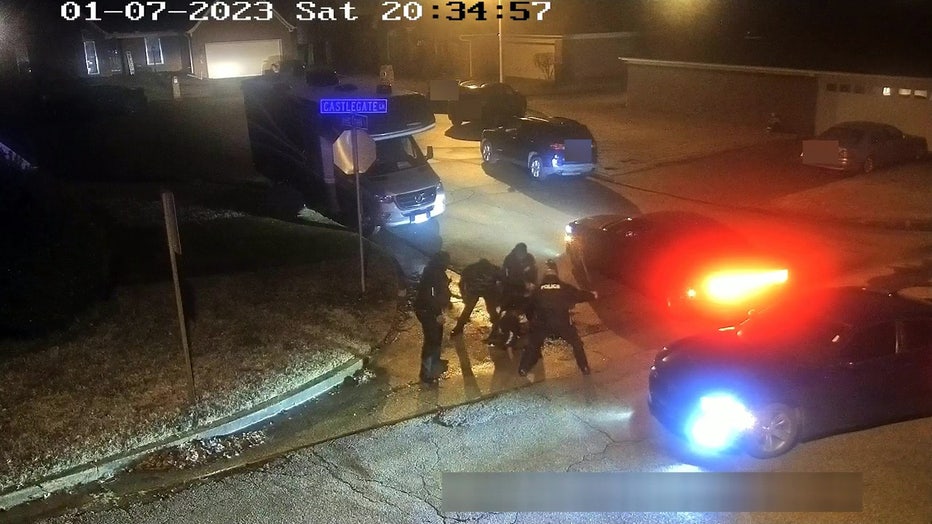 A nearby surveillance camera caught footage of police beating Tyre Nichols for several minutes.