Palmer rallies Cardinals to steal 16-13 OT win at Indy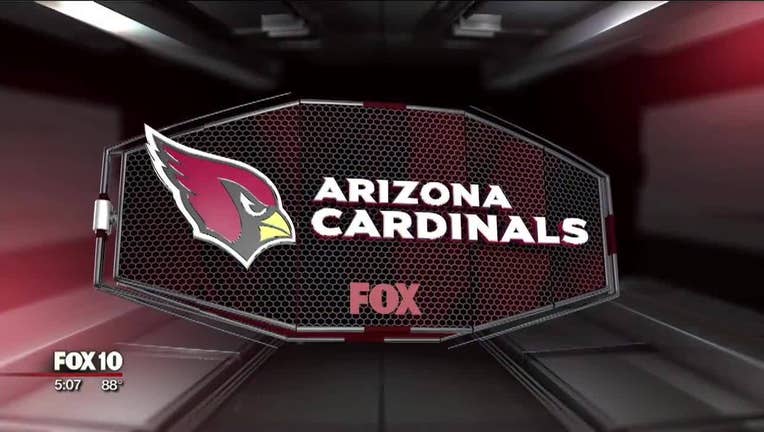 article
INDIANAPOLIS (AP) - Carson Palmer managed to get the Arizona Cardinals into overtime Sunday. Tyrann Mathieu and Phil Dawson made sure they got out of Indianapolis pretty darn quick.
Mathieu intercepted new Colts quarterback Jacoby Brissett on the first play from scrimmage in the extra period, and Dawson made a 30-yard field goal four plays later to give the Cardinals a 16-13 victory.
"The defense saved me," Dawson said. "Missed one with the game on the line and the game could have turned out another way."
The improbable rally was no small feat on a day full of comebacks.
Palmer seemed to be out of sync with his receivers most of the day, but made just enough plays in the final eight minutes of regulation to give the Cardinals a chance. He was 16 of 39 with 332 yards, one touchdown and one interception.
"The quarterback has to play better. It's that simple," coach Bruce Arians said. "And we have to block better."
Palmer did not respond to the critique.
Arizona's defense allowed scoring drives of 14, eight and 16 plays, but kept Brissett and the Colts out of the end zone for the final 52 minutes before Mathieu came up with the play of the game by undercutting Colts receiver Kamar Aiken.
The usually reliable Dawson then took advantage of a rare second chance after pushing a 42-yard field goal wide right as time expired in regulation.
Yes, everyone played a role as the Cardinals (1-1) avoided their first 0-2 start since 2005.
"We were making plays to win the game instead of to not lose a game," Arians said after tying the late Don Coryell for No. 2 on the franchise's career wins list with 42.
Indy simply blew it.
The Colts never trailed until the final play despite struggling in the red zone and being unable to close it out on offense or defense.
Now coach Chuck Pagano must dig his way out of a fourth consecutive 0-2 start, perhaps the most frustrating yet because of how it slipped away.
"In games like this, you've got to put teams away," he said. "There are no moral victories. We are 0-2 and it is what it is."
For 3 ½ quarters, it looked as if Pagano made all the right moves.
He went with Brissett over Scott Tolzien, and Brissett led the Colts to 10 points on their first two possessions.
All Indy could muster after that was a chip shot field goal from Adam Vinatieri with 11:42 left in regulation for a 13-3 lead. Brissett was 20 of 37 for 216 yards in his third career start - his first with the Colts, who acquired him in a Sept. 2 trade.
Then, Palmer started playing vintage football.
He hooked up with Jaron Brown on a 22-yard completion and picked up another 15 yards on the play because of a roughing the passer call. On the next play, J.J. Nelson split two defenders and Palmer fit the ball in perfectly for a 45-yard TD pass that made it 13-10.
Palmer followed that with by getting Dawson into position for the tying field goal and they expected to be the winner.
Instead, the Cardinals needed Mathieu's interception and Dawson's second chance.
"I've played long enough to know a win's a win and we have to enjoy it," Palmer said. "It doesn't matter how you get it done, but we got it done."
RECORD BREAKER
Vinatieri's 29-yard field goal early in the fourth quarter broke another NFL record. He now has 177 field goals from 20 to 29 yards, one more than Morten Andersen.
Actually, his first kick of the day would have been the record breaker - if Arizona hadn't been called for leverage on the play. Indy pulled the points off the board and capped the drive with Frank Gore's 5-yard TD run.
KEY NUMBERS
Cardinals: Nelson caught five passes for 120 yards. Palmer was sacked four times. Chris Johnson had 11 carries for a team-best 44 yards.
Colts: Tight end Jack Doyle caught eight passes for 79 yards, while Indy's wide receivers had a combined nine catches for 98 yards. Malik Hooker got his first interception in his first career start. Brissett also was sacked four times.
INJURIES
Cardinals: Played without left tackle D.J. Humphries, left guard Mike Iupati or running back David Johnson, who has already had wrist surgery. But Arians didn't report new injuries form the game.
Colts: An already banged-up secondary pressed Indy into giving Hooker and cornerback Quincy Wilson, their top two draft picks, their first career starts. Pagano said the Colts came out injury-free, too.
UP NEXT
Cardinals: Host Dallas after opening the season with back-to-back road trips.
Colts: Host Cleveland to complete their longest homestand this season.
___
More AP NFL: www.pro32.ap.org and www.twitter.com/AP_NFL .