Arizona father saves 12-year-old girl after she was struck by lightning
PHOENIX - A 12-year-old Arizona girl who survived a lightning strike is expected to be released from the hospital on Monday.
Dr. Kevin Foster, a surgeon at Valleywise Health, said the girl was playing outside on Oct. 15 in the West Valley when she was either hit by lightning or a strike occurred right next to her.
Dr. Foster said the girl's heart stopped, but she was resuscitated by her father who did chest compressions.
"I think the instrumental thing in saving her was that her father recognized that her heart had stopped, and he was able to do effective CPR and get her heart started again and that literally saved her life," Dr. Foster said.
Dr. Foster said the girl is recovering well and will only have a small, superficial mark on her body that will eventually go away.
"She is basically unscathed," said the girl's father, Steve Jorgensen. "It's amazing."
"She really owes her life to her father," said Dr. Foster.
Severe thunderstorms moved through the Valley last weekend, bringing heavy rain, wind, and hail.
Girl's father speaks out
On Oct. 17, Jorgensen talked about what happened.
"I'm just a dad taking care of his daughter," Jorgensen said
Jorgensen said he and his daughter, Ella, were playing outside in the rain when Saturday's storm moved through the Valley.
And then, lightning struck. Jorgensen said he witnessed what happened.
"It was a super, super bright, loud crash that cracked," Jorgensen recounted. "I watched that lightning hit my daughter."
After the lightning struck Ella, Jorgensen said he ran over to Ella. His knees bore witness to what happened: it is scraped up after Jorgensen dived to save Ella.
"I wanted to get on there down quickly, and that was the fastest route," Jorgensen recounted. "Started to do the sternum rub on her to see if I could get a response."
Jorgensen later started CPR to resuscitate Ella.
"I got her heart back going. Got her breathing [for a] short amount of time, so I lost it again. I panicked started again, got her heart beating a little longer," Jorgensen recounted.
The girl's heart stopped for a third time, but Jorgensen managed to get her heart to start beating again. As for Jorgensen, he is a military veteran who had medical training.
"I fought in Iraq in 2007, and Afghanistan in 2008, so I've had plenty of experience," said Jorgensen.
The girl was told of what happened after she regained consciousness at the burn center.
"Once we got the tubes out, and her mom told her again, she just looked at her mom, hugged her and said 'I'm going to have a cool story forever now,'" Jorgensen said.
On Oct. 20, officials with the Arizona Fire and Medical Authority hailed Jorgensen a hero. Officials say CPR is something everyone should learn.
"Bystander CPR is a key component in the chain of survival," said a fire official. "Chest compressions alone can bump the heart to retain blood flow until fire department arrives for advanced life support."
Jorgensen says Ella is getting better everyday, and that she is planning on going back to school soon.
MORE: Tonopah residents reeling after storm rips through town: 'The whole backyard was underwater'
Tune in to FOX 10 Phoenix for the latest news: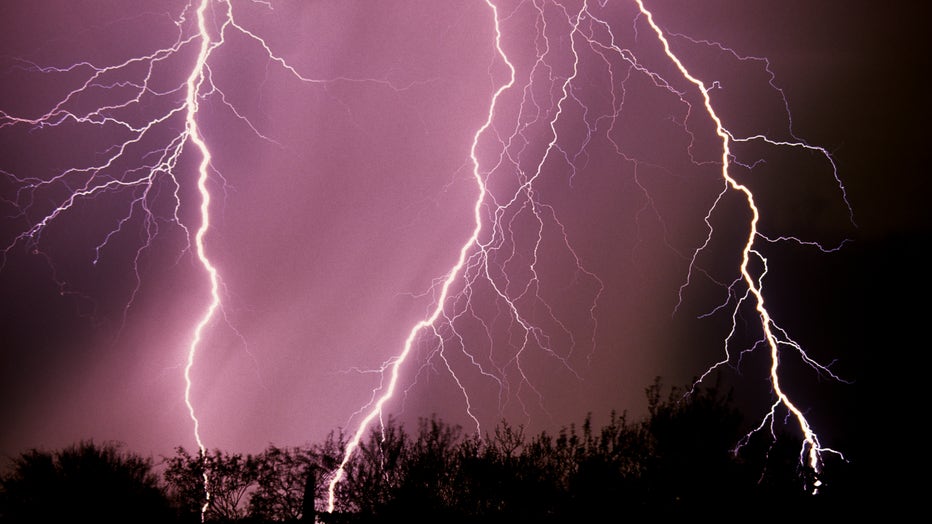 Wind-swept rain storm with three cloud-to-ground lightning strikes, Arizona, USA (Photo by Wild Horizons/Universal Images Group via Getty Images)