18-year-old man, teen's unborn baby killed after car goes onto sidewalk following collision
PHOENIX - Two crumpled cars in an intersection can only begin to tell how bad this Thursday late morning crash in Phoenix was.
Jeff was at the corner and caught in the middle of it all. "I turned around just to see where the car was and at that time I turned around, it ran over my foot," he recalled.
Police say a 2013 Dodge Avenger, driven by a 25-year-old man, was traveling westbound on Bell Road and went through the intersection at 35th Avenue at a high rate of speed and collided with a Ford Mustang that was making a left turn.
After the collision, the Avenger spun out and hit four pedestrians who were on the sidewalk at the northwest corner of the intersection.
Both drivers were not injured.
Phoenix police say multiple charges, including manslaughter and aggravated assault, will be filed against the 25-year-old driver of the Avenger.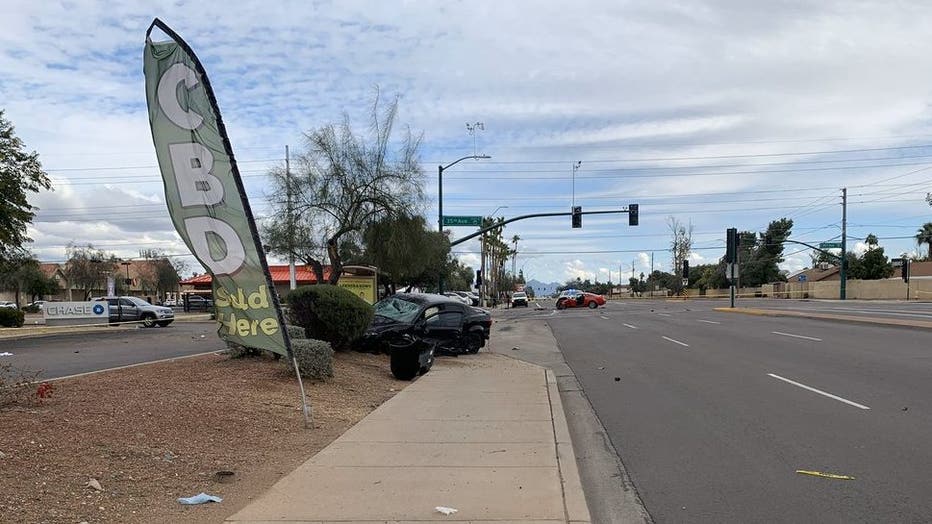 Abel Meza says he stepped back just in time to feel the breeze of the car as it brushed by. Then he turned to see the three others at the bus stop who took a direct hit. "I walked up to him [and] he was already gone, and didn't want to do anything to the woman either, I wasn't really sure what I could do," Meza said.
Police say an 18-year-old man was killed, now identified as Jonathan Marroquin. So was the unborn baby boy of a 15-year-old girl who was about 31 weeks into the pregnancy. The mother was injured but is going to be OK. Another 18-year-old woman was also injured.
"Especially [this] holiday season, we all have family, brothers and sisters and we can't emphasize enough to slow down... this is a tragedy," said Sgt. Maggie Cox with Phoenix PD.
The other two pedestrians, an 18-year-old woman and 51-year-old man, were not seriously hurt.