Driver in deadly Phoenix wrong-way crash had blood alcohol level 3 times the legal limit, police say
PHOENIX - A wrong-way crash in Phoenix killed a teenage boy, Phoenix police say.
Officers responded to a two-vehicle crash near 30th Street and Greenway Road just after 8:00 a.m. on May 14.
A driver in a pickup truck was heading westbound when he reportedly failed to stop at a stop sign at Greenway Road and made a right-hand turn into oncoming traffic.
"The pickup truck collided into a vehicle that was occupied by a family consisting of two adults and five juvenile children," police said.
The family of seven was taken to the hospital, and one of the children died as a result of his injuries.
He was identified as 13-year-old Josiah Boteilho.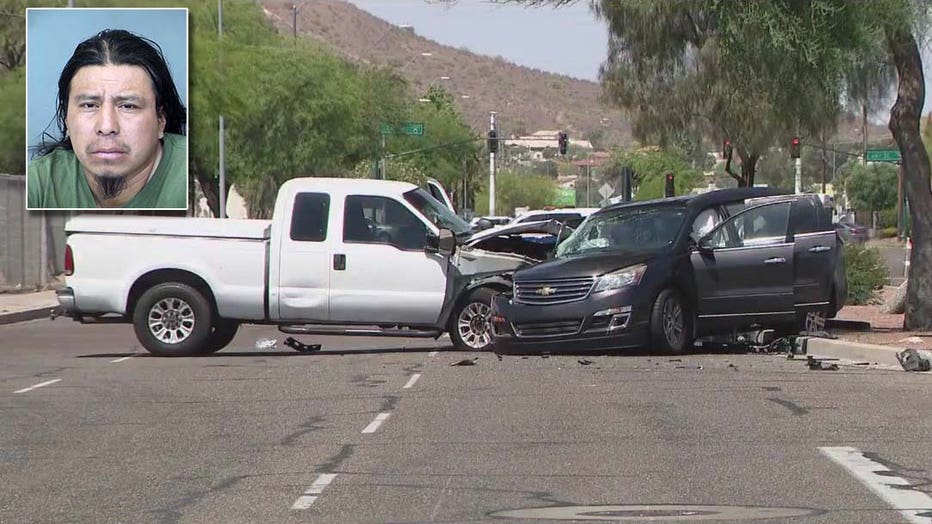 The driver, identified as 36-year-old Bartolome Godinez-Perez, was booked into jail and faces numerous charges, including manslaughter and DUI.
According to police, Godinez appeared to be drunk, had bloodshot eyes, slurred speech and smelled of alcohol.
Police say he failed a field sobriety test and blew a .256 - more than three times the legal limit.
According to court records, this is the second time Perez was arrested for DUI. The first time, Perez he took a plea deal in 2010.
'One of the best kids …'
Josiah Boteilho. Photo courtesy of Hi'ialo Palakiko
Josiah was the oldest of five children. His father is a 5th-grade teacher at Hidden Hills Elementary and his younger siblings are students there.
Josiah's teacher, Kristy Pownall, described him as "one of the best kids you ever met, ever."
The north Phoenix community is grieving the loss of Josiah, and praying for the surviving members of the Boteilho family. A makeshift memorial is seen in front of the elementary school with candles and leis, a tribute to the family's Hawaiian roots.
"He's the oldest, he has to be the hiapo," Jaime Palakiko, his aunt said. "A second parent … and he really takes care of his younger siblings."
Relatives say Josiah's father was driving their family of seven to St. Joan of Arc Catholic Church, going east on Greenway Road when they were hit.
"He was crying and saying, and he tried his best to get out of the way, so the guy wouldn't hit them. He's struggling internally, but he's trying to be a rock for his family," Jaime said. "For the driver, I know my brother told me that when he got out of the car the driver said, 'Why did you bang me?' He was blaming my brother saying my brother hit him."
Family and friends, say the Boteilho family is well known for their faith and service to their community. Faith and community will be there for them during this difficult time.
A GoFundMe has been set up for the family and it can be found here https://gofund.me/99cf1a64
Where the crash happened: