Chaos at the Capitol: Arizona officials react to D.C. riot over counting of electoral votes
PHOENIX - As supporters of outgoing President Donald Trump riot in Washington D.C. over the results of November 2020's presidential election, elected officials in Arizona are speaking out.
Trump had urged his supporters to come to Washington to protest Congress' formal approval of Biden's win. The skirmishes came just shortly after Trump addressed thousands of his supporters, riling up the crowd with his baseless claims of election fraud at a rally near the White House on Jan. 6 ahead of Congress' vote.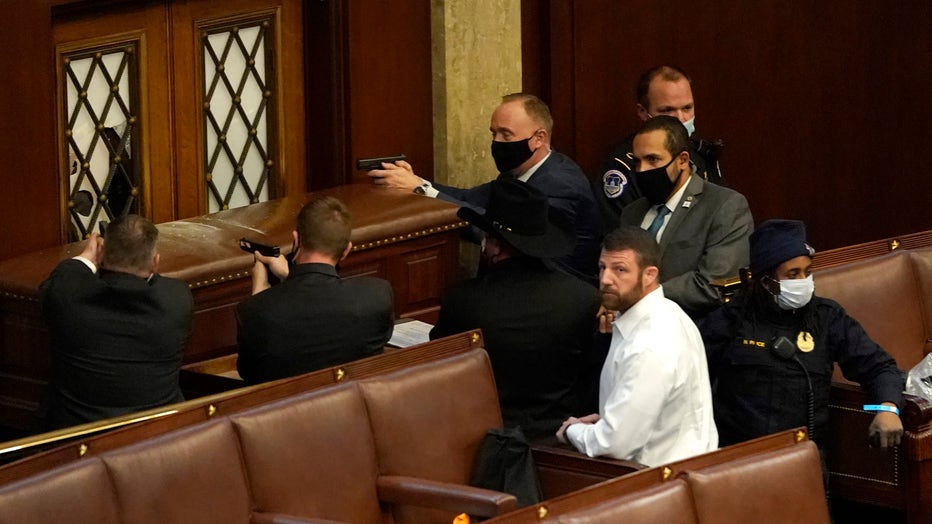 U.S. Capitol police officers point their guns at a door that was vandalized in the House Chamber during a joint session of Congress in Washington, DC. on Jan. 6, 2021. (Photo by Drew Angerer/Getty Images)
Rep. Andy Biggs
Arizona Governor Doug Ducey
In a tweet, Arizona Governor Doug Ducey says the incident at the capitol is wrong, and has "no place in our form of government."
"In America, we practice peaceful transitions of power. We respect the law and law enforcement," Gov. Ducey tweeted.
Secretary of State Katie Hobbs
"This is nothing less than an attempted coup. We cannot allow our democracy to be overthrown by this horrific effort to violate the will of the people. The safety and security of Americans, especially those who are in the US Capitol, is foremost in my thoughts, as is the future of our country.
"Elected leaders who have trafficked in misinformation, incited violence, and damaged faith in our hallowed institutions are responsible for the events today. History will remember not only those who encouraged today's actions, but also those who sat in silence, refusing to prevent them."
Sen. Kyrsten Sinema
In a brief statement, Sin. Kyrsten Sinema merely said she is "safe," without speaking out on the incident.
MORE: 1 shot as Trump supporters storm Capitol, breaking windows and violently clashing with police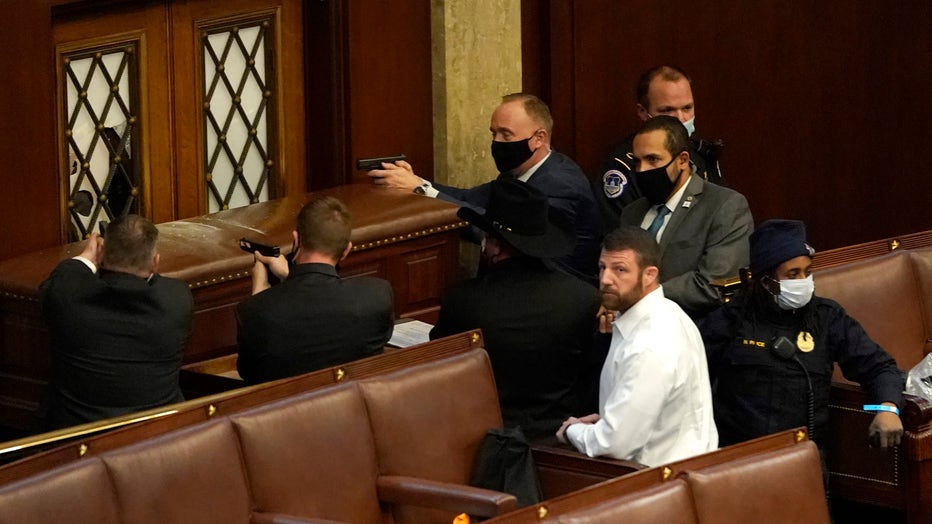 U.S. Capitol police officers point their guns at a door that was vandalized in the House Chamber during a joint session of Congress in Washington, DC. ((Photo by Drew Angerer/Getty Images)
Sen. Mark Kelly
Sen. Kelly, who took office after defeating Martha McSally in a special November election for the remainder of late Sen. John McCain's term, called on holding those who committed violence accountable.
"This unpatriotic attempt to overturn our election – and silence the voices of Arizonans – will fail," read a portion of a tweet he sent.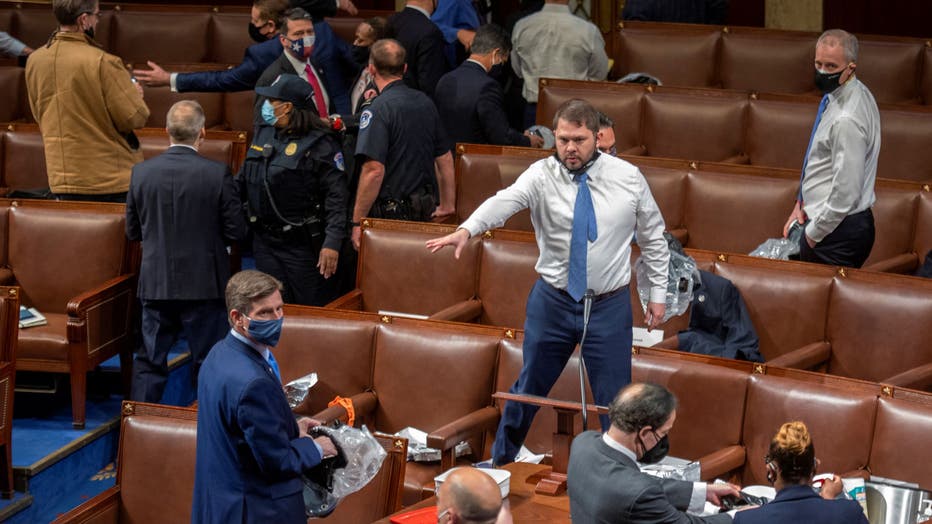 Staffers and members wrestle with safety hoods from under the desks as protestors breach the Capitol building during the 117th Congress holds a joint session to certify the Presidential election results, in Washington, DC on January 06. Rep. Rep. Rub (Photo by Bill O'Leary/The Washington Post via Getty Images)
Rep. Ruben Gallego
In a tweet, Rep. Gallego says "you will not intimidate us." In a follow-up Tweet, he said, "Everyone that broke into the Capitol whether violent or not should be arrested and prosecuted."
PHOTOS: Pro-Trump protesters storm Capitol in DC
Rep. Paul Gosar
Rep. Gosar, who objected to counting Arizona's 11 electoral votes for President-elect Joe Biden earlier, say protesters are now "beyond the line"
"OK. I said let's do an audit. Let's not get carried away here. I don't want anyone hurt," Gosar's tweet said, in part.
On his personal Twitter, however, Rep. Gosar alleged, without offering evidence, that the riot had "hallmarks of Antifa provocation."
Rep. Debbie Lesko
Rep. Lesko called the violence "dangerous and unacceptable."
FOX 10 spoke with Rep. Lesko on Jan. 6, who talked about the terrifying moments when Trump supporters stormed the Capitol building.
"All of a sudden, I saw people being rushed off of the floor and I yelled to someone something is going on," said Rep. Lesko.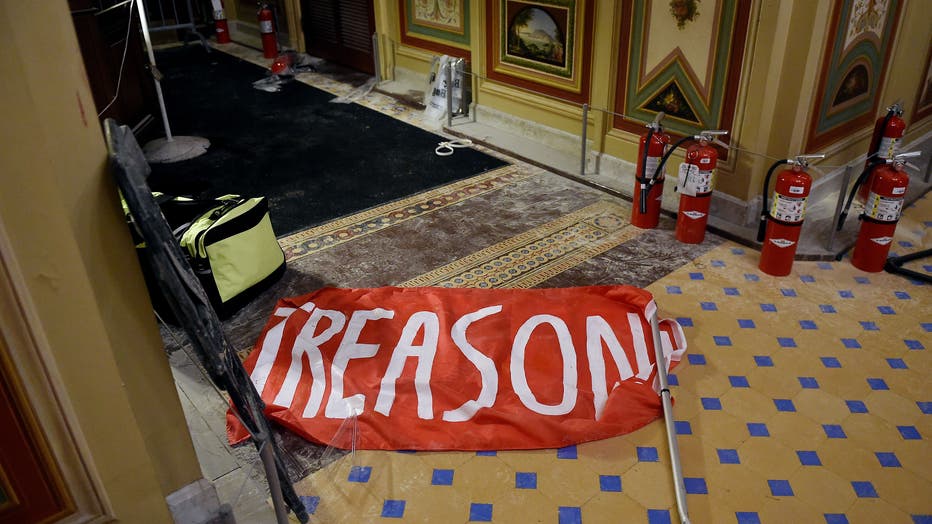 Damage is seen inside the US Capitol building early on January 7, 2021 in Washington, DC, after supporters of US President Donald Trump breeched security and entered the building during a session of Congress. (Photo by OLIVIER DOULIERY/AFP via Getty Images)
Rep. Tom O'Halleran
Rep. O'Halleran said he and his staff members are safe, but said this is a "dark day in American history."
MORE: 'Un-American': Republican, Democrat lawmakers condemn Trump supporters who breached Capitol
State Rep. Mark Finchem
State Rep. Finchem, who represents portions of Pinal and Pima Counties, says the violent incident is what happens when "Congress refuses to acknowledge rampant fraud," while offering no evidence to support his allegation.
Kelli Ward
Ward, who is the Chair of the Arizona Republican Party, said the violent incident could have been prevented if there was "election integrity."
House Speaker Rusty Bowers and Rep. Ben Toma
The Arizona representatives denounced the violence and unlawful protests:
"In America, we respect and honor the fundamental right to expression and protest so long as it is done so peacefully. However, the behavior that occurred today at the U.S. Capitol Building was anything but. It was a despicable and dangerous assault on the very heart of representative government that cannot be tolerated or excused in a civil society.
"We should all revisit the wisdom of Abraham Lincoln whose words of hope resonate still, in this and many other contexts: 'We are not enemies, but friends. We must not be enemies. Though passion may have strained it must not break our bonds of affection. The mystic chords of memory, stretching from every battlefield and patriot grave to every living heart and hearthstone all over this broad land, will yet swell the chorus of the Union, when again touched, as surely they will be, by the better angels of our nature.'"
Sen. Martin Quezada
The State Senator representing District 29 said it was a sad day for our nation. 
Phoenix Mayor Kate Gallego
She stated on Twitter, "This is an atrocious assault on our democracy. It is un-American and it needs to stop now. Glad to know members of our delegation are reporting they are safe."
Arizona Senate Democrats
"Our nation's Capitol buildings and our democracy have been shattered today. America is in disgrace as armed traitors have violently overrun our nation's Capitol. This is the consequence of Trump and right-wing, anti-American radicals refusing to acknowledge the laws of our democracy and honor a fair and legal election. While the American people made their voices clear and elected President Joe Biden, our current president encouraged and unleashed this violent coup attempt at our Capitol. This is a dark day in American history and these events fly in the face of our free and fair democracy. We condemn with the utmost urgency these shameful and despicable actions, and urge our Republican colleagues to immediately condemn these rioters and demand they be prosecuted to the full extent of the law. We know our American democracy is strong and resilient. Although this is a disturbing day in our history, we have confidence that democracy, justice and the rule of law will prevail."
Adrian Fontes
The current Maricopa County Recorder said it's "An unbelievably dark day brought by politicians who believe more in their loyalty to one man than they do to our people and our nation."
State Sen. Heather Carter
The current State Senator representing District 15 called for people to come together as a country.
Former Arizona Attorney General Grant Woods
Woods described what happened on Capitol Hill as "out of control."
"These people are domestic terrorists, a lot of them," said Woods. "They belong to these far-right, white supremacist groups, and they're dangerous. They are dangerous to the United States of America, and they proved that today."
Woods blamed rhetoric from President Trump for what happened on Jan. 6.
"They're playing with fire when they push people so hard, belittle law and order, and belittle our American institutions. It's almost inevitable that something like this might happen," said Woods.
Rep. David Schweikert
The Congressman representing Arizona's 6th District said he and his staff are safe and later tweeted a statement about the violence:
Rep. Tom O'Halleran
Rep. Ann Kirkpatrick
Ariz. Attorney General Mark Brnovich
Rep. Raul Grijalva
Rep. Greg Stanton
The Congressman from Arizona's 9th District stated, "What began as a weak-minded temper tantrum in the White House has spun out of control - and spawned into a dangerous attempt to carry out a coup d'état in the People's House. Today, I will defend the will of Arizona voters."
Stanton later urged the House Judiciary Committee to invoke the 25th Amendment.
Continuing Coverage