Assisted living facility's managers indicted in man's death
PHOENIX (AP) - A Chandler home-based assisted living facility's managers are charged with vulnerable adult abuse in the death of a 69-year-old man who spent two days without air conditioning last summer.
The Arizona Attorney General's Office announced Thursday that 56-year-olds Joseph Somera and Lolita Somera were indicted Monday in the resident's death.
The incident happened back in August of 2018. The care facility is in Chandler and the two owners have now been charged with vulnerable adult abuse.
People living in this Chandler neighborhood near Ray and Dobson were surprised to see police in front of their home Wednesday. They were even more surprised to see their neighbors, Joseph Somera and Lolita Somera, being arrested.
"This is such a quiet, nice neighborhood," one neighbor said. "You know there's nothing going on here."
"I didn't think [about] them, but somebody else perhaps wasn't feeling well," another neighbor said. "We have elderly neighbors next to us [and] I had no idea that it would have been for an arrest for a death, so I'm very, very shocked."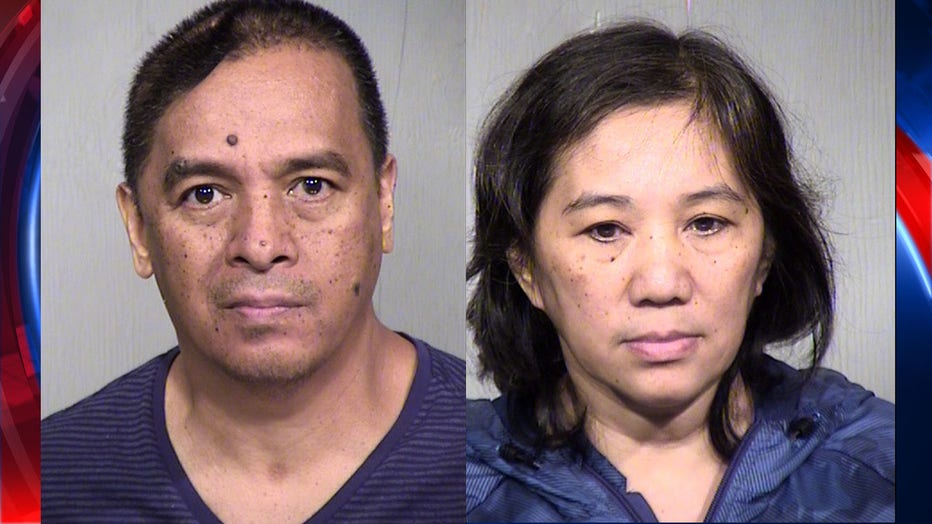 The two were indicted on charges stemming from the death of 69-year-old Jon Rager. According to court paperwork, Rager was being cared for by the couple in their home-based care facility.
The air conditioning reportedly stopped working on Aug. 16 of 2018. Two days later, Lolita called police after she found the victim unresponsive. Police say it was 100 degrees in the man's room.
Until the arrest of Someras on Wednesday, neighbors had no idea what happened inside the home last summer.
"That's sad," a neighbor said. "I'm very sad that it happened on our street."
The couple made their initial court appearances. Both are being held on $15,000 cash bonds.
The Maricopa Medical Examiner's Office says the last stage of chronic kidney disease along with pneumonia killed Rager, but heat exposure contributed to his death. Attorney General Mark Brnovich says senior citizens living in Arizona cannot be neglected.
"As someone who grew up in Arizona, we sometimes take it for granted - the heat and how it affects folks," Brnovich said. "We see a lot of PSAs about children, about not leaving our pets in cars - but what about seniors?"
Brnovich couldn't go into detail on the case as prosecution continues, but hopes lawmakers pay attention to elder abuse.
"The legislature can look at this issue and other issues related to what we are doing with our air conditioning when it gets hot here in Arizona," Brnovich said.
Brnovich tells us he continues to be aggressive in going after those who have victimized senior citizens. We spoke to the wife of Jon Rager over the phone - she didn't want to be interviewed but told us she had been married to Jon for 45 years until his death.
The victim had been living at the facility since May of 2017. The couple is due back in court Aug. 22.
The Associated Press contributed to this report.