Border Patrol, Mexican police discover incomplete tunnel in Nogales
NOGALES, Ariz. - Border Patrol agents and Mexican police discovered an incomplete cross-border tunnel running underneath streets in Nogales.
According to U.S. Customs and Border Protection, the tunnel was found Wednesday during a routine, bi-national sweep of the stormwater drainage system that serves both sides of the U.S.-Mexico border.
The tunnel's entrance was hidden in the floor of an existing drainage system with a pile of dirt and was capped with a mixture of Styrofoam and concrete. The tunnel is over three-feet wide and four-feet tall and is 10-feet underground. It extends 20 feet into the U.S.
"When that tunnel team went into this tunnel, they realized the air quality was so low, it was too much of a dangerous situation. They had to back out of the tunnel," said Joe Curran, a U.S. Border Patrol agent.
Agents say if the tunnel had been completed, it would have popped up in an urban, residential neighborhood in Nogales.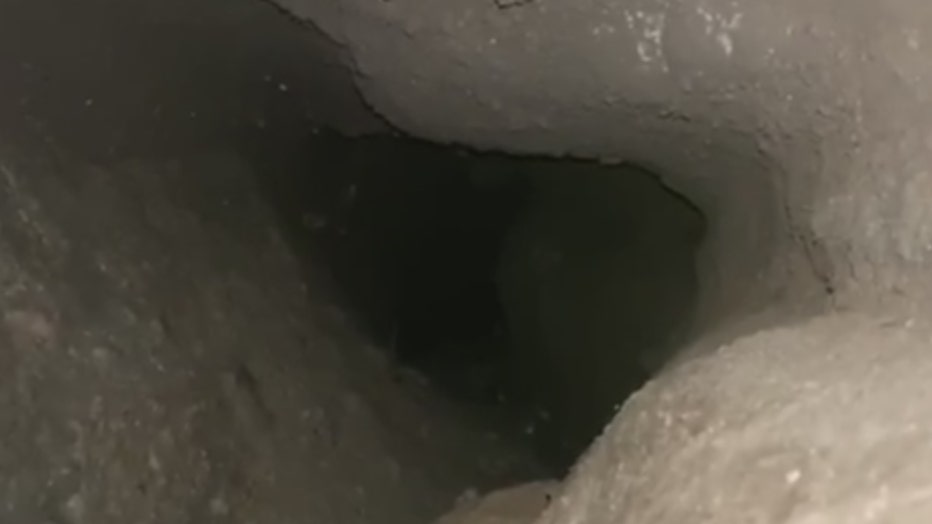 (screengrab via U.S. Customs and Border Protection video)
No drugs, people or other contraband were discovered.
Officials say this is the fourth tunnel found within a two-mile area, west of the Deconcini border crossing in downtown Nogales. All of those tunnels were incomplete, ranging from 17-feet to 50-feet long.
This is the 124th tunnel discovered in the Tucson Sector since 1990.
Authorities say cartels would've likely used the tunnels to traffick drugs across the border.
"It's forcing these cartels to go to a subterranean route. For them, this is a last-ditch effort. It takes a lot of money, takes a lot of time. So for the border patrol, when we find a tunnel, we know we're forcing these cartels almost [into] a desperation mode and for us, that's almost a victory," Curran said.
Border Patrol and Mexican police will continue to monitor and inspect the tunnel until it is properly sealed and secured with concrete filler.