Casa Grande murders: Man arrested, accused of killing members of his family
NEAR CASA GRANDE, Ariz. - Officials with the Pinal County Sheriff's Office say a 21-year-old man has been arrested for allegedly killing four members of his family.
In an interview, PCSO Chief Deputy Matthew Thomas said the family members were "slaughtered."
"Four people being slaughtered, essentially, at the hands of one of their own relatives is just - it's just beyond what you can fathom," said Chief Deputy Thomas.
Court documents reveal details surrounding case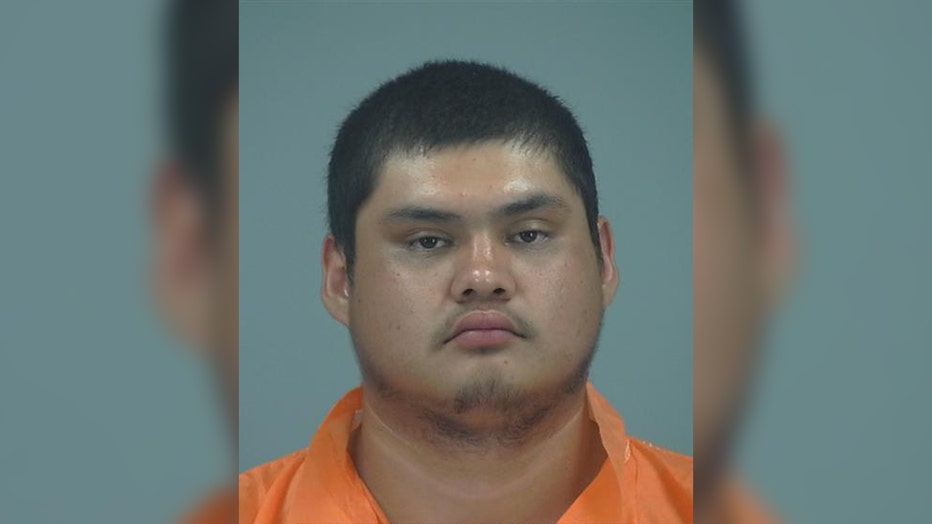 According to court documents, the incident happened on Sept. 4, in a residential area north of Bel Air and McCartney Roads, just outside of Casa Grande. Deputies were called out to the scene at around 1:45 p.m. after they received a 911 call from a person who said her brother had just beaten up her mother.
"PCSO dispatch noted the reporting party sounded frantic and was whispering, and a review of the 911 call [revealed] the reporting party started screaming over and over and then the call disconnected," read a portion of the documents.
In an interview on Sept. 5, Pinal County Sheriff's Office Chief Deputy Matthew Thomas identified the person who made the call as 16-year-old Rudy Wilson. She was among the four people who died in the incident.
After deputies arrived on scene, court documents say they spotted a man leaving a trailer that was next to the main house.
"As deputies approached the suspect, he stated 'I'm over here, take me to jail,'" read a portion of the documents. That man was identified by officials as Richard David Wilson IV.
Wilson was detained by deputies, who noticed he had injuries to his right hand. No one was inside the trailer, however, deputies found bloody clothes and shoes. Once inside the home, deputies found the victims dead.
Besides Rudy, the three other victims were identified by officials with PCSO on Sept. 5 as 47-year-old Richard Wilson, 50-year-old Ellen Otterman, and 5-year-old Renaya White.
"All subjects appeared to have suffered blunt force trauma injuries, and had injuries to their neck area consistent with being cut with an edged weapon," read a portion of the documents.
Investigators say at the PCSO headquarters, Wilson told officials that he takes several medications, including medication for a condition that was redacted from the court documents. Wilson later stated that he will not answer questions without an attorney, after he was read his Miranda rights.
Wilson was booked into jail and is being held on a $2.5 million bond. He is accused of four counts of 1st-degree murder.
Officials, neighbors speak out
Chief Deputy Thomas said this is one of the worst scenes that deputies in Pinal County have ever been called to.
"You always have these calls that kind of haunts you throughout your career," said Chief Deputy Thomas. "There's those one or two, and I can tell you that everybody involved in this call, this will be one of the ones that sticks with them, because it's absolutely horrific, especially when it involves children."
People living in the area say the suspect was a nice kid, and they have no clue why he would have done this.
"I knew [the suspect] as 'Sonny,'" said Wanda Hamilton, who lives in the area. "I never heard them arguing or anything like that. As far as I knew, they all got along really good."
Neighbors say the extended Wilson family lived in two homes in the area, with just one house separating them. The family members went back and forth to each other's homes all the time.
"I just hear the little five-year-old out playing and laughing and having a good time, being a five-year-old," said Joy Moreno, who also lives in the area. "That's the one thing that's disturbing out of everything is you know not being able to hear her laughing anymore."
On Sept. 6, officials with the Casa Grande Elementary School District issued a statement that reads:
It is with profound sadness that yesterday afternoon we were made aware of the tragic deaths of one of our Desert Willow students, ReNaya White and maintenance employee Richard Wilson. This is an incredible loss to our CGESD family and will be a difficult time for all of us.
Richard worked for CGESD for the last two years. He was well liked by his co-workers and was known to be devoted to his family. ReNaya just started kindergarten at Desert Willow and was described as a happy, energetic, curious, loving girl. They will be missed greatly by all who knew them.
CGESD has made available counseling services to the school throughout this week for any child or staff member who needs someone to talk to. We will be in contact with other providers to supply ongoing support to our CGESD community as well as to the family that was directly impacted by this tragedy.
We are heartbroken by this seemingly senseless act of violence, but are committed to taking care of our students and staff members during this time.
Tune in to FOX 10 Phoenix for the latest news: