Catching human smugglers and drug traffickers: A ride-along with Pinal County Sheriff Mark Lamb
PINAL COUNTY, Ariz. - The Pinal County Sheriff's Office says the US 60 and I-10 are some of the busiest spots to intercept human smugglers. They're catching several carloads of people every day - so we went on a ride-along with them.
Pinal County Sheriff Mark Lamb, who is now running for U.S. Senate as a Republican, says the last two years have extremely busy with border-related crimes despite being situated further from the border. 
"So we are down in Casa Grande…this is one of the areas they come through, whether it's coming out of the desert or whether it's on the I-10 trafficking corridor for us," Lamb said.
Drug traffickers and human smugglers take advantage of Arizona's highways and interstates every day, according to the sheriff. 
We asked if he had seen any changes from before and after Title 42.
"Not for us, we have just seen a steady incline over the last two years and our statistics say that," Lamb said. "A 377% increase in traffic stops involving human smuggling. A 461% increase in pursuits involving human smuggling. That is alarming because they're putting everybody at risk when they do that."
On Thursday, the sheriff and his detectives took FOX 10 out to see what a typical shift is like.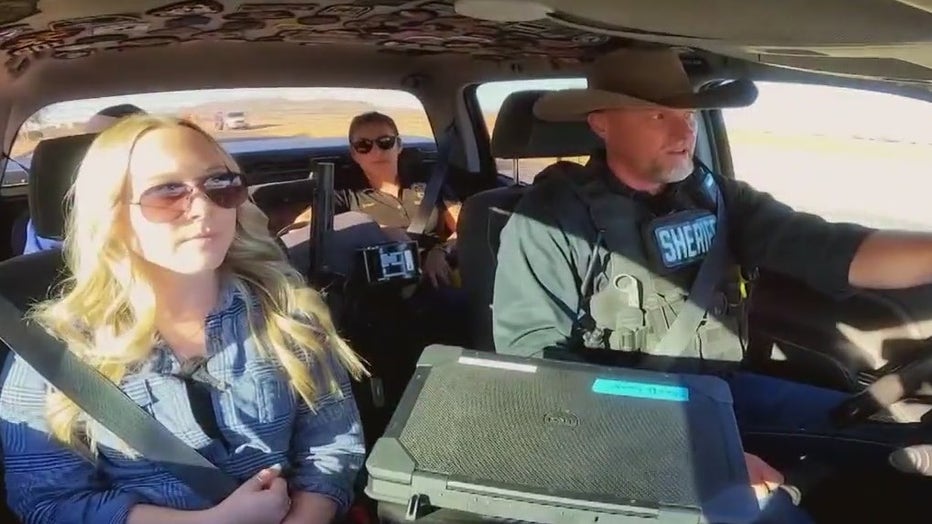 FOX 10's Stephanie Bennett went on a ride-along with Pinal County Sheriff Mark Lamb on May 25.
Within the first two hours, we had two pursuits and two traffic stops involving human smuggling.
"We usually do two or three a day, maybe up to five, it just depends," said Shawn Wilson with PCSO. "But it's stayed steady throughout the last few months."
In one car, a 15-year-old American driver and passenger led detectives on a high-speed pursuit, eventually pulling over and revealing three undocumented migrants from Mexico in the backseat.
"The cartels are making so much money off of humans, and that is a good distraction for them to get their drug loads through as well," Lamb said.
Sheriff Lamb says they're seeing a lot of Arizona drivers being recruited by the cartels to help with transportation.
In the next traffic stop of the day, an American driver and passenger switched seats before pulling over. Turns out they had three migrants in their backseat.
Lamb says the American admitted to picking them up at a truck stop, and the three asylum seekers say they each paid $8,000 to the cartels for a safe entry to the U.S.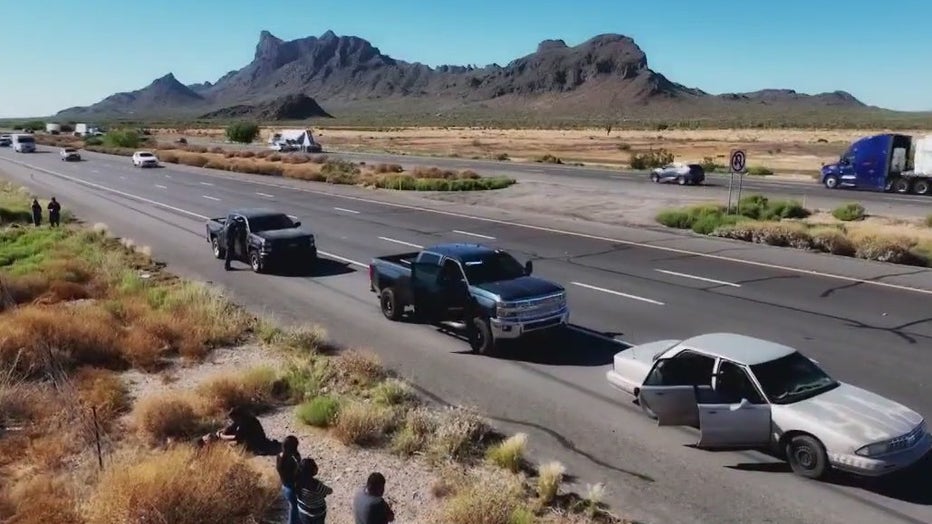 A traffic stop led to the discovery of three undocumented immigrants in Pinal County.
Since this was a federal crime, detectives wait for the Border Patrol to take over.
"I think Pinal County logistically is one of the most important counties in America and not just because I'm the sheriff," Lamb said. "So when you talk about fentanyl or when you talk about the humans that are being trafficked potentially into the sex trade or enslaved…we become that last line of defense to be able to stop them before they get into Phoenix and into the rest of the country."
The sheriff says it's not just people and drugs coming north into the U.S. They're also intercepting cash and weapons when heading back south to the cartels, keeping their anti-smuggling unit extremely busy every day.
"I think this is the greatest threat to our national security that we have right now," Lamb said. "The problem is progressively getting worse, and I don't see any movement in the policies to change that. Congress, Senate they all need to do better at coming up with some common sense comprehensive immigration reform to deal with."