Caught on camera: Teen jumps on driverless Waymo car in Arizona before alerts scared them away
PHOENIX - A self-driving car in Downtown Phoenix was harassed by teens on Mar. 24, and our cameras were there when the incident happened.
The incident happened in the area of McDowell Road and 7th Street. The night began just like any other night, but that changed when we saw two teens approach a Waymo car, stopping it in the middle of the street.
One of the teens first attempted to open the door.
"The door handles are locked, and thanks to the Jaguar platform, they're tucked away, so as you can see, the cyclist wasn't even able to get into the car," said Vishay Nihalani.
The teen then got on top of the Waymo's hood, posing for a photo. The car, however, used its self-defense features to scare them off. 
"Once it detects that these people are interfering with the driver of the car, it emits a noise or an audio prompt that really tells these the pedestrians to please move away and let the car proceed," said Nihalani. "Those alerts start out as pretty mild 'please step away from the car,' and as necessary, they can escalate to sirens that may try to dispel these pedestrians from interfering with the vehicle, or even alerting them that if they continue to interfere with the vehicle, that we may call local authorities to help come and resolve the situation."
The car was not damaged, and the teens were not hurt.
"We are able to identify pedestrians on the road. We're able to identify which way they're looking, so we know if they're aware of our car, for example, we're also able to predict their behavior," said Nihalani.
Waymo officials say their cars are always watching, as the cars have cameras.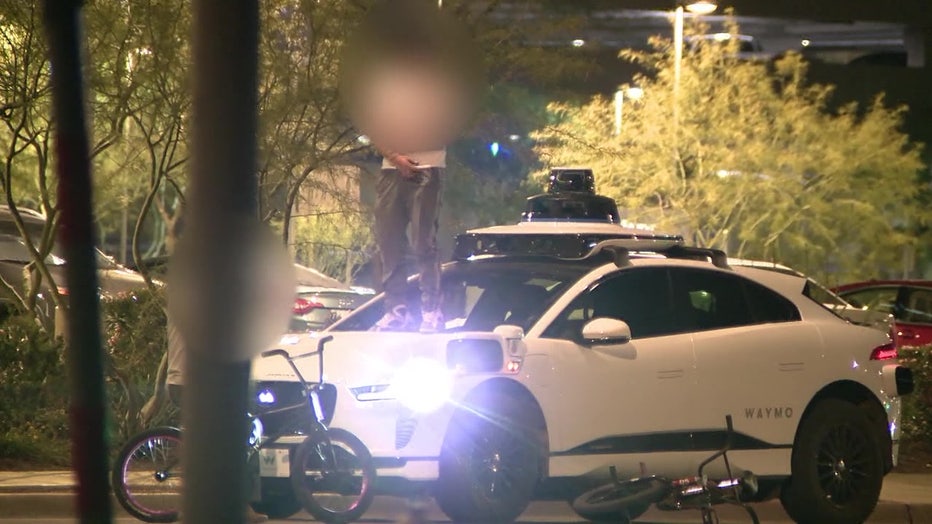 A screenshot from a video showing the teen jumping on top of a driverless Waymo car in Phoenix, Arizona.