Chandler PD confirms investigation into an email from Charles Vallow before his death
The Chandler Police Department confirmed investigators are looking into an email sent from Lori Vallow's former husband before he was killed.
Charles Vallow, 62, was killed in self-defense by his former brother-in-law, Alex Cox, on July 11, 2019. Cox died 5 months later for unknown reasons in Gilbert.
Investigators said Saturday there is an email they are looking into and FOX 10 was able to obtain that email.
Below is an email from Vallow to his brother-in-law, Adam Cox.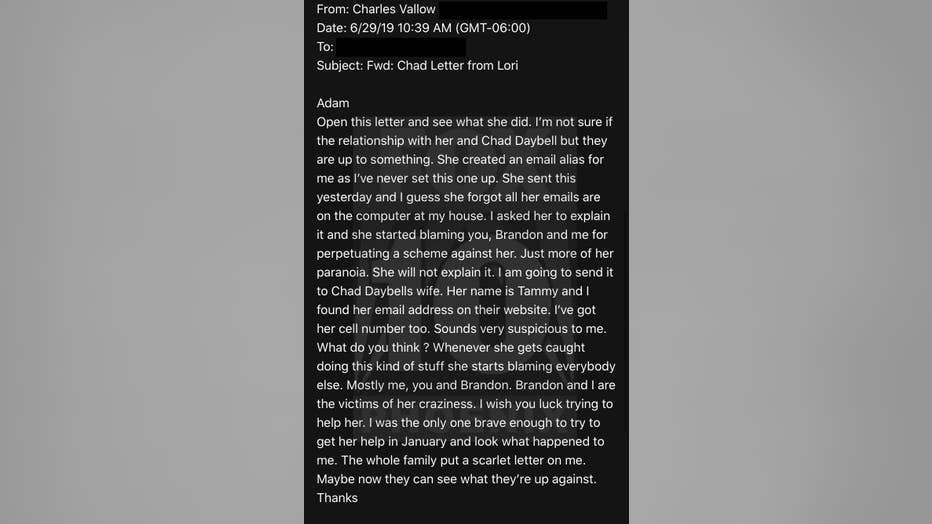 In the email dated June 29, 12 days before his death, Vallow says he suspects his wife, Lori, and Daybell were "up to something." He alleged she created a false email account on his behalf and sent an email to Daybell asking him to be a ghostwriter for a book he was never actually writing.
Some quotes from the fake email include:
"We really enjoyed having you stay with us back in November when you came to the Preparing A People conference."
"I'm willing to pay you well to help me get this book into shape as my ghostwriter."
"Is there any way you could come here for a couple of days and help me get the book underway?"
"You could stay in our guest room like before, or in a hotel if you prefer."
"I hate to take you from your family, but I know this book is vital to my speaking success."
The alleged false email Charles Vallow claims Lori Vallow sent on his behalf to Chad Daybell on June 28, 2019.
Vallow said when he confronted his wife about the email, she blamed him, her brother Adam and niece's husband Brandon. "Just more of her paranoia," he said. "Whenever she gets caught doing this kind of stuff she starts blaming everybody else."
He says he and Brandon are "victims of her craziness," in the email. "I wish you luck trying to help her. I was the only one brave enough to try to get her help in January and look what happened to me."
Charles Vallow is the former husband of Lori Vallow, the mother of the missing kids with ties to Arizona. JJ Vallow, 7, and Tylee Ryan, 17, have not been seen since September of 2019.
The Chandler Police Department will determine if investigators will be sent to Idaho once Vallow is extradited so they can interview her.
For more information on the search for JJ Vallow and Tylee Ryan, click here.