Fiery wrong-way crash on I-10 in Phoenix leaves 2 dead, 3 hurt
PHOENIX - Two people were killed in a fiery wrong-way crash on Interstate 10 in Phoenix early Sunday morning, according to the Arizona Dept. of Public Safety.
The collision happened just before 3:30 a.m. on the eastbound lanes of the freeway near 7th Avenue. The roadway was shut down throughout the morning for the investigation.
Initial reports suggest that a wrong-way car was speeding through the I-10 tunnel when it collided with an SUV going the opposite direction between the 7th and 19th Avenue exits.
The drivers of both cars died from their injuries, DPS officials said.
A third car struck the wrong-way vehicle, and three occupants inside were hospitalized but are expected to survive. 
Phoenix Fire said two women, ages 57 and 32, were transported to the hospital in critical condition. A third survivor was treated and is in stable condition.
It's too soon to say if impairment was a factor in the crash, DPS said.
Viewer video showed witnesses getting out of their cars trying to free the victims from the wreckage.
'There was nothing we could do'
Witnesses described a chaotic and horrifying scene. One of those witnesses is Derek O'Neil.
"It's going to take me a while to get over the fact that I had to witness that," he said. "I don't know how I'm going to sleep tonight honestly."
O'Neil says he was driving into Sky Harbor airport when it happened.
"I'm not even lying to you when I say it felt like a horror movie," he said.
He says he was able to safely pull over and tried to help.
"There was nothing we could do. Like, we were running as fast as we could but as soon as we got close, the heat was too much and the fire was just balls of flame just coming off the cars," he recalled. "Two people lost their lives, and they'll never go home again."
He's trying to process it all.
"All day long at work, I was sitting at work, and my heart was just going like this," he said. "I don't wish that on anybody. It's a hard thing to see and not be able to do anything."
O'Neil says he's struggling with knowing how helpless he was at the moment.
"We were standing there frozen like there was nothing we could do at that point," he said. "I couldn't do anything to save him – that was the hardest part, I felt so helpless."
He says these types of accidents are happening far too often on our roads.
"How is it still happening? What are we going to have to do as a state to stop it?" he wondered aloud.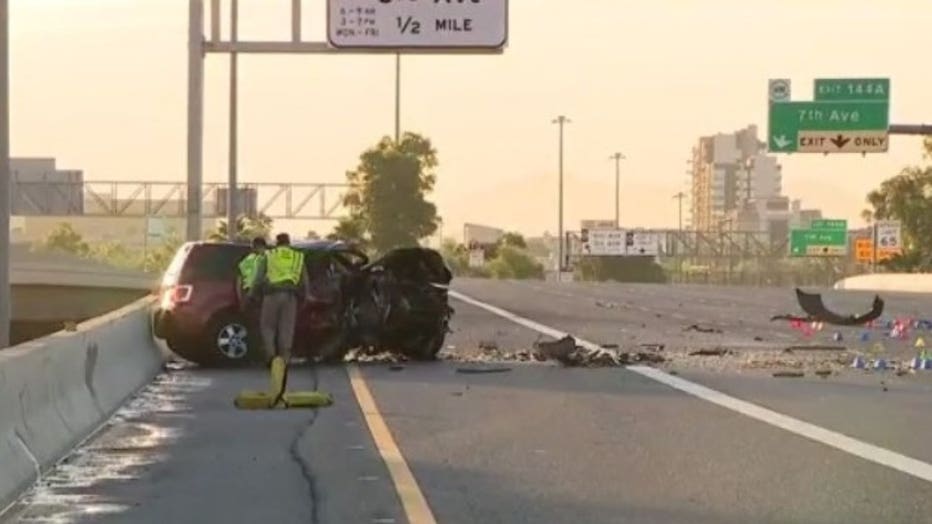 The aftermath of a deadly crash on I-10 near 7th Avenue.
I-10 eastbound was closed for more than seven hours while troopers investigated the crash.
A rash of wrong-way incidents
According to the Arizona Dept. of Public Safety, troopers received a total of four wrong-way calls in the Valley since Saturday night, with one person getting arrested on Loop 202 just south of Interstate 10. 
Authorities have not been able to identify or catch the other drivers involved in these incidents.
Capt. Alan Heywood with Arizona DPS gave the following tips to avoid wrong-way drivers:
If you see headlights, slow down and immediately pull to the right
If the big ADOT display boards are saying a wrong-way driver is ahead, pull over, exit the freeway and use city streets to get to your destination
Stay in the right-hand lanes since wrong-way drivers are usually in the left or HOV lane