Hundreds of flights delayed at Phoenix Sky Harbor Airport after FAA lifts ground stop
PHOENIX - Hundreds of flights were delayed at Phoenix Sky Harbor International Airport on Wednesday after the Federal Aviation Administration lifted a temporary ground stop of all U.S. flight departures following a nationwide system outage.
The FAA outage impacted NOTAM (Notice to Air Missions), a system that sends out critical information to pilots and other flight operations personnel about potential hazards along a route. The alerts span from mundane information about construction at airports to urgent flight restrictions or broken equipment.
All aircraft are required to route through the system, including commercial and military flights.
As a result of the issue, the FAA had ordered all airlines "to pause all domestic departures until 7 a.m. MST to allow the agency to validate the integrity of flight and safety information."
The ground stop was lifted on Jan. 11 just before 7 a.m. At one point, over 200 flights were delayed at Sky Harbor, and more than 50 were canceled.
If you're flying out of Sky Harbor, you can check your flight status here.
"I think I'm starting to dislike airports," one traveler said. "I'm just not getting used to flying because I'm not one that normally flies – that's how I got over my fear of heights – so I've been getting comfortable with it, but now it just seems like this is like the second time I've came across a problem flying, whether it came to a delay for some kind of malfunction anywhere."
According to a tweet from United Airlines, those affected by the delays are eligible for a travel waiver "to allow you the freedom to change your travel plans."
MORE: FlightAware Misery Map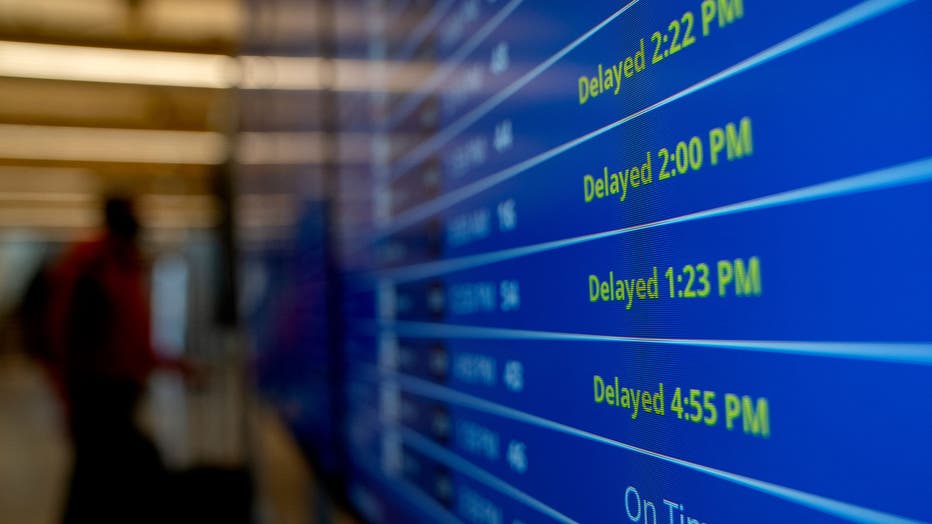 Delayed signs are displayed on the flight schedule board at Ronald Reagan Washington National Airport in Arlington, Virginia, on January 18, 2022. (Photo by STEFANI REYNOLDS/AFP via Getty Images)