'It's a disaster': Some Arizona drivers left frustrated as roads have been hit hard by recent storms
WICKENBURG, Ariz. - Recent storms are wreaking havoc on some of Arizona's major highways, with the I-40 from Flagstaff to Kingman, as well as the Highways 60 and 93 near Wickenburg being some of the hardest hit.
In Wickenburg, residents say they have popped tires and damaged their car's alignment. Some in the area even say it's a living nightmare.
"Blood Alley. That's what we call it," said Elaine Elekas. "Now with all the potholes, it's a disaster, and people are constantly weaving and trying to avoid each other, truck drivers. It's very, very dangerous."
"I was not expecting them at all," said Keila Hookland. "I drove up this way back in October, and it was not as bad."
The sudden dents in the ground come up fast and are unexpected, especially at night.
"It was kind of awful. There were potholes all along the way. You kind of have to stay almost on the side of the road like that emergency shoulder area just because the potholes are just right where your tires are, and you don't want to keep hitting them."
Area residents say the potholes started getting unbearable a few months ago. Many have asked ADOT to address the issue, but officials with the department say the potholes are because of the unprecedented winter weather and recent rainstorms, which is also delaying their repair efforts.
"We're doing the temporary patching in the cooler weather, and then once it's dry and warm, our crews can come in and cut out some of those bad sections, and apply the permanent patchwork. We know that we'll be busy up in [Northern Arizona] all spring and summer, with that kind of patchwork along I-40," said Garin Groff.
However, area residents say they want permanent solutions, and not patches.
"Overtime they have tried to repair, and the repairs have been re-repaired, and now, potholes are occurring in addition to where the repairs were," said Stephen Hamilton.
"What I would hope to see is that they would say somehow, we can get some emergency funds to completely re-pave this," said Elekas.
ADOT has several large projects in the works across the state, but not a lot in terms of repaving the affected sections. They will have a meeting in April that will be open to public comment, and they are also asking for drivers feedback online.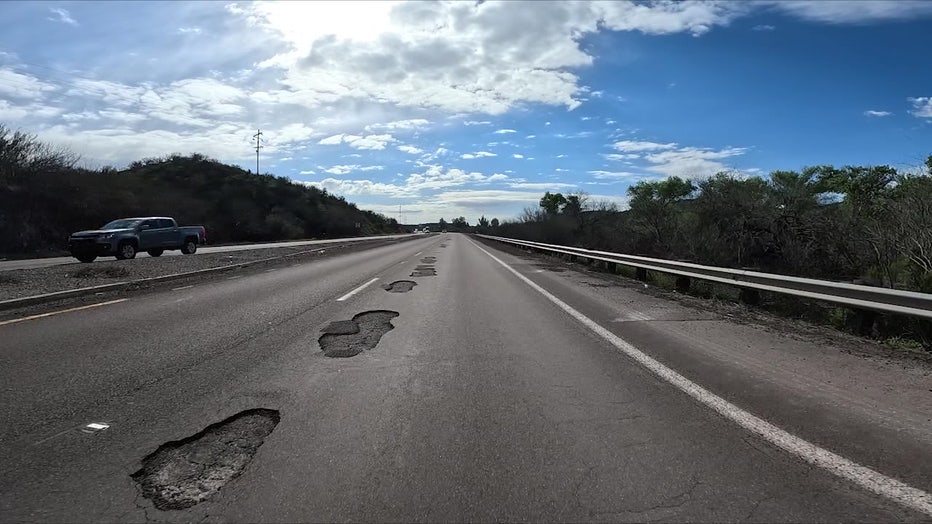 Portholes on a stretch of road near Wickenburg