MCSO: Teen, man arrested in connection to deadly double shooting near Gila Bend park
GILA BEND, Ariz. - The Maricopa County Sheriff's Office announced the arrests of two suspects weeks after a deadly shooting that happened near Papago Street and Euclid Avenue on Oct. 1, not far from the Gila Bend Community Park.
At 1:36 p.m., Sgt. Calbert Gillett says deputies were dispatched to a shooting call in the area. When they arrived at the scene, they discovered the bodies of two men.
"Preliminary information is that these individuals were at a party when the shooting occluded," said Gillett.
Investigators identified the victims as 25-year-old Emmanuel Boyd Arroyo and 26-year-old Noah Ezariah Arroyo, Jr.
The suspects fled the scene prior to the deputies' arrival.
On Oct. 24, the sheriff's office says those suspects are now in custody.
Nineteen-year-old Kurtis Childs and 16-year-old Aiden Manuel were arrested after self-surrendering on Oct. 21 and booked into jail on suspicion of murder, gun charges and assault
If you have any information about this case, call the Maricopa County Sheriff's Office at (602) 876-1011.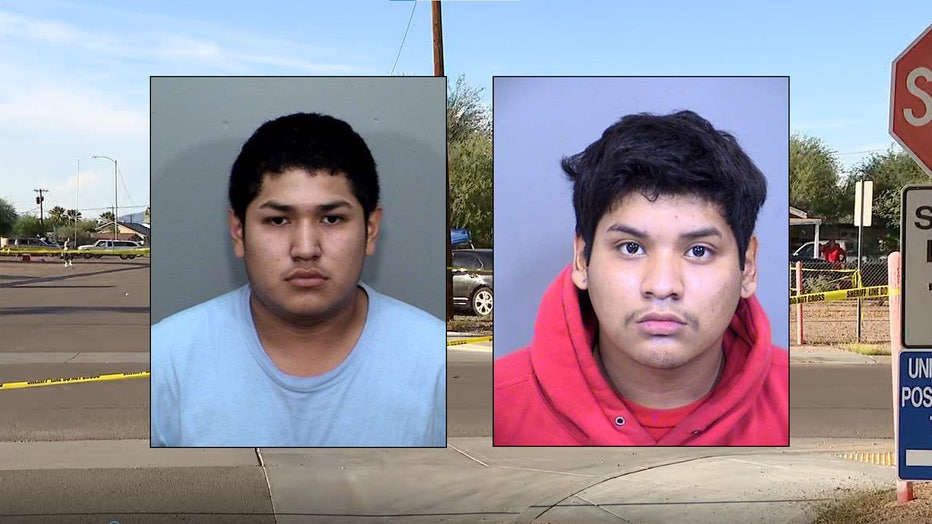 16-year-old Aiden Manuel and 19-year-old Kurtis Childs
Gila Bend shooting scene on Oct. 1, 2022