Meet Patsy Elmer: Seamstress for the Phoenix Suns, other professional teams
Tune in to FOX 10 Phoenix for the latest news:
PHOENIX - It may be easy to overlook the jerseys when you're invested in the Phoenix Suns games, so ahead of the game as playoffs are going on, we're introducing you to their local seamstress.
Patsy Elmer is the woman behind it all, and she lives right here in Phoenix. She's the owner of Big Time Jerseys.
"They have five jerseys. They have the black, white, purple, the classic and the native," she said.
She grew up in Globe-Miami and is now running a business out her home in Phoenix, customizing game day jerseys.
"I have been doing the Suns jerseys for the team since 1994," Elmer said.
While going back to school for fashion illustration in Phoenix, she accepted a job as a production manager who worked with the Phoenix Suns. Fourteen years later, she took over an alteration business for a friend.
After that, she started her own business specifically for jerseys.
"I love sewing and this is the direction that my sewing passion and talents led me to," she said.
Eight years ago, she transformed her home into a workspace.
"We started out with two teams. Wayne Gretzky, just memorabilia, and the Suns. Now we have probably 10 pro and semi pro teams," she said.
Elmer says her team sews up to 100 jerseys for each player depending on who it is, and each jersey is made in an hour or less.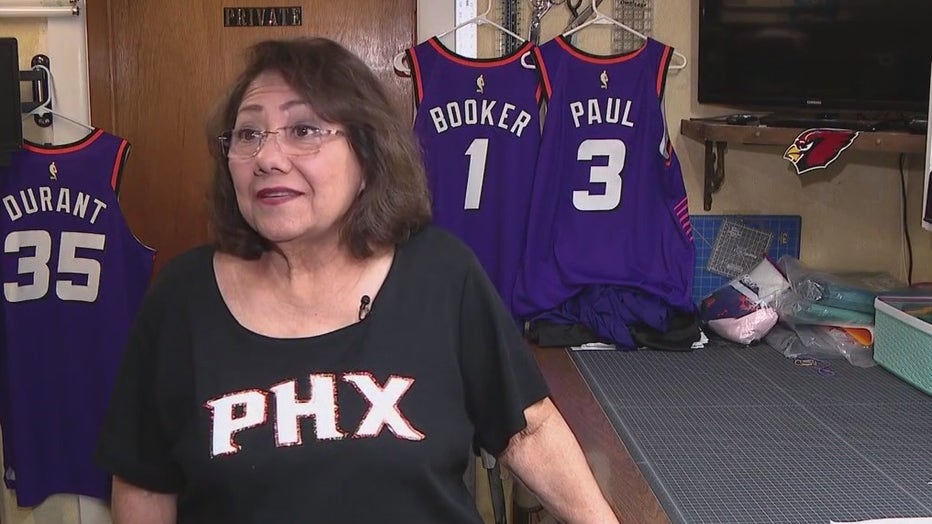 Patsy Elmer, seamstress for the Phoenix Suns and other pro and semi pro teams
"We can turn around a lot of jerseys for a new player like Durant. We turned around about 50 jerseys in 24-48 hours," Elmer explained.
The godmother of the Suns doesn't look at sewing as a job, but rather her passion.
"Find what it is that you truly love, to do that, you can do it all day long without getting paid for it and if you find that it is of service to someone and it has value, you can do that for your so-called job, work and get paid for it and not feel like you're working a day in your life," she said.
Elmer's business continues to expand. Right now, she has six employees and is hoping to move out of her house and into a building in the next few years.