Suspect stabbed man 70 times because he 'wanted to kill him,' court documents say
WARNING: The following story contains graphic content. Viewer discretion is advised.
MESA, Ariz. - A suspect has been arrested in the violent stabbing death of a man in Mesa.
According to court documents, 46-year-old Jose Feliciano was found lying in the roadway at around 2 a.m. on Aug. 12 at the intersection of University Drive and Extension Road. Feliciano, who was bleeding heavily from multiple stab wounds, was pronounced dead at the scene by firefighters.
"It was later discovered the victim sustained a minimum of approximately 50 to 70 stab wounds at his chest, side torso area and back," read a portion of the court documents.
A witness who reportedly saw the stabbing told police they saw the suspect "violently swinging his right arm at the victim while standing over his body in the middle of the roadway."
The witness provided a description of the suspect to police. Officers found and detained the suspect, identified as 38-year-old Roberto Villareal, holding a bloody knife and walking southbound on Extension Road.
Villareal also had blood on his clothes and hands, court documents said.
During an interview with detectives, Villareal allegedly admitted to stabbing Feliciano several times because he "wanted to kill him."
Villareal said he and Feliciano were walking away from a QuikTrip when Feliciano pulled out a knife and tried to rob him.
"[Villareal] claimed he removed the knife from the victim; knocking the knife from his hands and then retrieving it from the ground to stab the victim," court documents read. "[Villreal] also admitted to chasing/running after the victim and then using the knife to stab the victim repeatedly."
Villareal also allegedly admitted to stealing Feliciano's electronic tablet so he could use it or sell it.
Police said surveillance video that they obtained from the QuikTrip showed the deadly encounter between Villareal and Feliciano.
Villareal was arrested and booked into jail. He is accused of first-degree murder and armed robbery. He is being held on a $1,000,000 bond.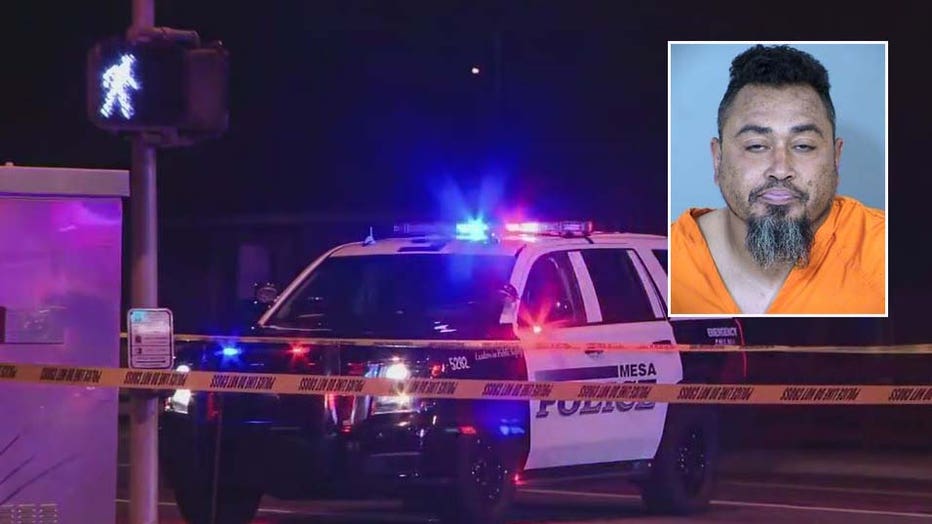 Roberto Villareal was arrested in the brutal stabbing death of another man in Mesa.
More Arizona headlines