Mesa Police officers hurt over the weekend in two separate incidents, department says
MESA, Ariz. - The Mesa Police Department says another officer was hurt after responding to an incident just a day after three officers were hurt during a fight at a Dutch Bros. coffee shop.
In this most recent incident, police say they responded to a report of a car that crashed into a Holmes Elementary School building on March 12 near Mesa Drive and Southern Avenue.
According to court documents, officers got to the scene and found a female driver and 30-year-old Leon Brisco, who was "manipulating items inside the passenger compartment of the vehicle."
"Officers advised the defendant that he was detained, and not free to leave the scene," court documents read. "The defendant then became confrontational, and refused to obey the officers [sic] commands."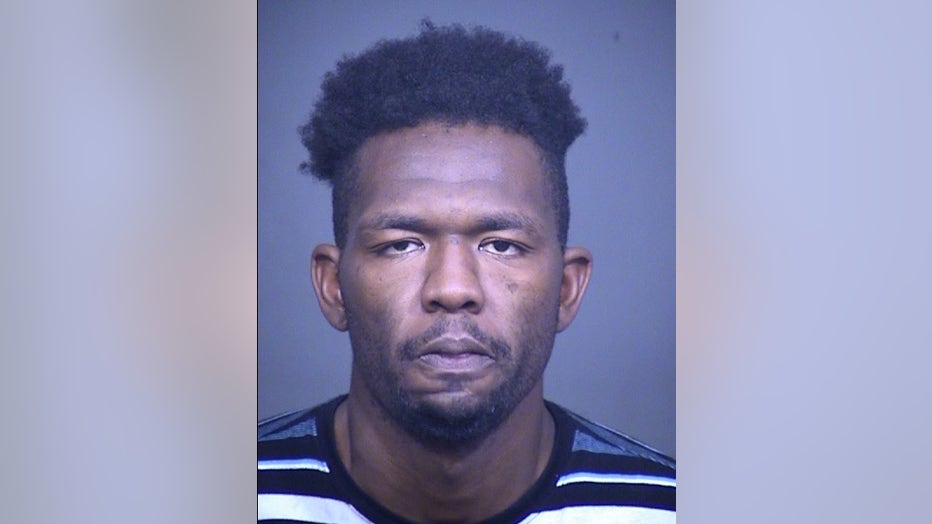 Brisco was told by police if he did not cooperate, he would be handcuffed. As police were awaiting backup, a fight broke out and one officer was injured.
"The defendant once in handcuffs continued to be verbally confrontation [sic], uncompliant, and refused to cooperate with officers on scene," court documents read.
Police say they found a syringe with heroin and "a white crystaline substance" that was found to be methamphetamine in Brisco's pockets.
Brisco was arrested and booked into jail. He is accused of multiple charges, including aggravated assault, resisting arrest, and drug charges. 
The injured officer was taken to the hospital to undergo a CAT scan because police say he may have lost consciousness during the fight with Brisco.
Suspect attacks officers at Mesa coffee shop, police say
In the incident before this one, on March 11, officers got a call about a man arguing with staff at Dutch Bros. at Ray and Southern roads. Employees wanted him removed from the area.
He left before officers got there, but came back not too long after.
"The man approached officers in a hostile manner and a [stun gun] was deployed, but did not connect," police said.
A fight broke out between the three officers and 21-year-old Tegan Williams.
The three officers were hospitalized and one had suffered broken bones. Williams also allegedly kicked an officer who became unconscious, and the third officer suffered a hand injury that required an X-ray.
No more information is available about these two incidents.