Mesa police release 911 call in mom's killing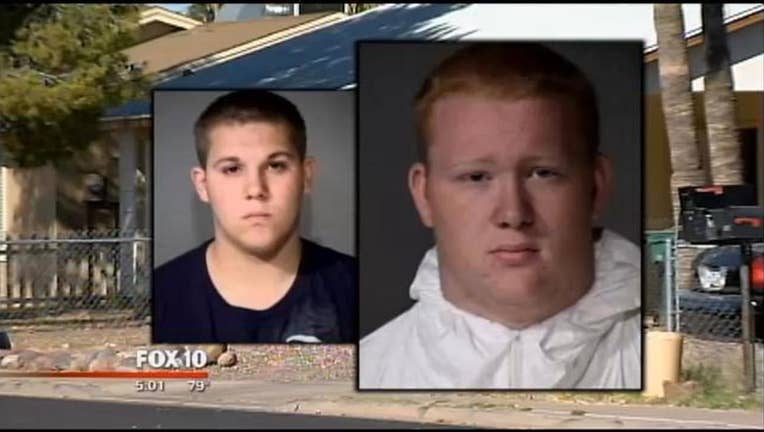 We're hearing the 911 calls from a gruesome murder in Mesa.

He's just 16-years-old and charged as an adult in the beating death of his mother.

Police say Michael Helms murdered his mother because he was upset she had taken his cell phone away.

He's accused of plotting her death with a friend, hiding her body and then attacking his stepfather when he arrived home from work.

This was not a spur-of-the-moment crime. According to police, the suspect planned to kill his mother and then attack his stepfather.

The stepfather was able to get away and call 911.

Operator: "911, what is your emergency?"

Caller: "I just walked into my house and my son assaulted me with a frying pan."

When Helms' stepfather made that call, police say the teen had already killed his mother and the suspect's father didn't know yet.

Operator: "Do you think your son would try to attack your wife?"

Caller: "If he attacked me, I am sure he would. She was asleep, so I don't know if he attacked her or not."

According to Mesa Police, Helms plotted to kill his mother at their home near Juanita and Gilbert Road and he enlisted the help of a friend, 17-year-old Christian Blakely.

Investigators believe the victim was beaten and strangled, then the two cleaned up the scene and waited for Helms' stepfather to arrive.

Caller: "He tried to not let me call the police or anything. I tried to get out the door and he attacked me with a pan again and then he dragged me back in the house and threw me down and held me down... and I don't know where my wife is. He keeps saying that she is not home."

Operator: "Are you injured?"

Caller: "I have a huge lump on my face.. I do not know the extent of it."

Soon after that call, police arrested Helms and his friend as they were trying to escape. According to investigators, both teens confessed.

Both teens are going to be charged as adults, which is why we are showing you their pictures.

While police say Helms is the one who carried out the attack, Blakely stood in the dark and watched.
Follow this story: Police: Frying pan and hammer used to murder Mesa mother