Migrants may get stuck in border towns for weeks after Title 42 expires: Arizona mayor
NOGALES, Ariz. - With the pandemic-related restrictions known as Title 42 due to expire, the mayor of Nogales, Arizona, told Fox News that he is concerned a lack of funding may result in migrants getting stuck in his city and other border towns for days or weeks.
Mayor Jorge Maldonado said "there's no need for people to rush the border," and that the U.S. Customs and Border Protection can only get so many people processed on a daily basis.
"We can only process so many, Border Patrol and Customs are doing their best job and processing people, but we can only process so many," the mayor said. "If we get flooded, the one thing that the city and the county are going to have problems with is funding to get those people out of here."
Maldonado added: "You know, then you might be sitting here a couple of long days or weeks."
Maldonado said the city would also need funding for shelters, should a migrant surge cross the border into Nogales.
"We don't know where it's going to come or if it's going to come," Maldonado said.
Title 42 has allowed border officials since March 2020 to quickly return migrants seeking asylum back over the border, on grounds of preventing the spread of COVID-19.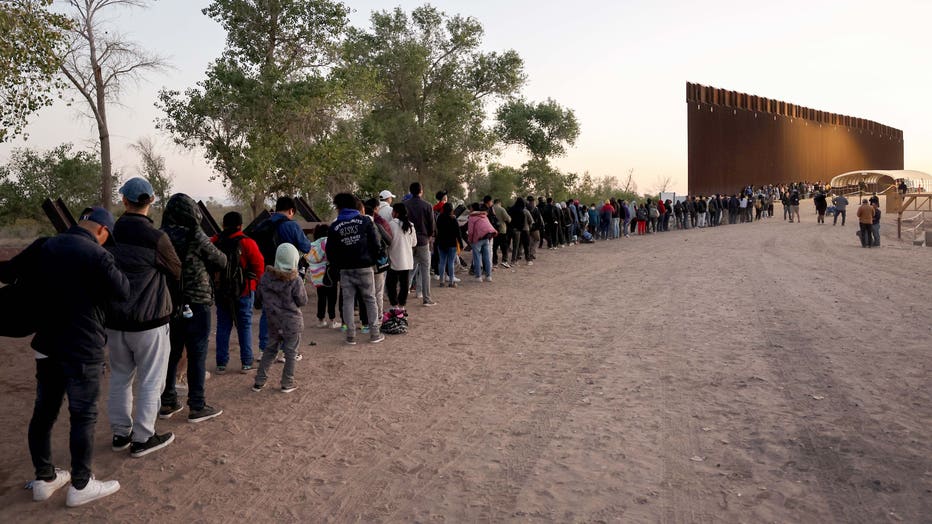 YUMA, ARIZONA - MAY 11: Immigrants seeking asylum in the United States wait in line before sunrise to be processed by U.S. Border Patrol agents after crossing into Arizona from Mexico on May 11, 2023, in Yuma, Arizona. (Photo by Mario Tama/Getty Images)
CBP sources told Fox News that Border Patrol had 10,000 migrant apprehensions on Wednesday in the waning hours of Title 42 – the third day in a row they've reached 10,000. This week has seen the highest daily totals ever recorded for Border Patrol.
As of Thursday morning, the sources said CBP has approximately 28,000 migrants in federal custody. Those numbers present a strain across multiple sectors as capacity across the entire southern border is about 10,000 total. 
Maldonado said that while Nogales has not seen a massive influx of migrants yet, the number has been increasing.
He said his main concern was the possibility of the city's regular flow of business with Mexico getting disrupted.
"We cater and depend on Mexico for our business," the mayor said. "We have at least 60-80,000 people that cross the border on a daily basis, either walking or in vehicles, because we have a heavy produce industry that at least 16 to 1800 trucks cross every day."