More than 160,000 hens killed, 2 barns lost in Hickman's Family Farms fire
TONOPAH, Ariz. - Two barns and more than 160,000 hens were lost in a fire on Saturday, March 6 at Hickman Family Farms in Tonopah.
What sparked the fire near Salome Highway and Ward Road isn't known yet, says the Buckeye Valley Fire Department.
More than 165,000 hens were killed in the fire, two barns burned to the ground and a male was taken to the hospital for smoke inhalation.
This is a heartbreaking loss for the Hickman family.
"No humans were hurt, we're thankful for that. But we are still devastated by the bird loss," Sharman Hickman said, who's a 3rd generation egg farmer.
Hickman says the fire started around 1 p.m., but by the time she got there, the second barn was already up in flames.
"All the firefighters that came did their best to try and save their lives," Hickman said. Crews that responded were from Arizona Fire and Medical Authority, Buckeye Valley Fire Department, Buckeye, Goodyear, Avondale and Harquahala fire departments.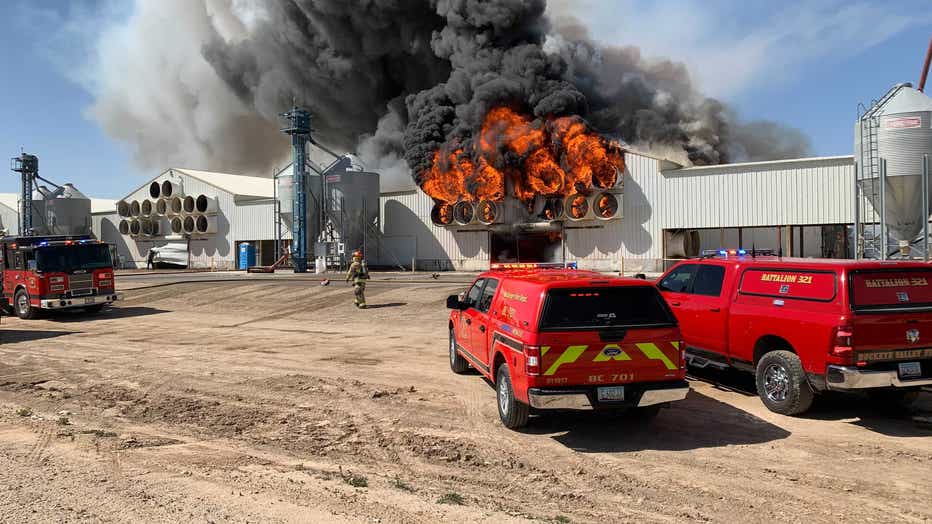 Courtesy of the Buckeye Valley Fire Department
Hickman says that a hen normally lays one egg per day. So until they rebuild, they are losing out on about 165,000 eggs each day.
Her focus at this point, she says, is not on the financial loss but the loss of life. Her goal is to make sure that all their other chickens stay safe and healthy.
"We've got a care team to make sure the other chickens are not disrupted in any way and they can do about their business of laying eggs and enjoying their environment," Hickman said.
The family farm did lose another barn back in 2019 and it took them almost two years to rebuild that one. That barn was a lot bigger than the two lost Saturday so the turnaround should be quicker.
On Sunday, authorities say there isn't any indication of foul play. An arson unit is investigating to assess the scene along with the fire department arson investigation unit.