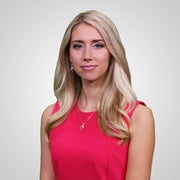 Irene is an Emmy-award winning reporter who joined the FOX10 news team in September 2020. She is very excited to be reporting out here in the desert! 
Irene last worked as a reporter at WFMZ-TV in the Allentown/Berks County/Philadelphia area. There she covered several national stories including the search for a missing Amish teenager, and the controversy surrounding an Allentown police officer videotaped kneeling on a man's head, as well as the Black Lives Matter protests that followed. 
Some of her favorite stories at the station included interviewing a 98-year-old Girl Scout, and traveling to New York City to witness a WWII veteran receive a Legion of Honor Award. Irene received a Pennsylvania Association of Broadcasters Award for that story. 
In September 2020, Irene also received an Emmy award for telling the story of Doris the "Unknown Angel," who inspires tragedy victims to never lose hope. 
Prior to WFMZ, Irene worked as a multimedia journalist/digital media producer at Lancaster Online, where she anchored news updates, wrote/shot/edited online stories, produced podcasts, and hosted online shows. One of her favorite shows, which she started up herself, called "Shout Out Lancaster" allowed Irene the opportunity to highlight service work in the community.  
Irene grew up in Lancaster County, PA, where most of her family still lives. She graduated summa cum laude from Elizabethtown College with a Bachelor of Arts degree in Mass Communications and Sociology/Anthropology. While still in school, she received a first-place award in the Society of Collegiate Journalists' feature news package competition, and was also recognized by the college with multiple awards including the Communications Excellence Award, Points of Distinction Award, and two Distinguished Student Awards. In February of 2019, her research was published in the academic journal, Journalism.
In her spare time, Irene loves to sing, as well as play piano and the ukulele. She enjoys performing at fundraisers in the community, and in 2019 she sang the national anthem for the Lancaster Barnstormers. Irene also enjoys reading (anything by Jane Austen, C.S. Lewis, J.R.R. Tolkien, J.K. Rowling or Charlotte Bronte) kayaking, hiking, and spending time with family. Irene is Greek Orthodox and loves making Greek food/pastries (OPA!). 
With the understanding that each person has a story to share and lives to touch, Irene wants to learn as many of these stories as possible. Share your story with her at Irene.snyder@foxtv.com!
 
The latest from Irene Snyder