Nationwide TikTok challenge causes several school districts to take heightened precautions
A new TikTok challenge has several school districts across the country taking heightened precautions.
It's unclear where the TikTok school threat on Dec. 17 emerged, but the challenge suggests numerous school shootings will take place on December 17. Authorities in cities across the country have said they've received no evidence that the threats are credible, but school officials are taking heightened safety measures as a precaution.
TikTok challenge response in Maryland
According to the Baltimore Public School District, law enforcement agencies investigated the threat "and determined that it originated in Arizona and is not credible." FOX reached out to the district and Arizona police for confirmation and is awaiting a reply.
TikTok challenge response in Wisconsin
In Wisconsin, the Waukesha School District and Menomonee School District issued letters to parents this week. 
"Parents, we are asking you to discuss this with your children," the district's deputy superintendent wrote in a letter obtained by FOX 6 Milwaukee. "We take all threats seriously and any threats against the school or district will be disciplined to the greatest extent possible, up to and including expulsion from school. If you or your child hears of any specific threat to our district, we ask that you please report it immediately."
RELATED: 'A cry for help': Public safety officials, mental health experts weigh in on school threats
The superintendent noted the threats were not specifically directed at the school district. 
The school district of Menomonee also released a similar letter saying the district "is monitoring the situation and are taking it seriously." The district said it has been in contact with the Menomonee Falls Police Department regarding the post.
TikTok challenge response in Florida
In Florida, the Citrus County School District wrote on social media that they have been made aware of the national TikTok trend. 
"Many of our schools are being inundated with parent calls this morning asking about these latest threats and their validity," the district wrote. "As of Thursday morning, we have not received any indication of a credible threat to any of our schools." 
They said their critical alert system was activated at Crystal River High School Thursday morning due to a medical emergency involving a student.
"This activation had nothing to do with a threat of any kind," the school district said, but added, "the medical alert at CRHS created a heightened sense of concern at all of our schools."
RELATED: Amid viral TikTok threats of school violence, Citrus County schools ask students to 'report, don't repost'
Officials asked students and parents not to repost possible threats on social media, which could create further disruption. Instead, they asked anyone with information on a specific threat to report it to law enforcement immediately. Citrus County Schools will be in session on Friday, the district said.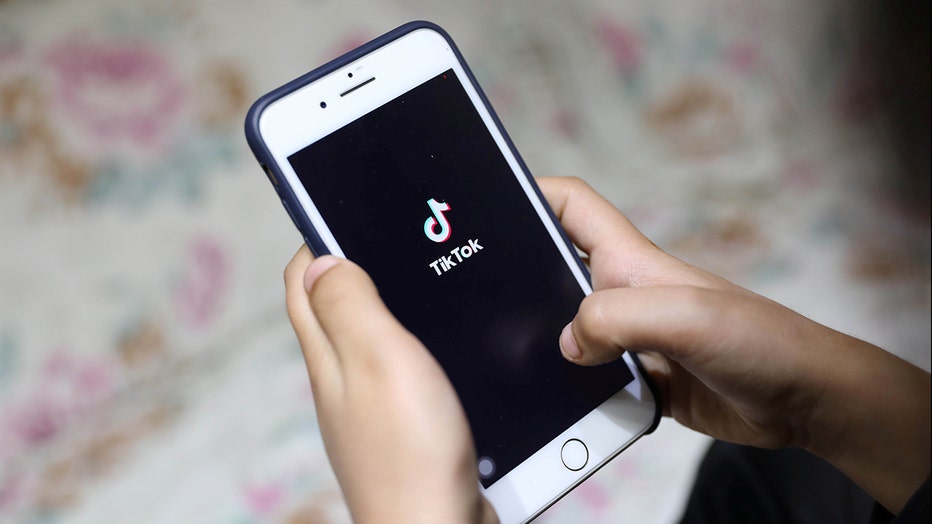 Photo taken on Dec, 1, 2020 shows a mobile phone running the TikTok app (Credit: Xinhua/Ahmed Gomaa via Getty Images)
Pasco County Sheriff's Office in Florida released a statement to FOX 13 Tampa. 
"School districts and law enforcement agencies throughout the Tampa Bay area and the nation are aware of warnings, spread through social media, regarding threats of violence at schools on Friday, December 17. Pasco Sheriff's Office has seen no evidence that there is any credibility to these social media posts. Nevertheless, PSO will continue to investigate any and all threats we receive," officials wrote. "To help in that endeavor, do not share social media posts that threaten schools or individuals or report these tips on social media."
Hernando School District in Florida echoed officials telling the community not to share "social media posts that threaten schools or individuals." 
"Instead, when you see these types of posts, alert law enforcement immediately. Sharing unfounded threats on social media rewards those who intend to create panic and can divert tremendous resources away from law enforcement and the school district," the district added.
TikTok challenge response in Arizona
In Arizona, the Scottsdale Unified School District reiterated the threats were not credible but noted that the staff "takes all threats seriously." 
"You may notice an increased police presence on and around our campuses today and tomorrow," the district added.
The Phoenix Police Department issued its own statement on Thursday afternoon, pointing to their awareness of the challenge. 
"Our various investigative units are in contact with school officials across the city and will investigate any threats of violence should they arise. At this time we are not aware of any credible threats of violence at a school," police said. "We take these threats seriously, and our primary goal is always the safety and security of our community. We will continue to monitor the situation and act accordingly." 
Phoenix police urged parents to take time to speak to their children about the seriousness and resulting consequences of making a threat.
Authorities in Buckeye, a suburb of Phoenix, said Friday morning they were investigating "an apparent school threat that began circulating on social media overnight" but that there was no immediate danger.
"Investigators are already speaking with the juveniles involved with the post. There is no danger to the community," the Buckeye Police Department wrote on Twitter. 
"Buckeye police are working closely with schools and will have a heightened officer presence at campuses. We want to remind parents to speak with their kids about their social media use," the department added.
TikTok challenge response in Minnesota
The Winona Police Department, in Minnesota, issued a safety alert on social media. 
"We have been made aware of a challenge circulating in recent days on TikTok to threaten gun violence in schools on Friday, Dec. 17. There have been no specific threats made against any Winona schools, but we want to be proactive in preventing someone from committing a serious crime," officials wrote. "If anyone participates in this challenge they could be facing felony crimes and possible expulsion from school. This is not something we will take lightly."
The Minnesota Department of Public Safety released a statement Thursday afternoon. 
"As of Thursday morning, at least three schools in Minnesota have located similar threat reporting. However, local and state law enforcement have not identified the threat as credible at this time," the department wrote. "At this time, DPS is reporting that the origins of this threat remain unknown and there is no evidence to suggest that any mass causality or severe violence incidents will occur on this date, within Minnesota or the U.S. more broadly." 
The department suggested school administrators immediately report any threats to local law enforcement and they will "assess each perceived threat on a case-by-case basis for credibility and threat viability." 
TikTok challenge response in Connecticut
The Connecticut Intelligence Center said Thursday it has been "investigating and monitoring" the social trend but hasn't yet identified any "specific or credible threats" to schools in Connecticut, police said.
"These posts and rumors started on the social media platform TikTok and have been circulating for at least several days across the country, making their way onto additional social media platforms," state police said in a news release. "Many law enforcement agencies around the country have received tips related to these rumors."
RELATED: TikTok threats against schools likely a hoax, Conn. authorities say
The threats may have grown out of a TikTok challenge to skip school on Friday, authorities said.
"Any school threat that is made in Connecticut is immediately taken very seriously by law enforcement," police said. "If a threat is determined to be a hoax, there will be a thorough investigation and arrests will be made. This could also lead to further consequences within the school district."
TikTok challenge response in Pennsylvania
In Pennsylvania, several school districts released emails to parents and students. 
Haverford School District released a letter to parents after discovering writing on a bathroom wall in Haverford Middle School indicating "there may be a shooting in the school" on Dec. 17.
"We immediately contacted the police and they are investigating. They do not believe students are in any immediate danger. We will have extra security present as our students dismiss today," the district wrote Thursday. 
The district said the threat at their school appeared to be a "copycat message" and noted that the trend did not originate in their school district.
The district maintained that the threat is not credible to their belief, but will have increased police presence in their buildings on Friday as an added precaution. 
Thursday, the Garnet Valley School District superintendent sent out an email stating "no evidence has been found connecting them [the posts] to any local school districts" but understood "the anxiety and unease these situations cause with students and parents." 
"We, therefore, will allow students an excused absence tomorrow if their parents want to keep them home from school," the district said but added it feels its schools "can operate on Friday both safely and securely" in light of the fact that there was no connection between the threat and the Garnet Valley district.
The Upper Darby School District also released an email stating there have not been any direct threats against the school or district, but that the behaviors would "not be tolerated." 
"Any student found to have engaged in or to be involved in executing these challenges will be disciplined to the fullest extent allowable as per the Student Code of Character. We will not tolerate acts of violence in our schools," the district's superintendent wrote. "The behaviors associated with these challenges are highly concerning and deeply troubling. Parents, we are asking for your help. We are asking that you talk with your children about social media and urge them not to take part in these unsafe behaviors." 
TikTok's response to social media challenge
The superintendent said TikTok has removed most of the challenges from its platform. Thursday afternoon, the social media platform released a statement on Twitter. 
"We handle even rumored threats with utmost seriousness, which is why we're working with law enforcement to look into warnings about potential violence at schools even though we have not found evidence of such threats originating or spreading via TikTok," the company wrote.