NAU students get thrill of a lifetime at Adele concert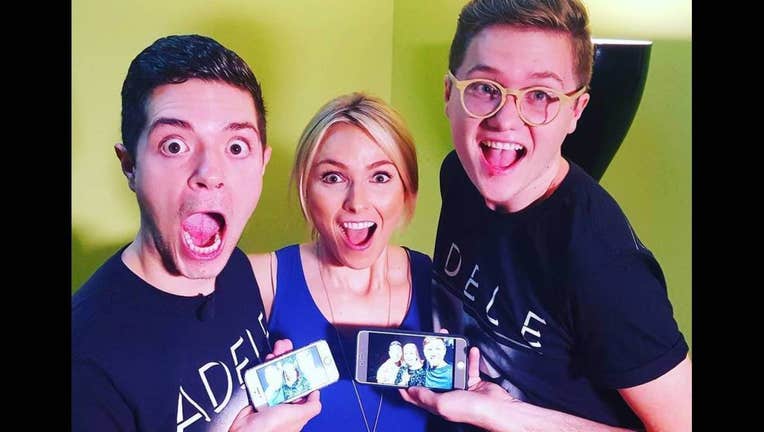 article
PHOENIX (KSAZ) - Cody and Nemanja not only had floor seats to last night's Adele concert, but they were actually invited on stage by the songstress, herself.
"She was like, 'Hi, how are you? I'm Adele,'" Nemanja said. "Yes, yes, you are, let us introduce ourselves because you have no idea who we are."
Nemanja and Cody were at Adele's concert last night when they got the surprise of their lives.
"We listened to Adele all the way down and got a little hyped, then we got there and got a little more hyped, then we got on stage and got very hyped," Nemanja said.
"Where are you from?" Adele asked them.
"Flagstaff, Arizona!" Cody exclaimed.
The two, who are students at Northern Arizona University, tell us they had the prime spot in the crowd for the songstress to see them.
"We were on the floor about nine rows back and right in the middle and we had a direct look right at Adele," Cody said.
"There were so many times, we chatted about this earlier, where it felt like she was looking right at us, like Adele looking at me, like where are you looking Adele," Nemanja said.
And then it happened. Adele invited the couple on stage!
"Then, 'You two in the tie-die,' and I was like, 'Oh my gosh! That's you! Go!'" Nemanja said. "And then, 'You in the glasses.' That's me! Ok! Ok Adele!"
"Her security led us up to the stage after that," Cody said.
The pair said the singer immediately hugged them and even told us that she smelled good. They say it added to her relatability and that's why they love her and her music so much.
"Whenever my, like, first emotional breakup was, that's when Adele entered my life," Nemanja said.
After years and years of enjoying her music, the two made sure to get some pictures of this once-in-a-lifetime opportunity.
"She was the one who offered, we didn't even have to ask," Nemanja said.
"We should get a selfie together," Adele said at the concert.
"Did people want selfies with you?" FOX 10's Kristy Siefkin asked.
"Yeah, it was crazy, we suddenly became Adele," they both said.