Paulding County teen undergoes CPR after vaping at school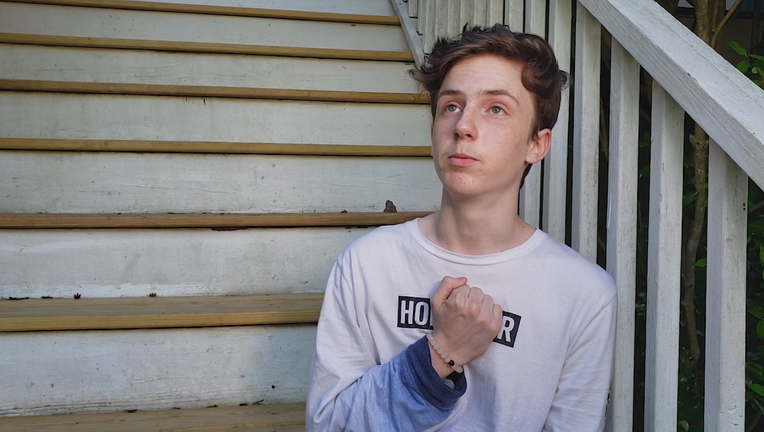 PAULDING COUNTY, Ga. - A Paulding County student collapsed and nearly died after taking a hit off a vape pen. The dramatic scene unfolded in front of a class when the South Paulding High School student collapsed and stopped breathing.
"His heart had stopped, at some point, for about two minutes," said Emily Woodall.
Woodall and her son London said they want to be candid about what unfolded Tuesday because they said a few hits from a drug pen nearly took his life.
"I went to the bathroom and hit it," London Davis admitted.
"A kid met him in there and offered him a hit off of a dab pen, and he took it and went back to class and within 20 minutes or so he was not able to breathe very well, his heart was pounding," said Woodall.
London said shortly after smoking the pen, he experienced severe hallucinations and then things fell dark.
"My chest really felt like it was all scrunched up, and my eyes felt like they were coming out of my head, and my heartbeat was like crazy," Davis recalled.
It was then, his mother said, the students were removed from the classroom and a nurse and officers rushed in. Officials said a school nurse performed CPR after Davis' heart reportedly stopped.
"I called the school on the way, and I spoke to the principal and he said I am standing outside of the school, putting your son into an ambulance right now, and it's bad," his mother recounted. "They've never seen anything like this. They don't believe it was just THC. They think something else was put in there but they don't know what."
Davis said vape pens and the more concentrated THC dab pens are fairly common. But Davis believes there was more to this pen then expected and the consequences were nearly lethal.
"Your child can die. It's a big deal. It's not just smoking a vape and they might get addicted to something. And that is awful, but your child can die. He can die within 20 minutes. It's so fast," Davis' mother said.
In a statement to FOX 5 News, Paulding County Schools said:
This school year the Paulding County School District has seen a dramatic increase in student vaping and incidents related to vaping. This is a very concerning trend that has reached a near-epidemic status, and we know that other school districts are reporting the same phenomenon. Students are vaping in our high schools and middle schools, and we have even seen a few cases in the elementary schools. It has become a SIGNIFICANT issue that our administrators and school resource officers deal with on a daily basis. Besides being illegal for students under the age of 18 and a violation of school rules, vaping can have serious health consequences for students.
Addressing this issue will require a community-wide effort and focus. That is why our close partnership with the Paulding County Sheriff's Office is so critical. On Friday at East Paulding Middle School we will conduct the last of four Alcohol and Drug Awareness Programs, and the Sheriff's Office plays a key role in those presentations. These educational programs, hosted by the Paulding County Commissioners and Superior Court, are held at high schools and middle schools throughout the school year, and we will continue to use these forums as a means of educating students about the dangers of drug and alcohol use, as well as vaping. Additionally, in the coming days we will be sending an informational letter to all Paulding County parents that will provide information about the vaping epidemic, as well as resources to educate parents and help them begin to have conversations with their children about this serious topic. In order to effectively address the problem, we must involve parents.
It is unclear if the child that provided the vape pen will face any consequences. Officials said no arrests have been made.