Father mourns the loss of his son after the teen was shot, killed in Phoenix
PHOENIX - Phoenix Police are investigating after a teen was found shot to death in a car near 19th Avenue and Colter Street on Feb. 5.
Officers responded to reports of a car that had crashed into a gate in the area at around 11:50 PM Friday night.
When they arrived, they found 16-year-old Jaiden Torrez inside of a car with a gunshot wound. He was pronounced dead at the scene.
Detectives are still trying to find more information about what led up to the incident. Anyone with information is asked to contact Phoenix Police or Silent Witness at 480-WITNESS.
'The world is evil'
On Saturday, Torrez's father, Gregory Gutierrez, said his son had a bright future who had a passion for cutting hair and a smile that would light up a room.
That smile is an image that Gutierrez will never forget of his teenage soon.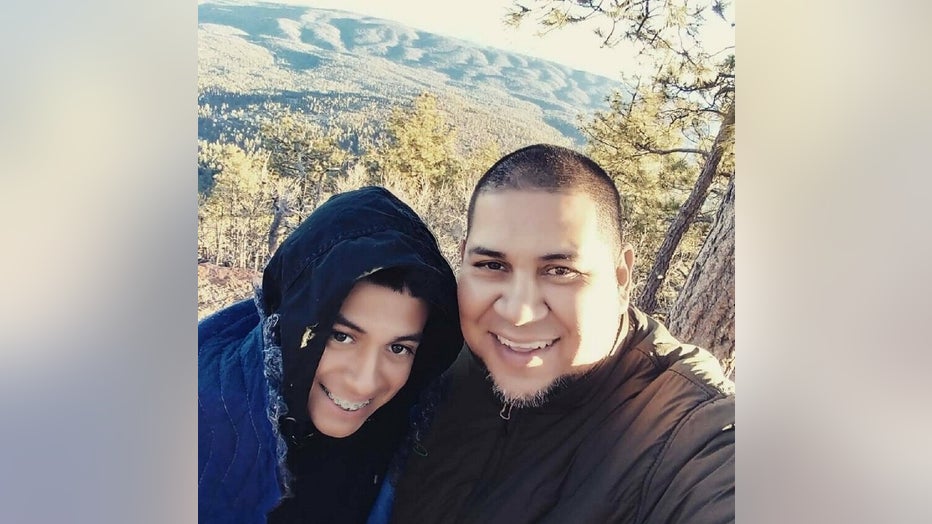 Jaiden Torrez and Gregory Gutierrez. Photo courtesy of Gregory Gutierrez
"Happiest person. Just the happiest person who could be. He'd like to dance, always had a great smile and appreciative of everything he had," Gutierrez said.
Now there's an empty seat at Pinky's Barbershop in downtown Phoenix where Torrez would hang out to learn the trade of hair cutting.
Gutierrez was going to hand over his shop to him in July.
"He was the go-to guy to get your haircut at 16 years old. Like I said, he's been doing it for a while now. It was something that he had a passion for. We attended barber events. I was teaching him the ins and outs of the trade. He picked it up," Gutierrez said.
He added, "He was my baby and to think that he would be hurt like that by somebody never really crossed my mind. I did my best to raise him outside what I learned as a kid. Teach him better, did everything I could to make sure he never took that path. The world is evil."
Donate to the family's GoFundMe here https://gofund.me/8155d738