Man arrested, accused of firing at officers during foot chase in downtown Phoenix
PHOENIX - Police say one person has been arrested for allegedly shooting at officers Sunday night in downtown Phoenix.
According to police, officers were responding to an unrelated call near 1st and Roosevelt Streets just before 8:30 p.m. on Dec. 11 when they were approached by a man who was believed to be armed with a gun. The man asked the officers a question before walking away.
When the officers tried to find the man to speak with him, he ran away and a foot chase ensued.
"During the foot chase, the man pointed a gun at the officers and fired at least one round in their direction," Sgt. Melissa Soliz said. "The man continued to fire several rounds while running away from officers. It is unclear if all those shots were directed at officers or randomly being fired."
No officers were hurt.
The man was not found, however, evidence of gunfire was found throughout the area.
On Dec. 12, police said one person has been detained. That person was later identified as 30-year-old Anthony Jones.
"He was booked into jail on multiple offenses including aggravated assault on a police officer," read a portion of the statement.
Witnesses speak out
One person who lives in the area was a witness to what happened.
That person, identified only as 'Cameron,' lives in an area that has an overview of 1st Street and Roosevelt.
"Within five seconds, I was like, 'that's a gun shot,'" said Cameron.
Cameron took out his phone, and started recording when he heard the first shot.
"I see two police officers with their flashlights, and I knew something crazy was happening right then and there," Cameron said. "I also saw someone in the road running, and from there, the whole incident happened."
Business owners in the area were a bit unnerved by the incident when they returned to work on Dec. 12.
"I was a little scared because I thought I'm gonna have some, like, bullet holes in my window," said Troy Yazzie, who owns Black Bird Bike Co. "I got here about 9 this morning, and the streets were all closed off. I couldn't get to the shops until a little after 9:30."
Area residents said as the nightlife and the crowds grow, they have come to expect crime as well.
"I mean, it's just an unfortunate reality of living downtown in America nowadays," said Cameron. "It's just – you kind of gotta expect it to happen."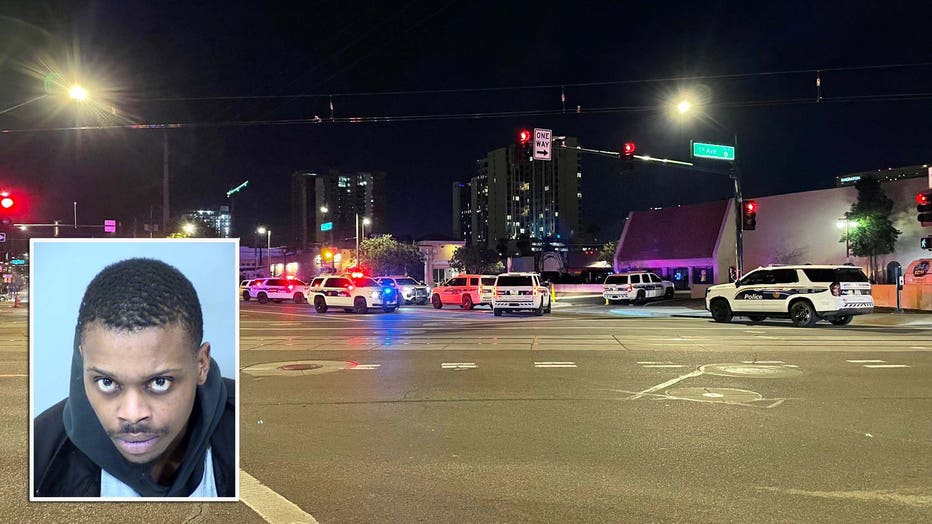 Anthony Jones, 30, was arrested for allegedly shooting at officers during a foot chase in downtown Phoenix.