Man indicted in road-rage shooting that left 8-year-old girl dead in north Phoenix
PHOENIX - A man has been indicted after police say a stabbing that led to a road-rage shooting in north Phoenix left a young girl dead.
According to Phoenix Police, the shooting happened at 16th Street and Greenway Parkway on Oct. 27.
Sgt. Brian Bower says the incident started when two men from separate vehicles got into an altercation, got out of their cars, and began fighting in the intersection.
"One of the adult males believed that something was going on further, so he grabbed a knife and stabbed the other adult male," said Sgt. Bower.
The 28-year-old man with the knife ran to his black sedan, according to police, with a woman and an 8-year-old girl inside.
"While he's driving away from the scene, the adult male who was stabbed multiple times brandishes a handgun, and fires at that vehicle as it's fleeing the area," said Sgt. Bowers.
A clear bullet hole can be seen in the back of the sedan. Sgt. Bower said the young girl was in the rear seat when she was shot.
The girl was taken to a hospital in critical condition. Police said on Nov. 1 that she died from her injuries and that the man who pulled the trigger, 48-year-old Sidney Garrand, was arrested and booked into jail after he was released from the hospital.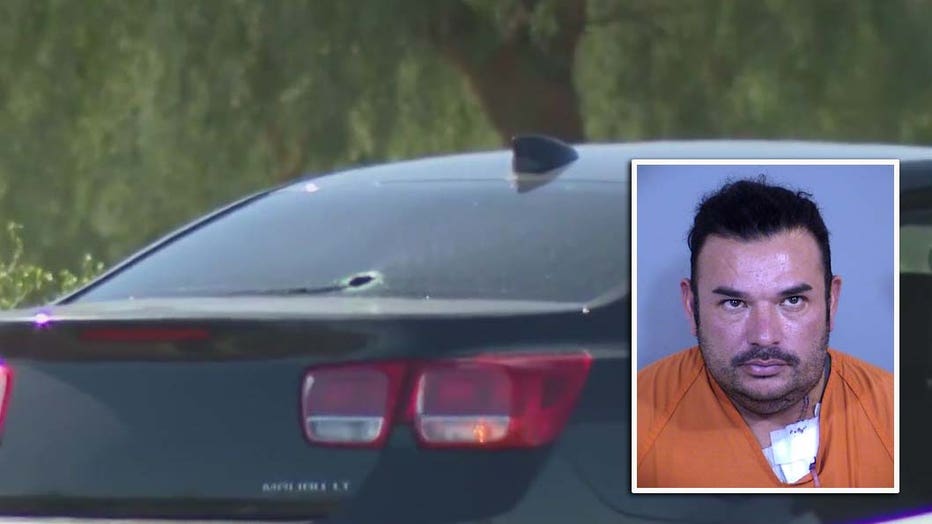 Police say 48-year-old Sidney Garrand was arrested in connection to a road-rage shooting in north Phoenix that left an 8-year-old girl dead.
The 28-year-old man suffered minor injuries in the incident.
Police say there are no outstanding suspects. Sgt. Bower added that road rage disputes should be 911 calls before you get out of the vehicle.
"Everybody will get frustrated. Our suggestion if you're in a situation of road rage -- just stop, park, call 911, have officers respond, and let officers deal with the different parties and find conclusion between your disagreements," said Sgt. Bowers.
On Nov. 29, the Maricopa County Attorney's Office announced Garrand was indicted by a grand jury on seven felony counts, including second-degree murder and attempted murder. Garrand is currently jailed on a $500,000 cash-only bond.
Previous reports