Retired Tempe Police detective dies after contracting West Nile virus
TEMPE, Ariz. - A retired Tempe Police detective has died after contracting the West Nile virus, officials said on Thursday.
Former officer Nathan Ryberg had been in a medically induced coma since Sept. 11. Police made the announcement regarding his death on Sept. 23.
The former detective had served the Tempe Police Department for 31 years, and had worked with a residence that provided treatment for boys dealing with abuse and addiction before that time, according to the GoFundMe page.
"This is not just a loss for Tempe Police Department. This is a loss for the entire community. We lost a really great human being," said Tempe Police Association President Sgt. Rob Ferraro.
"We're still sort of shocked. and just very much just trying to cope with the grieving process," said Tempe Police Chief Jeffrey Glover. "He was one of those individuals that many officers should be striving to model."
Chief Glover said he has known Ryberg for most of his career.
"He worked crime prevention, I worked it prior to him," said Chief Glover. "I was able to help him out with some insight into the inner workings of the work group and unit, and worked very close together."
Chief Jeffrey called Ryberg a compassionate person.
"Never met a more compassionate human being. Just a wonderful person," said Chief Glover. "He was the kind of person that even if you were struggling or going through something, and if you came across Detective Ryberg, he was gonna be able to put a smile on your face."
Ryberg retired earlier in 2021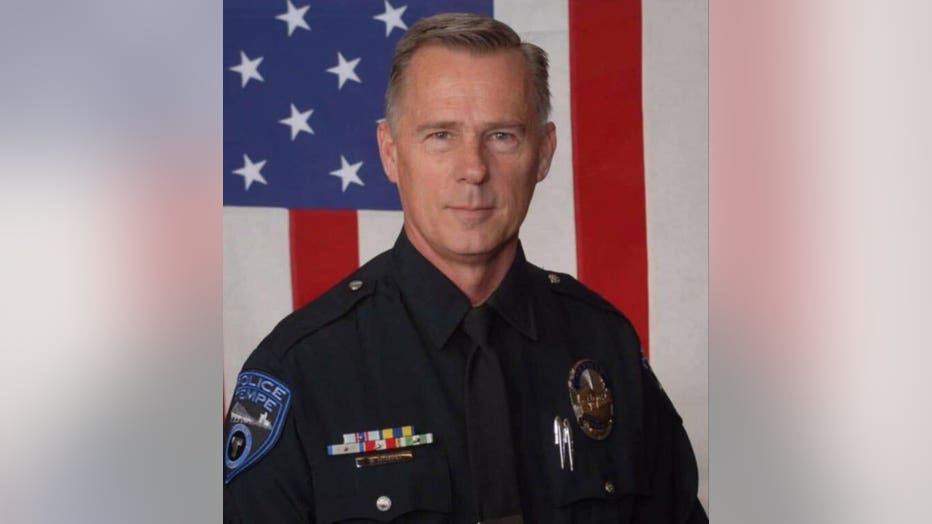 Nathan Ryberg (Courtesy: Tempe Police Department)
Ryberg retired as a detective earlier in 2021, and was ready to spend more time with his family.
However, tragedy struck in September.
On Sept. 11, Ryberg had to be put in a medically induced coma. According to a GoFundMe page made to raise money for his medical expenses, Ryberg had been fighting encephalitis, or inflammation of the brain, as a result of West Nile.
Ryberg, along with his wife Lori, raised six biological children and fostered more than 30. They ultimately adopted seven children, and all of them have special needs. Ryberg also had five grandchildren.
"They have a huge family. They're just blessed with so many kids," said Nancy Williams, Executive Director of the Arizona Association for Foster and Adoptive Parents. "Prime examples of people that want to give to others continuously, and want to see success in other people's lives and want them to support children with any type of ability or need."
Williams has always admired the Rybergs' work in the foster community. She said being a foster parent takes grit, as well as the natural ability to give back.
"Certainly what the Ryberg family has done - and I know Lori - she will continue to do with support from her family and from the community," said Williams
Maricopa County has seen a record rise in West Nile cases as mosquito populations have grown significantly from the monsoon storms this summer.
As of Sept. 19, 104 cases have been confirmed in the county, and four people have died, according to county officials. This is more than the total number of cases in the county in 2020 - only three people tested positive for the virus last year.
The virus is typically spread through the bite of an infected mosquito, but health experts say only about 1 in 5 people infected will develop any symptoms.
Last year, Arizona reported 11 West Nile cases and two deaths during one of the driest monsoon seasons on record.
Phoenix has recorded nearly 4 inches of rain during this year's monsoon season.
What you need to do to protect yourself
Officials with the Maricopa County Health Department are asking those who are heading out doors to:
Wear bug repellent.
Long sleeves and pants if it is not too hot.
Get rid of standing water in the backyard area, including those collecting in plant containers and toys, as those are the breeding areas for mosquitoes.
Fix broken screens or doors so that mosquitoes don't go inside a home.
Continued Coverage
Tune in to FOX 10 Phoenix for the latest news
Download FOX 10 apps for local breaking news and weather