Suspect on the run after shooting at Food City in Phoenix critically injures a man, police say
PHOENIX - A man is fighting for his life after a shooting at a Food City in Phoenix on Wednesday afternoon and the suspect hasn't been found, police say.
The investigation began at Van Buren Street and 27th Avenue after officers responded to a shooting call and found a man with life-threatening injuries. He was rushed to the hospital for treatment.
There are no suspects detained in connection to this shooting, says Phoenix Police Sgt. Phil Krynsky.
Detectives are working to learn what led up to the incident.
'I told my son to go get the gun'
Benjamin Villatorro heard the commotion from outside his family's custom rim and tire shop a couple stores down.
"Yeah, it's pretty bad. It's sad," he said. "We hear three more gunshots, like one, two, three. We were like, oh snap we got to lock all the doors, everything. It's a family owned business, so we have the whole family here, so we locked all the doors."
His mother said, "I told my son to go get the gun, so we could protect ourselves and that's when the cops came towards my son."
In all the confusion, he and his mother say that police saw him grab a gun and detained him.
"We have the weapon in the car so that's our safety. So I went to go grab it, but that is when the cops rushed me, and they thought I was probably the person, but I wasn't," Villatorro said.
After a lot of explaining and apologizing, he says he was let go.
"Probably about an hour later … yeah, like an hour later, they released me," he said.
Anyone with information should contact Silent Witness at 480-WITNESS. Spanish speakers can call Testigo Silencioso at 480-TESTIGO. Si tiene alguna información sobre este caso, llame a la línea de Testigo Silencioso (480-TESTIGO, 480-837-8446).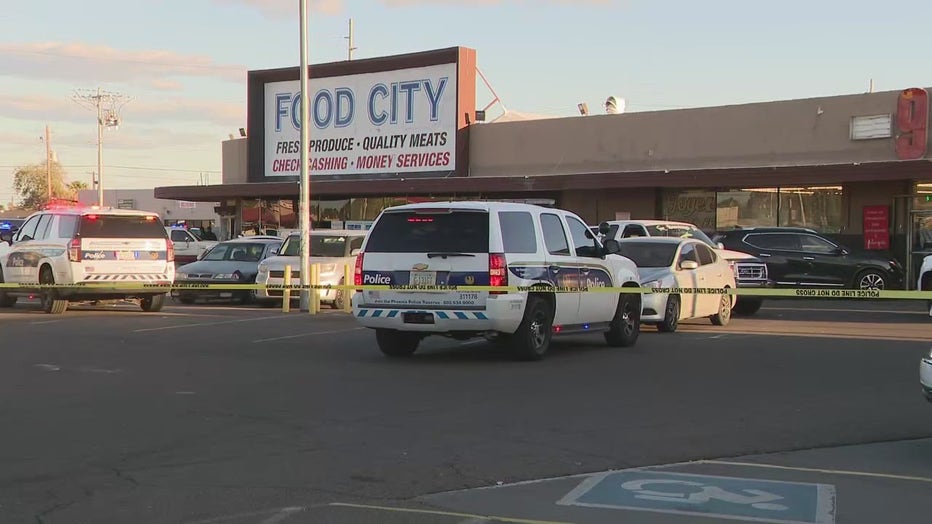 Police investigation at Food City in Phoenix on Feb. 15, 2023
Get breaking news alerts in the FREE FOX 10 News app. Download for Apple iOS or Android.
More reports:
Tune in to FOX 10 Phoenix for the latest news: