The imperfect life: Arizona social media influencers show their glamorous, real sides
PHOENIX - With the rise of social media, new jobs have emerged, including some unconventional ones.
Social Media Influencers have taken the internet by storm, and some are now leaving their full-time careers to become 'content creators.'
"All my friends were like, 'you always know the best places to eat, you should totally just start a page.' I'm like, 'you know what? Maybe,'" said Chelsey Hauston. But then I started a page, I have two pet pigs, and theirs took off. I'm like, if I can do it for them, I can do it for food.
In 2019, Hauston did what many others did: taking a cute picture of her latte and uploaded it to her Instagram account.
"Oh gosh, maybe like 30 likes. I think I had like 100 followers, maybe. Not even," said Hauston. (As of Feb. 22, 2023, that post has 64 likes.)
The certified foodie, however, kept at it by posting pictures and videos of her meals everywhere she went. Since that first Instagram post, Hauston has cultivated a fan base of a few hundred thousand for the social media account known as 'Let Them Eat This.'
"Somebody told me, like, 'you kids all have a problem: you can't get a real job!'" said Hauston.
While the job is certainly atypical, that doesn't make it any less real, and Hauston's mission is to keep it real, as a plus-sized content creator battling an autoimmune disease.
"It's definitely shifted my mindset because I think there's representation," said Hauston. "I have a lot of people who are disabled, or have chronic illness, or they're plus-sized, and I don't fit the mold, or I'm a little different."
Hauston's followers love her authenticity, and she loves the job and the lifestyle it brings. In fact, she makes enough money that she was able to quit her teaching career, and pursue the job of a content creator full time.
Hauston is not the only one who has cracked the social media code to financial success. Aiesha Beasley built an account focusing on fashion and lifestyle, documenting her daily life around Arizona.
"Over the last probably year and a half, I was matching my full-time income," said Beasley. "It was just, like, a fun little side hobby. I never thought that it would turn into a full-time job."
Beasley, who calls herself 'Your Arizona BFF,' has also amassed an impressive following over the years, partnering with national brands and making enough to leave her job as a visual merchandiser.
"In 2020, I started matching my full-time income. Came into 2021, same thing. In 2022, I was surpassing my full-time income, and there were months I was making five figures off of my social media. To this day, I'm still making over five figures a month on my Instagram and my TikTok."
While Beasley's page may look like it's all fun nights out with the girls in fashionable outfits, she gets pretty vulnerable.
Beasley has shared the struggles in her dating life, and even opened up about her experience with sexual assault to her followers.
"I just kind of felt really compelled to share, and sometimes, I'll just have those moments where I just want to be really open with my audience, and I feel like that brings a really good connection," said Beasley. "I want to be relatable."
As it turns out, being relatable pays off, but in order to make it a business, a social media influencer needs more than just relatability and creativity.
They also need to know how to market themselves.
"It really is hard to monetize if you don't really have that business mindset and that business sense, because there's people that have hundreds of thousands, millions of followers, but they're not making money off of their social media," said Beasley.
Beasley works alone on her account, but some accounts are so huge, that they require an entire team.
"It started as a hobby and now it came into a full time job where we have about six employees, and everyone is creating content here for the state," said David Vicente.
David and his brother, Jesus, are the masterminds behind the famous and largest Instagram account for Arizona, which is called 'Welcome to Arizona.' Born and raised in the West Valley by immigrant parents from Mexico, the two brothers are proud of their heritage and the place they call home. They started the account to show locals and tourists the state through their eyes.
"We saw a lot of – kind of a negative connotation being from Arizona," said Jesus. "People usually say 'there's nothing to do here' or 'I can't wait to turn 18. That way, I can leave Arizona and do something better.' We kind of didn't like that at all. I think from a very early age, we were very proud of being from Phoenix and in a sense, creating the page was our attempt to rewrite that narrative that Arizona has nothing to offer."
In 2015, David was studying Information Systems at Arizona State University, while Jesus was studying finance at the same school.
One day, the light bulb went on for the brothers: they could monetize the account.
"Our first-ever client was 3D Mini Golf," said Jesus. "At that time, we only had about 12,000 followers, so we had no idea what to do when they reached out. They were like, 'Hey! Can you come promote our mini golf place? We can pay you guys.' We're like 'What? They can pay us?' And the fee was $100, and we were mind blown. Our entire world had changed completely."
Nowadays, the Vicente brothers have almost 1 million followers across TikTok and instagram.
"My brother is more on the creative angle, and me, I'm more of the sales, more of the networking, operations, and I think because of that, we have grown to be the number 1 influencer or media company here in the state," said David.
Corporations, small businesses, and tourism offices around the state hire them for campaigns to attract people from all around the world to places in Arizona. They were even hired by the Super Bowl Host Committee to spread the word about different events happening around the Valley.
It's a job that pays.
"Earlier this year, we were charging on average $1,500, and we're ending the year, on average, $2,500," said David.
The Vicente brothers often feature places that can't afford to pay, for free. They are always looking for the next Arizona hidden gem to show off, for everyone to enjoy.
"I think a lot of times, you find a lot of success and you kind of get lost in the sauce, how I like to say it," said David. "For us, I think it's about staying humble and never forgetting where we came from."
Read More Only On FOX Special Reports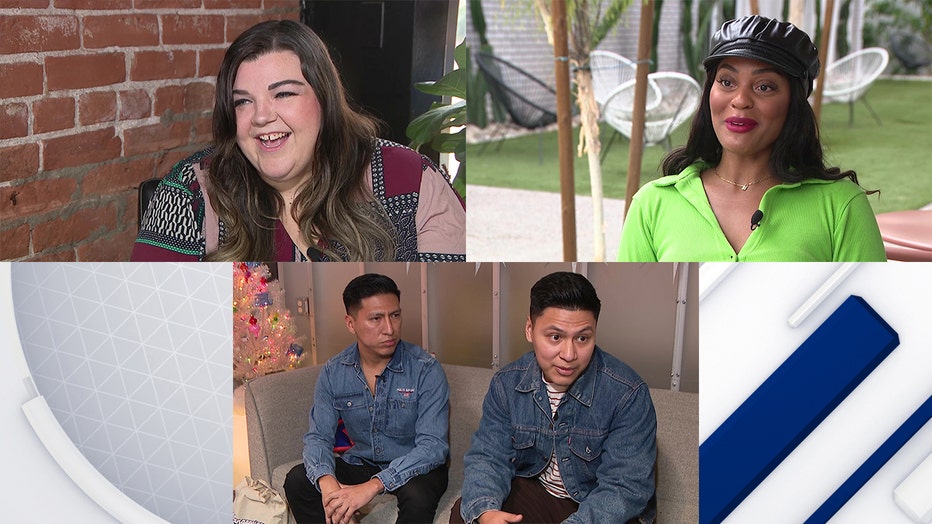 (From top left to bottom) Chelsey Hauston, Aiesha Beasley, and the Vicente brothers