The splashiest movies out of this year's SXSW festival, Vol. 2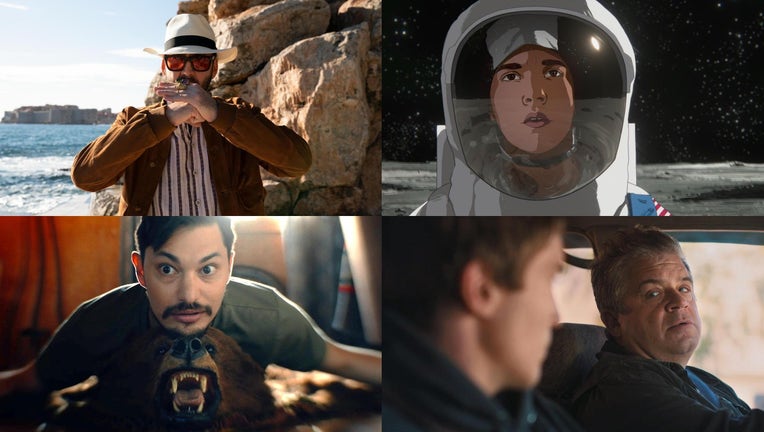 article
CHICAGO - Three years after its last in-person gathering, the South by Southwest (SXSW) festival made a glorious return to in-person festivities this year. The hybrid music/film/tech festival and convention featured plenty of buzzy events, from concerts from Dolly Parton, Shawn Mendes and T-Pain to a keynote from Lizzo, an early screening of the third season of "Atlanta" and a ton of film premieres. 
FOX film critics Allison Shoemaker and Caroline Siede were on the ground in Austin, TX keeping a particularly close eye on the film-centric part of the fest. Here's part two of their round-up of the buzziest movies to premiere at SXSW — some of which are hitting theaters later this month and others of which you can expect later this year.
RELATED: The splashiest movies out of this year's SXSW festival, Vol. 1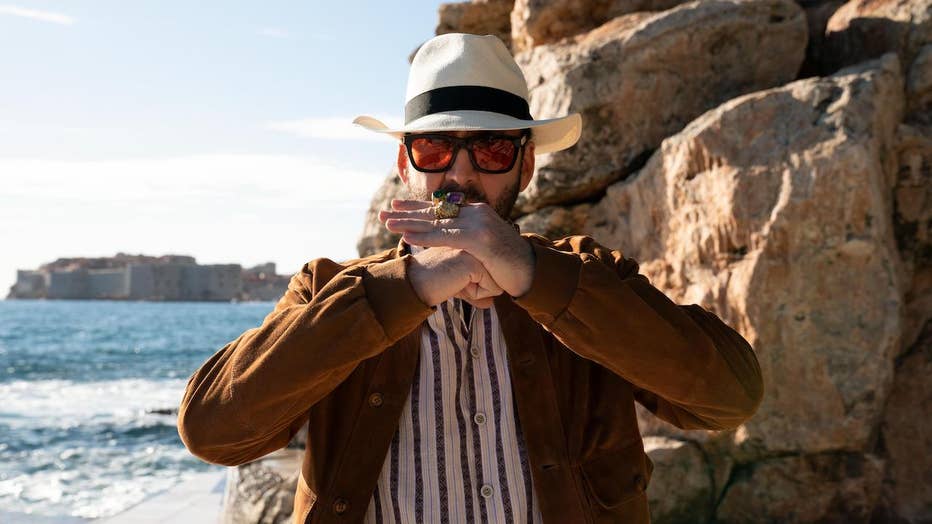 'Nick Cage' greets 'Javi Gutierrez' with a 'Palm Hold Fist' salute as he arrives in Mallorca, Spain. | Credit: Katalin Vermes
Here's an except from Caroline Siede's feature on attending the world premiere of "The Unbearable Weight of Massive Talent," the new meta action comedy from writer/director Tom Gormican in which Nicolas Cage plays a fictionalized version of himself.
In any setting, "The Unbearable Weight" will be a delightfully surreal ouroboros — as much a loving send-up of modern movie-making as it is an affectionate ribbing of Cage's celebrity persona. But it was especially surreal to watch it knowing the man himself would be hearing us laugh at every self-effacing joke and loving homage to his 40-year career, which includes movies ranging from "Moonstruck," "Con-Air" and "Leaving Las Vegas" to "Guarding Tess" and "Croods 2" — all of which get explicit shout-outs in "The Unbearable Weight."
RELATED: The coolest, weirdest, best things at this year's SXSW festival: Vol. 1
I was sitting close enough to Cage that I couldn't help but sneak an occasional peek at him throughout the film, just to watch him take it all in. From the outside, at least, he was the epitome of cool, calm and collected, even as the crowd responded to every self-referential joke with whoops and hollers so loud it was often hard to hear the dialogue for long stretches. (The line "'Mandy' is a masterpiece" earned the biggest applause of the night, but my personal favorite reference involved "Captain Corelli's Mandolin.")
On the back of his critically acclaimed turn in 2021's "Pig" and ahead of his upcoming role as Count Dracula in "Renfield," "The Unbearable Weight of Massive Talent" makes one thing clear: It's Nic Cage's world. We're just living in it. 
Read Caroline Siede's full feature on the premiere of "The Unbearable Weight of Massive Talent."
Opens in theaters April 22. 107 minutes. Dir: Tom Gormican. Featuring: Nicolas Cage, Pedro Pascal, Sharon Horgan, Tiffany Haddish, Ike Barinholtz, Alessandra Mastronardi, Jacob Scipio, Neil Patrick Harris. 
Apollo 10½: A Space Age Childhood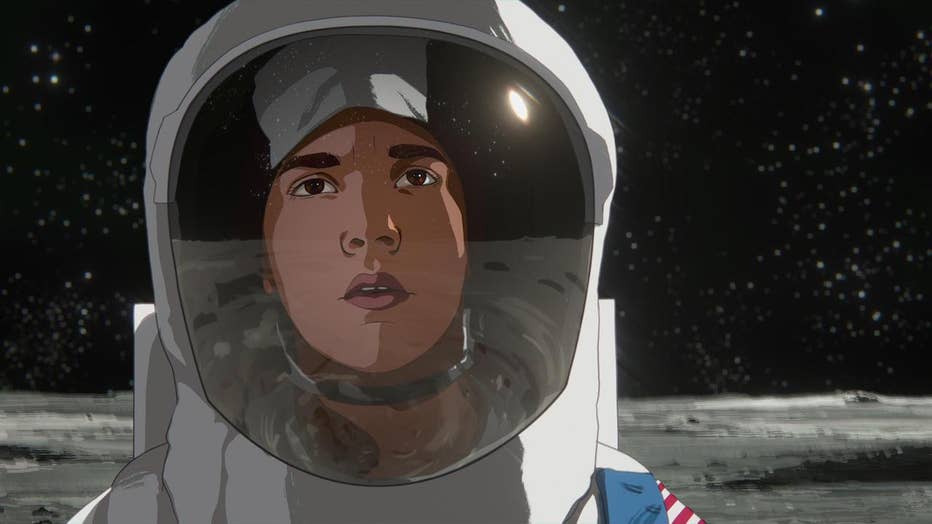 A still from "Apollo 10½: A Space Age Childhood"
Director Richard Linklater returns to his beloved rotoscoping animation format for this sweet nostalgia trip back to 1969. Inspired by his own childhood in Houston in the 1960s, "Apollo 10½: A Space Age Childhood" pairs a showy framing device about a kid astronaut with a slice-of-life look at suburbia on the edge of the Space Race. More narrated docudrama than narrative feature, "Apollo 10½" does at times feel like an older relative monologuing at you about every minute detail from their childhood — from what they ate for dinner to what they watched on TV. ("Let me tell you about life back then. It was a great time to be a kid," Jack Black's narrator explains early in the film.)
But that myopia is also part of its charm. "Apollo 10½" luxuriates in the details of childhood, some of which are universal (sibling rivalries, stressful playground games) and some of which are deeply tied to this particular place and time (riding in the back of a pickup truck down the highway, attending a school where everyone's parents worked for NASA). Linklater and his collaborators clearly have an immense fondness for a time when science class felt like current events. And while "Apollo 10½" will perhaps play best for those who have nostalgia for their own Space Age childhoods, it's also not a bad history lesson for a pivotal moment in American history, as remembered by a less-than-reliable narrator. [Caroline Siede]
Streaming on Netflix April 1. Rated PG-13. 98 minutes. Dir: Richard Linklater. Featuring the voices of: Milo Coy, Jack Black, Glen Powell, Zachary Levi, Josh Wiggins, Lee Eddy, Bill Wise.
Hypochondriac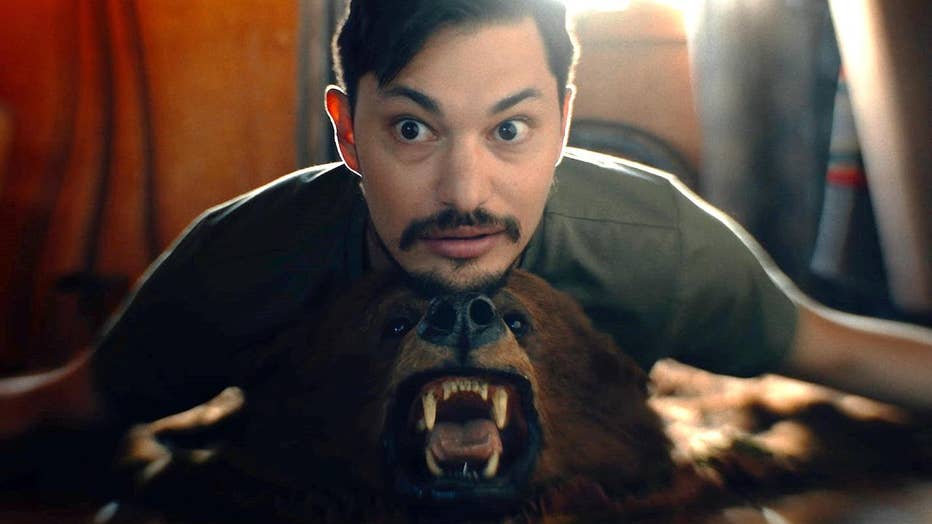 Zach Villa in Hypochondriac | Credit: Dustin Supencheck
The creation of art can double as an act of therapy. For filmmakers, that sometimes means opening up wounds to audiences hungry for even a drop of catharsis. Enter writer/director Addison Heimann's debut feature "Hypochondriac," a woozy, disturbing account of the artist's issues with mental illness. (The film's opening title card reads, "Based on a True Breakdown.") As is often the case with first films, this is far from a glossy blockbuster, but Heimann compensates for a modest budget with some strong performances and atmospheric editing.
Will (Zach Villa) is a young gay man haunted by the specter of his mother's psychosis: as a child, he suffered under her delusional, occasionally violent impulses, until eventually he cut off all contact with her. As an adult, he's got a sweet new boyfriend (Devon Graye) and a job as an assistant at a boutique pottery gallery. But soon enough, his mother once again insinuates herself in his life, leaving incoherent, babbling voice messages and dropping strange packages at his door that contain cryptic hints at a grander purpose for him. Soon after, he begins experiencing a series of strange physical symptoms that one doctor after another can't explain. (He even starts seeing visions of a mysterious figure in a wolf costume with a spooky mask when he's alone, looking — perhaps intentionally — a bit like Frank the Bunny from "Donnie Darko".)
RELATED: The coolest, weirdest, best things at this year's SXSW festival: Vol. 2
"Hypochondriac" isn't a perfect movie. Very few are. Yet the few cracks in the movie's gothic ceilings result from the low-budget nature of the filmmaking, give or take a few creaky lines of dialogue here and there. Those concerns are counter-balanced by the intimate, intensely personal nature of the storytelling. Heimann coaxes a wounded, dynamic performance out of Villa; together, the writer/director and actor paint a portrait of the acute personal pain mental illness can inflict upon an otherwise normal life. It occasionally stumbles when weaving its messaging in amongst the horrors, but it's a promising debut. I'm curious to see what he does next. [Clint Worthington]
Distributed by XYZ Films; no set release date. Not yet rated. 96 minutes. Dir: Addison Heimann. Featuring Zach Villa, Devon Graye, Madeline Zima, Yumarie Morales, Marlene Forte, Paget Brewster. 
I Love My Dad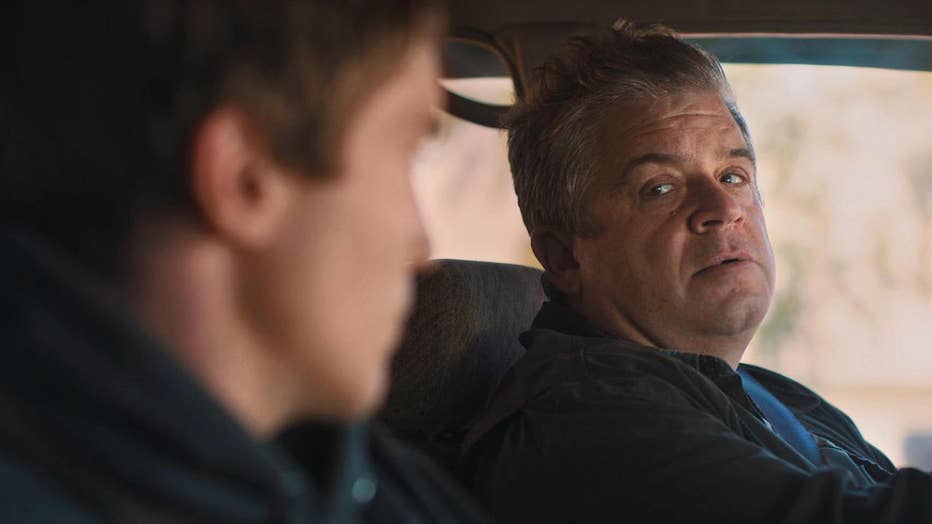 Featuring Patton Oswalt ("Chuck") and writer/director James Morosini ("Franklin"). | Credit: © I Love My Dad, LLC (Hantz Motion Pictures)
With a few little adjustments, "I Love My Dad" would make a potent horror movie. Like "Hypochondriac," it opens with a title card assuring its audience that what they're about to see really happened to the filmmaker. The second card, however, makes the differences plain: "My dad asked me to tell you it didn't."
It is, in its own way, something of a spoiler: writer/director/star James Morosini still has a relationship with his father (played by Patton Oswalt in the film), despite the absolutely bonkers events chronicled in the film. It's simple to summarize but brain-melting to consider: After a serious mental health incident, Franklin (Morosoni) decides that it's time to establish strict boundaries, if not cut ties altogether, with his unreliable and sometimes deceitful father Chuck. Desperately worried about his son, Chuck takes a spectacularly bad piece of advice from a coworker (a game Lil Rel Howery) and begins communicating with Franklin on social media in the guise of Becca, a friendly waitress Chuck meets at a local diner (Claudia Sulewski). As "Becca," Chuck at last gives Franklin the empathy and support that the latter has clearly longed for. And thanks to that compassion (and some lovely selfies swiped from the real Becca's social media accounts), Franklin falls hopelessly in love with "Becca" — his catfishing dad.
This is a cringe dramedy, operating in a similar vein to 2021's excellent "Shiva Baby," and it earns each and every one of those cringes. Still, it's hard to dismiss the sense that Morosini would have been better off picking one or two of the three massive responsibilities he's shouldering here as writer, actor and director. As Franklin, he turns in a performance admirably lacking in vanity. As the film's director, he makes some brilliant decisions (most notably dropping the audio from a few pivotal phone calls) and some questionable ones (there's a tendency to prioritize cleverness over clarity when it comes to how "Becca" is portrayed). 
Perhaps if he'd stuck to only one of those roles, he'd have had more success as a screenwriter. Oddly, the thing that holds the film together is also the thing that blunts its impact: the seemingly bottomless well of empathy it has for Chuck. Oswalt's excellent work hinges on that empathy; it's hard to think of an actor better equipped to play a deeply flawed, if well-intentioned man making a series of catastrophically bad decisions out of love and fear. But the film struggles to be clear-eyed about just how upsetting Chuck's actions are. When "I Love My Dad" veers off into warm-fuzzy territory as it nears its conclusion, it's only Oswalt's work that refuses to lets things become that simple.
As an actor, Morosini pulls no punches. As a screenwriter, not so much. "I Love My Dad" gives Chuck plenty of room to be complex. If only that were true of the rest of the film. [Allison Shoemaker]
No distributor or release date. Not yet rated. 96 minutes. Dir: James Morosini. Featuring: Patton Oswalt, James Morosini, Claudia Sulewski, Rachel Dratch, Ricky Velez, Lil Rel Howery, Amy Landecker.
About the writer: Allison Shoemaker is a Chicago-based pop-culture critic and journalist. She is the author of "How TV Can Make You Smarter," and a member of the Television Critics Association and the Chicago Film Critics Association. She is also a producer and co-host for the Podlander Presents network of podcasts. Find her on Twitter and Instagram at @allisonshoe. Allison is a Tomatometer-approved Top Critic on Rotten Tomatoes.
About the writer: Caroline Siede is a film and TV critic in Chicago, where the cold never bothers her anyway. A member of the Chicago Film Critics Association, she lovingly dissects the romantic comedy genre one film at a time in her ongoing column When Romance Met Comedy at The A.V. Club. She also co-hosts the movie podcast, Role Calling, and shares her pop culture opinions on Twitter (@carolinesiede).
About the writer: Clint Worthington is a member of the Chicago Film Critics Association. He is the founder and editor-in-chief of The Spool, and a Senior Writer at Consequence. You can find his other work at Vulture, Nerdist, RogerEbert.com, and elsewhere.
More splashy films, streaming (for free!) on Tubi
But I'm a Cheerleader (2000): For a romantic comedy that's just a little bit off the beaten path, try this delightful cult classic starring a 19-year-old Natasha Lyonne. Lyonne plays Megan Bloomfield, an all-American cheerleader who's sent away to a gay conversion camp when her parents and friends start to suspect that she's secretly a lesbian. Ironically, it's not until Megan is at the oppressive "True Directions" conversion program that she begins to realize she does actually like women — specifically Clea Duvall's rebellious bad girl Graham Eaton. And while that sounds like the plot of a heavy drama, director Jamie Babbit takes a whimsical, satirical approach in a colorful rom-com that rejects repression and reclaims queer romantic joy. Rated R. 85 minutes. Dir: Jamie Babbit. Also featuring Cathy Moriarty, RuPaul Charles, Melanie Lynskey.
Domingo (2020): From Mexican director Raúl López Echeverría, this feel-good comedy follows Domingo (Eduardo Covarrubias), a 55-year-old man living in a poor suburb near Guadalajara. When his wife abruptly leaves him, Domingo decides to do everything in his power to achieve his lifelong dream of becoming a professional soccer commentator. Soon enough, his impassioned weekly commentaries on local amateur matches are changing lives throughout his neighborhood. "Domingo" is a Tubi Original. Rated TV-MA. 95 minutes. Dir: Raúl López Echeverría. Language: Spanish. Also featuring: Martha Claudia Moreno, Jesus Hernandez.
Jennifer's Body (2009): Wrongly maligned in its time, Karyn Kusama's inspired horror-comedy has undergone a bit of a cultural re-evaluation in recent years — or, put more plainly, everyone seems to finally be catching onto the fact that "Jennifer's Body" rules. Megan Fox plays Jennifer, a cheerleader who finds herself in a classic high-school pickle: She's possessed by a demon and fueled by a drive to feast upon her classmates' flesh. Amanda Seyfried is her best friend Needy (yes, Needy) who senses that something's not quite right. It's a riot. Rated R. 102 minutes. Dir: Karyn Kusama. Also featuring Adam Brody, Johnny Simmons, Chris Pratt, J.K. Simmons, Amy Sedaris.
About Tubi: Tubi has more than 35,000 movies and television series from over 250 content partners, including every major studio, in addition to the largest offering of free live local and national news channels in streaming. The platform gives fans of entertainment, news and sports an easy way to discover new content that is available completely free.
Tubi is available on Android and iOS mobile devices, Amazon Echo Show, Google Nest Hub Max, Comcast Xfinity X1, Cox Contour, and on OTT devices such as Amazon Fire TV, Vizio TVs, Sony TVs, Samsung TVs, Roku, Apple TV, Chromecast, Android TV, PlayStation 5, Xbox Series X | S, and soon on Hisense TVs globally. Consumers can also watch Tubi content on the web at http://www.tubi.tv/.
Tubi and this television station are both owned by the FOX Corporation.