'The Thing' claims title as Arizona's most bizarre landmark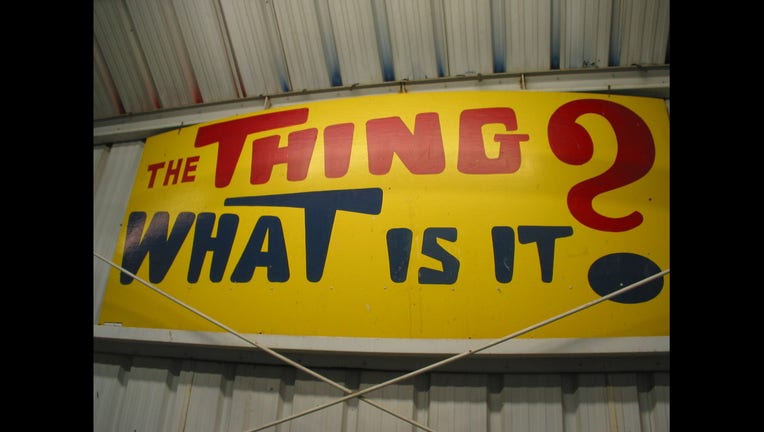 article
BENSON, Ariz. (KSAZ) - Every state is home to quirky, odd things. Here in Arizona, we have many bizarre or embarrassing spots like Santa Claus, Arizona, or Nothing, Arizona, and even the Flintsones park in Northern Arizona.
But according to Mandatory, nothing comes close to 'The Thing.'
The roadside attraction is advertised for miles when you're cruising on the I-10 freeway near Benson.
The exhibit was made by creator Homer Tate, who had a love for creating odd wood carvings. It was purchased by Thomas Binkley Prince and by 1965, it was a staple in the Arizona desert.
The real question remains -- how many people actually step foot into the 'museum' and look at 'The Thing?'
(Don't worry, we won't tell you what the Thing really is, we don't want to spoil it for you, after all).
Here are other most bizarre or embarrassing state landmarks:
1. Alabama - Boll Weevil Monument (Enterprise, AL)
2. Alaska - The World's Largest Santa (Fairbanks, AK)
3. Arkansas - Popeye (Alma, AR)
4. California - International Banana Museum (Mecca, CA)
5. Colorado - Blucifer, the Creepiest Horse in the World (Denver, CO)
6. Connecticut - Cushing Brain Collection (New Haven, CT)
7. Delaware - Miles the Monster (Dover, DE)
8. Florida - World's Largest Chicken Wing (Madeira Beach, FL)
9. Georgia - Jimmy Carter Peanut State (Plains, GA)
10. Hawaii - Kalaupapa Leper Colony (Kalaupapa, HI)
Check out the rest of the 39 states on Mandatory.