This Phoenix home was just named Vrbo's Vacation Home of the Year
PHOENIX - Across the country, millions of homes are available to book as a short-term rental, and the Valley is saturated with them.
But one Phoenix home stands out, and it was just named as one of Vrbo's top vacation homes of the year for 2023.
The home, nicknamed "The Happy Roadrunner," is nestled up against Piestewa Peak.
"The homeowners just wanted to create a happy cheerful space," said Elizabeth Shapiro with Porter Vacation Management. "You'll see a lot of color throughout the home and they love roadrunners, so they have it kind of scattered throughout the home."
The short-term rental with a warm Arizona feel has about 5,000 square feet and six bedrooms. During the Super Bowl, it rented for $5,600 a night with a minimum might stay requirement.
Views from outside and inside the Piestewa Peak property.
"You have the kitchen here that overlooks the pool, so it's great for everyone to enjoy at the same time," said Shapiro. "And it's huge! Fully equipped to cook all of your meals, so you don't need to leave."
Just about every room has a spectacular view. You can see downtown Phoenix, out west to Glendale, and the hiking trails are right outside.
In the back, the resort style pool, hot tub and fire feature are selling points.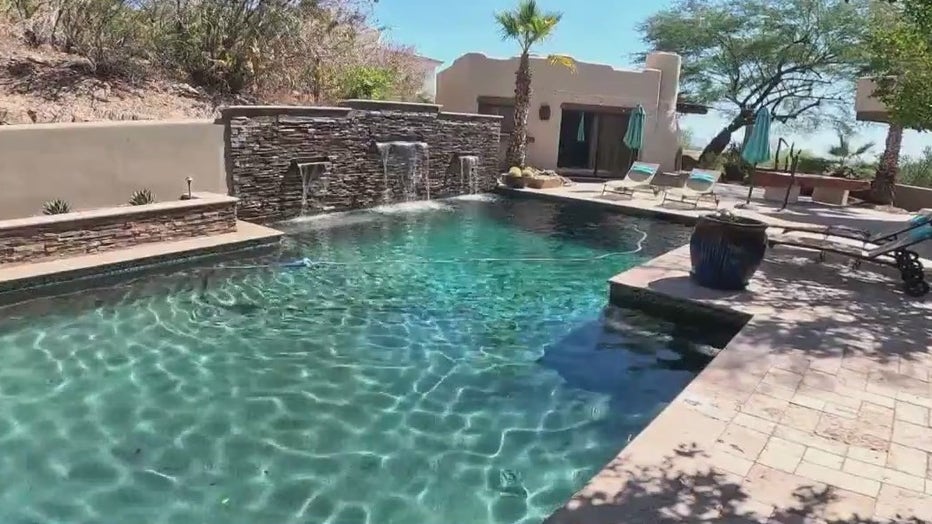 The pool at the Happy Roadrunner.
The putting green is fun, and the garage has been converted to a tricked out game room complete with Golden Tee, Pac-Man and skeeball.
With more than two million short-term rentals on Vrbo, Shapiro says this:
"VRBO selected this property on their own. We found out from the homeowner who we've worked with for years now, and we were just so humbled and honored to be selected as one of the most desirable properties in the country for 2023."
In the hot summer months, it rents for about $1,110 a night and $4,000 during peak times.
Only 11 homes were selected as a Vacation Home of the Year by Vrbo.