Tourism closure extended for remainder of 2022 on Havasupai tribal land known for waterfalls
GRAND CANYON NATIONAL PARK - A small tribe whose reservation lies deep in a gorge off the Grand Canyon is suspending its tourism operations for the rest of 2022.
The Havasupai Tribal Council has extended its tourism ban for the remainder of the season due to "necessary repairs and enhancements."
The tribe said it is making enhancements to its facilities as well as repairs that spokeswoman Abbie Fink said are needed because of the extended closure. The facilities include a trailhead, campground and lodge.
"We have seen our tribal lands return to their natural beauty over the last two years and are eager to share their beauty once again," Chairman Thomas Siyuja, Sr. said.
"The trailhead, the eight-mile hike into canyon, public areas in the village and the trails into the campground and the falls and any of the amenities of the cafe, and they are all going through a refresh and ready for tourists to open back up," said Havasupai Tribe Spokesperson Abbie Fink.
The Havasupai Tribe had previously extended its tourism ban until June 1, 2022, due to COVID-19.
MORE: Arizona's COVID-19 pandemic toll passes 30,000
I had a reservation? What's gonna happen now?
Reservations through 2022 that have not already been rebooked will be rescheduled for the same date in 2023. No further reservations will be taken for next year at this time.
More information on reservations can be found at www.havasupaireservations.com.
The reservation is renowned for its blue-green waterfalls that draw tourists from around the world. 
The tribe's reservation is deep in a gorge off the Grand Canyon, accessible only by foot, mule or helicopter. It is home to about 450 people who have been instructed to stay at home, except to get essential items.
About 40,000 people visit the tribe's land annually.
The Associated Press (AP) contributed to this report.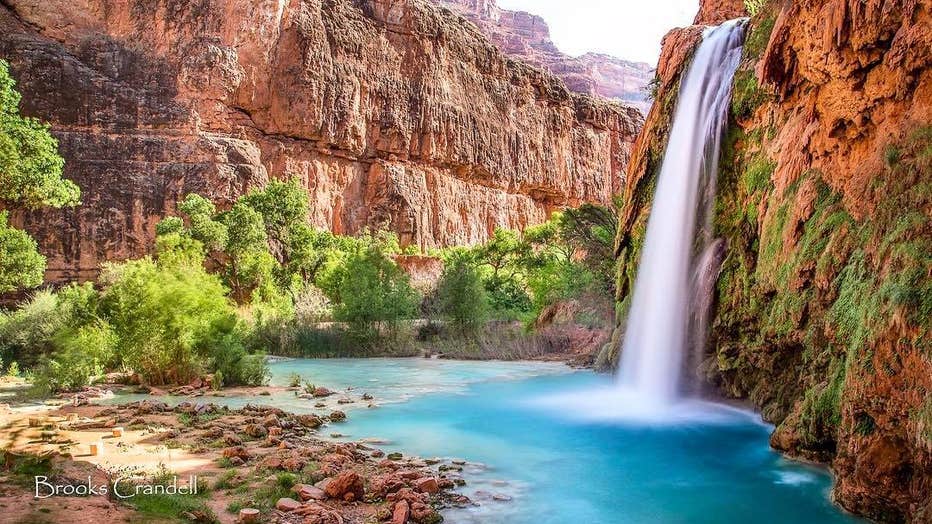 (@brookscrandell/Instagram)