Woman arrested in Mesa hit-and-run crash that left 4-year-old girl seriously injured
MESA, Ariz. - Police say the driver who hit a little girl in a Mesa neighborhood before leaving the scene has been arrested.
Mesa Police says 4-year-old Bea Freeman was hit by a silver four-door car at the intersection of Main Street and Lesueur at around 4 p.m. on Aug. 7.
Freeman was hospitalized with serious injuries, including a brain bleed, broken ribs, a punctured lung, facial lacerations, and facial fractures. She is expected to survive.
After the collision, the driver fled the scene. Witnesses told police the car had black rims and was driven by a woman with long hair. Surveillance video showed the car had a black sticker just below the driver-side tail light and a red and white object in the back seat. 
The following day, police found a silver 2014 Hyundai Sonata at an apartment complex near Mesa Drive and Main Street that matched the description of the car involved in the hit-and-run.
"The vehicle was parked in a designated parking spot, which led officers to the corresponding apartment, where officers spoke to 48-year-old Veronica Laprada," police said in a news release. "Laprada was identified as the registered owner of the Hyundai and the driver of the vehicle at the time of the collision."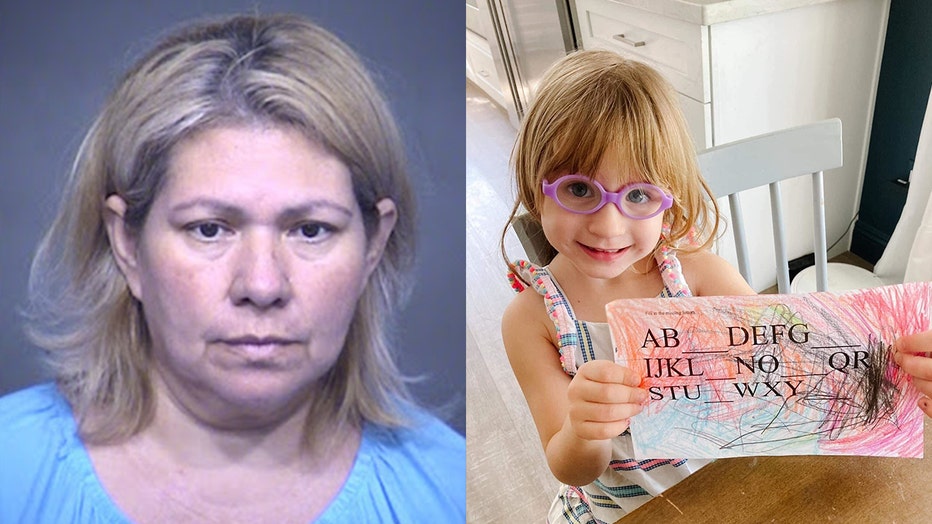 Veronica Laprada (suspect) and Bea Freeman (victim) Photo of Bea provided by the Freeman family
According to court documents, Laprada "admitted to hitting something" before making a U-turn to return to the scene to "see what she hit."
"Veronica stated she stopped briefly, saw the victim laying [sic] in the roadway and asked, from her car, if everyone was ok," read a portion of the court documents. "When she did not get a response she left."
Laprada added that she knew she should have called 911 and stayed at the scene.
"When asked why she did not do those things, she stated she didn't know," court documents read.
Laprada was arrested and booked into jail. She is accused of failing to remain at the scene of a serious physical injury collision.
'There is still a long road to recovery'
Chris Stapley, Freeman's uncle says, "We know that she is the type of person with her strong personality and strong opinions that she's not going to go without a fight."
He says she's a lot in a little package, loves to draw and be with her family.
On Aug 7, their life came to a grinding halt, when Stapley learned she had been hit by a car while crossing the road.
"A lot of emotions, as I'm sure anybody would experience," Stapley said. "Emotion of frustration, anger, sadness, fearful for my sister, her family, and Bea of course."
He says she has a long road to recovery ahead.
"Thankfully she is stable. There is still a long road to recovery ahead of her. She had surgery yesterday on her face, she has multiple breaks in her face, a slight brain bleed, and other injuries as well. Those are the most concerning, the head injuries. But, she's doing pretty well," Stapley said.
A GoFundMe has been made for Freeman and it can be found here.
Tune in to FOX 10 Phoenix for the latest news: