AP Source: Suns meet Booker to talk contract; Williams cut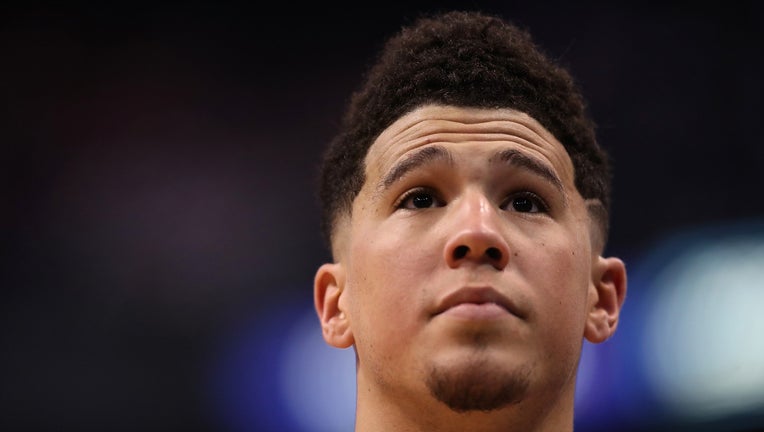 article
PHOENIX (AP) - A person with knowledge of the situation says that Phoenix Suns owner Robert Sarver and general manager Ryan McDonough are meeting with star guard Devin Booker to discuss a new contract.
The person sought anonymity because the meeting, to take place Tuesday in Los Angeles, was not publicly announced.
Booker, just 21 but entering his fourth NBA season, is considered the heart of the Suns' plans for the future and a strong candidate for a maximum contract.
Meanwhile, in an unrelated move, the Suns waived forward Alan Williams.
Williams, the 25-year-old son of Phoenix police Chief Jeri Williams, was raised in Phoenix. He played at Santa Barbara collegiately and for one season in China before signing with the Suns in 2015.
The 6-foot-7 big man with the nickname "Big Sauce" averaged 6.7 points and 5.4 rebounds per game in 67 career games with Phoenix but missed virtually all of last season following knee surgery.
By making the move, the Suns no longer are responsible for the $5.5 million Williams would have made had he remained on the team.
Phoenix also cut point guard Tyler Ulis as the team reshapes under new coach Igor Kokoskov.
A person with knowledge of the situation confirmed Sunday that the Suns had agreed to a one-year, $15 million deal with 14-year NBA veteran guard Trevor Ariza.
The person asked for anonymity because signings can't be officially revealed during the current moratorium negotiating period.
___
More AP NBA: www.apnews.com/tags/NBAbasketball