Apologetic GM Keim returns to Cardinals a 'better man'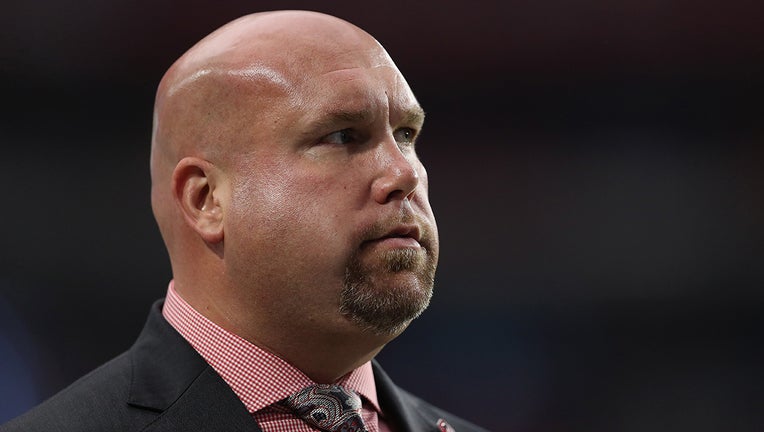 article
TEMPE, Ariz. (AP) - A day after he returned to work from a five-week suspension, Arizona Cardinals general manager Steve Keim apologized to the organization, the team's fans and "most of all" his family for the DUI arrest that forced his absence.
"It's an honor and privilege to work in the National Football League" and the Cardinals organization. "I failed to live up to the standards and expectations and I'm sorry," he said at a news conference Wednesday at team headquarters.
Keim said his five weeks away from the game, just as training camp was beginning, have "been torture."
"The two things in my life that I love the most are my family and football. I put both of those things in a major disadvantage and tough place," he said. "To be away from the people I care about, the organization that I love so much, was extremely difficult. But at the same time I don't know that it was a bad thing to be able to take that time to self-evaluate and to get stronger and grow as a man."
Keim was arrested July 4 in the Phoenix suburb of Chandler a short distance from his home. He pleaded guilty to extreme DUI on July 17, the same day he was suspended from his job by Cardinals President Michael Bidwill and fined $200,000.
Keim's voice broke with emotion when he talked about the impact the incident had on his family.
"After the reports came out, my 12-year-old son was texting his buddy," Keim said, "and he said, 'They keep showing your dad over and over again on TV. I'm so sorry he's having to go through that.' My son said, 'I'm not. He shouldn't have been doing it.' And my son was right and I don't think there's any feeling that's worse, if you feel like you let your children down."
Keim was asked if he felt that, beyond this one incident, he thinks he has a problem with alcohol.
"Going back and looking at behaviors and going through all the different steps that I went through, I think we all would be able to take advantage at some point of our lives of a self-evaluation process," he said. "I don't want to get too deep into it and personal but I can tell you that coming away from this that this has made me a better man."
Keim said his "No. 1 takeaway" from the experience "is you are held accountable for all your actions in life."
"I'm in a leadership position in this organization," he said. "Looking back on it, it's so humbling. You think about you go through the draft process and you look for guys who have great character. We talk about it all the time, the person vs. the player. I made a major poor decision. It's not a mistake, it's a poor decision and it's humbling. I'm very remorseful."
Keim is entering his 20th year working for the Cardinals, the last six as general manager.
He and first-year coach Steve Wilks embraced as Keim left the interview room following the GM's news conference.
"This organization, as Michael has stated, does not condone that kind of behavior," Wilks said. "And Steve has accepted the consequences, he's dealt with it in the right way. I can't commend him enough in how he has handled this situation. He spoke to the organization yesterday, he spoke to our players this morning.
"He's learned from this, he's grown from this. We have embraced him. He is a part of our family and we're excited to have him back."
Veteran safety Antoine Bethea said he went through a DUI.
"So I understand what he's going through," Bethea said. "It's definitely a learning experience. So for the guys that were sitting in the audience listening to him, it was definitely a teaching moment. You can learn from other people's mistakes."