USFL 2022: QB Shea Patterson selected as 1st overall draft pick with Michigan Panthers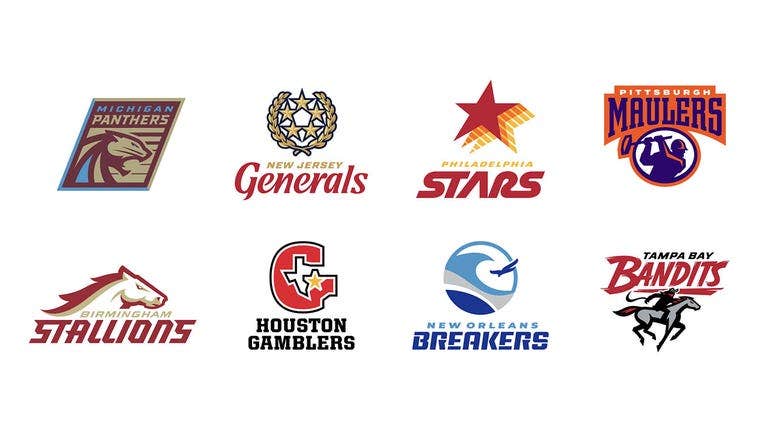 article
BIRMINGHAM, Ala. - The first draft picks have been announced for the upcoming inaugural season of the United States Football League (USFL). 
The USFL held a 35-round draft between Tuesday and Wednesday in Birmingham, Alabama, the site of all the league's regular season games this season.
According to FOX Sports, the Michigan Panthers picked Shea Patterson. He is five-star recruit who starred at both Mississippi and Michigan. Patterson was the first QB off the board in the USFL's first round. 
The Tampa Bay Bandits then picked Jordan Ta'amu. He completed two seasons at Ole Miss in which he completed 64.5% of his passes for 5,600 yards and an impressive 30 touchdowns against just 12 interceptions (with another 507 yards and 10 scores as a rusher).
Ta'amu signed with the NFL's Houston Texans in 2019. He jumped to the now-defunct XFL a few months later, starring for the St. Louis BattleHawks.
With the third selection in the draft, the Philadelphia Stars selected Quarterback Bryan Scott from Occidental College.  Scott passed for 9,073 yards and 77 touchdowns in just 33 games at Occidental College, according to FOX Sports. 
The 26-year-old is 6-1, 215-pounds and had opportunities with the NFL's Los Angeles Rams, Kansas City Chiefs, Atlanta Falcons and Indianapolis Colts in between playing games with the Edmonton Eskimos of the CFL and the New Jersey Generals of the Spring League, prior to being drafted by the Stars. 
The New Jersey Generals selected Quarterback Ben Holmes out of Tarleton State.  Holmes led the school to their first outright Lone Star Conference Championship and left with a sparkling 23-2 career record. 
The 26-year-old continued his playing career in the Indoor Football League, signing with the six-time champion Arizona Rattlers before being selected by the Generals. 
With the fifth pick, the Houston Gamblers selected Clayton Thorson out of Northwestern.  Thorson passed for 10,731 yards and 61 touchdowns with 27 more scores on the ground during his career at Northwestern. 
Thorson also finished 36-17 during his time as a starter in the highly competitive Big Ten. The 26-year-old also spent with time with the Philadelphia Eagles, Dallas Cowboys and the New York Giants before being selected by Houston.
The Birmingham Stallions grabbed their new quarterback with the selection of Alex McGough with the sixth pick in the draft. McGough started all four years of his career at Florida International University becoming the school's all-time leader in passing touchdowns (65) and passing yardage (9,091) with another 535 yards and 16 scores on the ground.
McGough, 26, was a seventh-round pick by the NFL's Seattle Seahawks in 2018, according to FOX Sports.  McGough was also a part of two other NFL teams, the Houston Texans and Jacksonville Jaguars. 
With the seventh pick, the Pittsburgh Maulers drafted Kyle Lauletta.  The quarterback was drafted by the NFL's New York Giants in 2018.  Lauletta was the MVP of the Senior Bowl and finished his career at the University of Richmond with 10,465 yards and 73 touchdowns against 35 interceptions.  
Lauletta had a brief career in the NFL and also was on the rosters of the Philadelphia Eagles, Atlanta Falcons, Cleveland Browns, and the Jacksonville Jaguars.  
The New Orleans Breakers selected Quarterback Kyle Sloter with the eighth overall pick. Sloter played at North Colorado and completed 62% of his passes for 2,656 yards and 29 touchdowns against just 10 interceptions.  
Sloter spent time in the NFL with the Denver Broncos, Minnesota Vikings, Arizona Cardinals, Chicago Bears, and the Las Vegas Raiders. 
Here's a breakdown of the USFL's draft format and team's making picks. 
RELATED: USFL Draft details: Dates, times, draft order, selection process
Which teams are making their picks in the 2022 USFL draft?
A draft lottery was held by the USFL to determine the order that teams will select their players. The results were: 
How will the 2022 USFL Draft work?
Day 1: Tuesday night
Day 1 of the USFL Draft kicks off Tuesday from 7-10 p.m. ET with teams selecting players in Rounds 1-12. The first day of the draft will start by position with quarterbacks getting selected in Round 1 followed by edge rushers and defensive ends in Rounds 2 through 4, offensive tackles in Rounds 5 through 7, cornerbacks in Rounds 8 through 11 and back to quarterbacks in Round 12
Each team has two minutes per selection Tuesday night, and the USFL draft selection order will use what's called a modified snake system between rounds to give each team two No. 1 picks at two positions. 
RELATED: USFL 2022: Birmingham to host all football games in inaugural season
Day 2: Wednesday morning 
Day 2 of the USFL Draft begins at 10 a.m. ET on Wednesday. Teams will make their remaining draft selections in Rounds 13-35.
From Round 13 until Round 23, teams will have 90 seconds per pick, and the positional order will be wide receivers in Rounds 13-17, safeties in Rounds 18-19, center in Round 20, inside linebacker in Round 21, and guards in Rounds 22-23.
Teams only have one minute per pick in Rounds 23-35, which will focus on defensive tackles and nose tackles in Rounds 24-26, running backs and fullbacks in Rounds 27-28, outside linebackers in Rounds 29-31, kickers in Round 32, punters in Round 33, tight ends and H-backs in Round 34, and long-snappers in Round 35. Teams must draft at least one player from each position group.
USFL teams are drafting from a pool of 450-500 players who have already signed contracts to play in the league. Only players who have signed contracts are eligible for selection.
Additionally, trades between teams to swap draft picks or acquire a player or players is not allowed, however, teams have the option to pass during any round, receiving a compensatory pick that may be used at the conclusion of a different position round. But remember, teams must draft at least one player from each position group.
Where can I watch the 2022 USFL Draft?
The USFL provided fans with real-time coverage of the 2022 player Draft, including selection, reporting, features, and behind-the-scenes material through its league and team social channels, as well as on FOX Sports' digital platforms.
What you need to know about the upcoming 2022 USFL season
The USFL's first game starts at 7:30 p.m. ET on April 16 at Protective Stadium with a matchup featuring the New Jersey Generals and Birmingham Stallions  with the game airing live on FOX and NBC.
A 10-week regular season will take place with all 40 games played between Protective Stadium and Legion Field in Birmingham, Alabama.
The playoffs and championship game will be held at Tom Benson Hall of Fame Stadium in Canton, Ohio. The playoffs kick off on Saturday, June 25 and the top two teams from each division will battle one another in the USFL semifinals. 
The two teams left standing in the postseason will compete in the USFL Championship Game on Sunday, July 3. 
Related: USFL 2022: Playoffs, championship to be held at Hall of Fame Stadium in Canton, Ohio
Where can I purchase tickets for USFL games?
USFL game tickets are on sale now at Ticketmaster.com and football fans can attend the game for $10 each with free admission for kids under 15 years old. 
FOX5 Atlanta and FOX13 Seattle contributed to this story. This story was reported from Washington, D.C.