Arizona pediatrician among 16 suspects arrested in child sex crimes operation
PHOENIX - More than a dozen people have been arrested following an undercover operation targeting sex crimes and human trafficking in Arizona.
Phoenix Police says its department partnered with other agencies for "Operation Tangled Web," which "targeted the demand for child sex crimes and human trafficking."
During the operation, undercover detectives placed ads on websites "commonly sought out by suspects seeking illegal sex acts."
"The suspects allegedly solicited and/or brokered deals for various sex acts and were subsequently arrested," police said.
"The Phoenix Police Department routinely conducts operations of this type with our local, state and federal partners in a continuous effort to reduce the demand that fuels child sex trafficking and the exploitation of children in our community," police said. "The following suspects solicited various sex acts from minors and were arrested."
Detectives spent weeks pretending to be minors online, conversing with the men.
Tempe and Mesa police departments were involved, as well as the FBI, Maricopa County Attorney's Office, and Homeland Security.
"Typically during the end of the conversation, they might want to meet up somewhere and go through with what was already suggested or solicited," Phoenix Police Sgt. Melissa Soliz said.
These departments conduct child sex crimes stings so frequently, proving the demand for sex from minors is always there. 
"There's never enough times to do this. These people need to be taken off the streets, and unfortunately, it's incidents like this or operations like this that help us catch them before they're able to victimize a child," Soliz said.
These are regular people who walk among us, oftentimes unsuspected by anyone in their lives, she says.
"We don't know who these people are because they have regular working jobs, white collar, blue collar jobs, and in order to catch them, we need them to commit the act," Soliz said.
One suspect identified as pediatrician
According to court documents, one of the suspects arrested in the child sex crime sting is a pediatrician who works at a local hospital.
The documents state that an undercover officer posed as a 15-year-old boy online when 36-year-old Bryce Olsen allegedly reached out on an anonymous site. Olsen reportedly acknowledge the age, and even asked for the undercover officer's birthday. Eventually, they connected on a social media site, where they agreed to meet. 
Olsen, according to investigators, was arrested at Arizona Mills Mall. Court documents state Olsen told the undercover officer the make and color of his car, and where he would be.
"Typically, during the end of the conversation, they might want to meet up somewhere and go through with what was already suggested," said Phoenix Police Sergeant Melissa Soliz.
During an interview with police, Olsen said he worked at a Mesa hospital. No one has accused Olsen of committing crimes while working.
An official with Banner Health has issued a statement on Olsen, which reads, in part:
"This individual is no longer employed by our organization. Banner does not comment on personnel or law enforcement matters, so I am unable to provide further details."
Child advocates stressed the seriousness of the charge.
"This is a huge betrayal of trust," said Irene van der Zande with Kidpower International. "Someone in a position of power, like a pediatrician, has so much access to kids, and families, parents trust this person."
Van der Zande, who works in safety education for children to prevent harm, says parents should stay with kids during examinations, and trust their instincts.
"You don't just automatically assume [that] just because somebody is a pediatrician or a well-loved teacher or famous entertainer or famous coach that they're safe," said van der Zande.
Olsen is accused of luring a minor for sexual exploitation and attempted sexual conduct with a minor. A judge set a cash-only bond for Olsen at $100,000.
We tried to talk with Olsen for the story. We could not reach him by phone because his phone with taken during his arrest, and he lives in a gated community that prevents access by outsiders.
Kidpower International - Resources and Strategies to Stop Child Abuse
https://www.kidpower.org/child-abuse-prevention/
Kidpower International - Learn More
https://www.kidpower.org/learn-more/
Related stories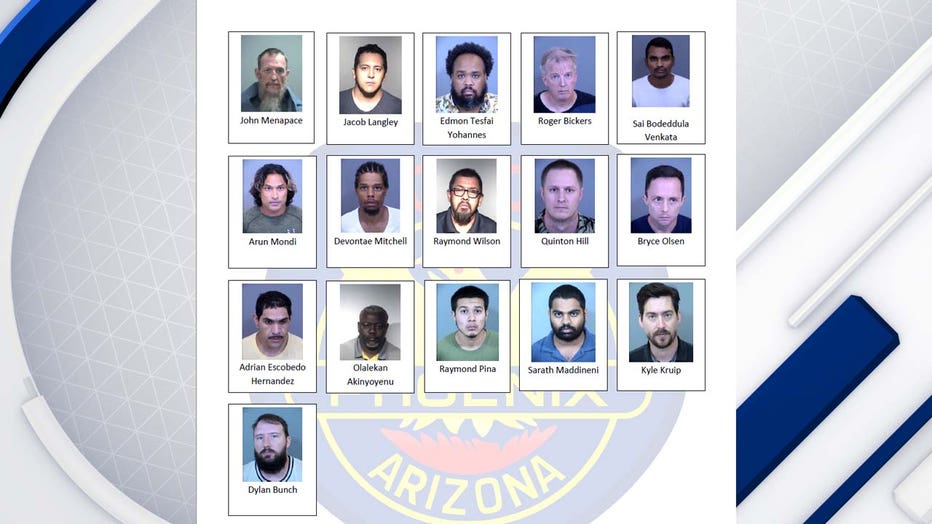 More than a dozen people have been arrested following an undercover operation targeting sex crimes and human trafficking in Arizona. (Phoenix Police Department)