Loop 202 rollover crash in Ahwatukee leaves family of 3 dead, suspect arrested
PHOENIX - A family of three is dead, and others were seriously hurt after a two-car rollover crash on Loop 202 in Ahwatukee on Jan. 1.
"According to witnesses, a 2016 Ford Fusion was traveling at a high rate of speed and in a reckless manner prior to colliding with the rear of a 2003 Chevrolet Suburban," said Bart Graves of the Arizona Department of Public Safety.
The force of the impact caused the Ford to spin, roll and come to rest blocking the lanes near 40th Street. The Chevrolet rolled off the road and down an embankment, ejecting four of the six occupants.
When rescue crews from Phoenix and Chandler arrived at the scene of the crash, a person needed to be extricated from a vehicle, said Phoenix Fire Capt. Todd Keller.
DPS officials confirmed that three people died in the collision and five others were transported to an area hospital with serious life-threatening injuries, including broken bones, lacerations, and brain bleeds.
The driver of the Chevrolet, Juan Carlos Gaspar, 45, and passengers Selma Gaspar, 45, and Carlos Gaspar, 12, died at the scene. They were from the Laveen area.
Graves says the driver of the Ford, 23-year-old Ariyan Guy, "was investigated for DUI, arrested and booked into the 4th Avenue jail on felony charges including three counts of manslaughter, and four counts of aggravated assault."
According to court paperwork, open containers of beer and whiskey were found in Guy's vehicle. "The defendant admitted to consuming the alcoholic beverages while driving."
He's accused of three counts of manslaughter and four counts of aggravated assault.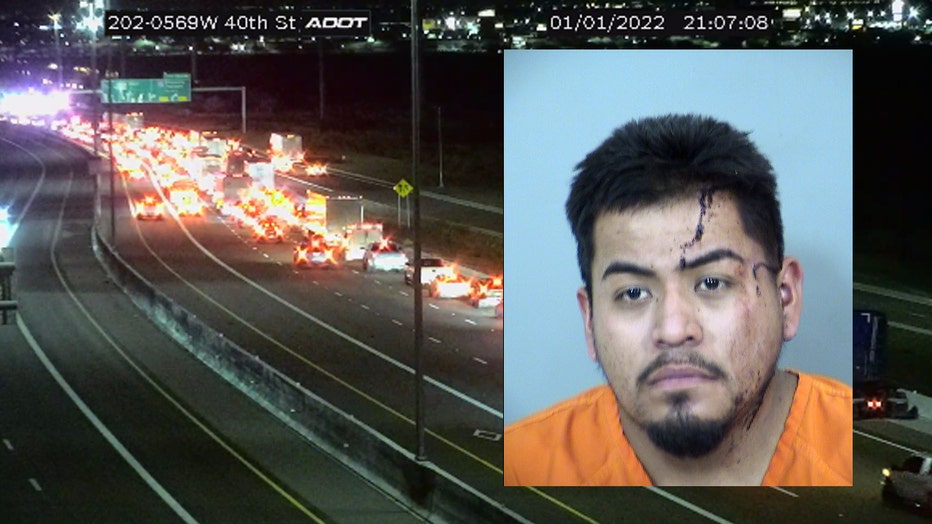 Ariyan Guy booking photo and the traffic scene from Jan. 1, 2022 on Loop 202 and 40th Street (DPS/ADOT)
Family killed in crash; loved ones of victims react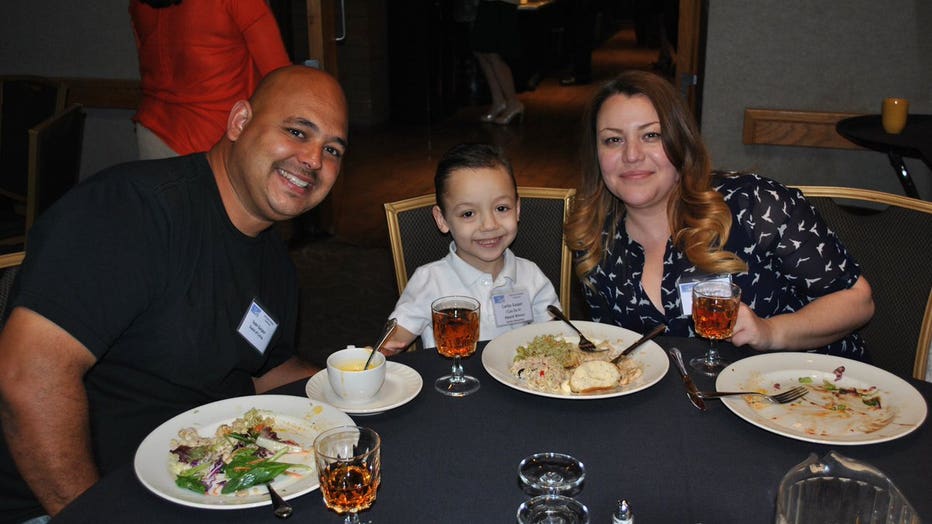 Photo taken in 2016 from left to right: Juan Carlos Gaspar, 45, Selma Gaspar, 45, and Carlos Gaspar, 12. Photo courtesy of the Laveen Elementary School District
Photos from 2016 provided by the Laveen Elementary School District gives a glimpse into a tight-knit family.
Juan worked as the general manager of the roofing division for TIP Maintenance Building Services & Roofing Inc. His boss, Robert Stinger, remembers how much he loved his son Carlos, lovingly nicknamed "Carlito."
"He just always loved that little guy and his mom and he would call me, 'I have to take him to school, Robert. I'm going to be late,' always and I said, 'Juan, your first priority in this is to take care of that boy, you have to take care of that boy.'"
Stinger says he just saw Carlito last week before the holiday. "It's the hurt, it's why, why, why, why does this happen? This is just … you just hug 'em and hold 'em."
The Laveen Elementary School District says Carlito was awarded the "I Can Do It Award" by the Arizona Council for Exceptional Children, recognizing students with disabilities who excel in academics.
Carlito went to Paseo Pointe Elementary Schoool and the district is providing counselors during this time of grief.
For Luz Salcido, her big brother Juan, was a rock. "You could count on him for everything," she said.
Luz describes Selma, saying, "She's such a beautiful person. So smart, hardworking woman. That woman worked."
Together, Juan and Selma worked hard to care for Carlito, who was growing up with dwarfism. He was a smart and funny kid, adored by family.
"This guy came out with zero injuries, like a few scratches. And my brother didn't, my sister-in-law, my nephew. Why them?" Salcido said.
What she will miss most about her big brother, she says, "Him telling me 'I love you, sister.' I'm not gonna hear that no more."
Loved one says a long road to recovery lies ahead for survivors
As for three of the survivors, 49-year-old Dulce Martinez, 31-year-old Ana Martinez, and 23-year-old Regina Martinez, they remain at the Chandler Regional Medical Center. 
According to family members. Ana has several broken bones in her legs, and will need multiple surgeries. Regina suffered back injured, and is out of the ICU. Dulce, meanwhile, suffered a damaged spinal cord, and is paralyzed from the neck down.
Still, Dulce remains positive.
"She says I will have to adapt, and we will all have to adapt to this," said family member Ebed Martinez.
Continuing Coverage:
Related Stories:
Tune in to FOX 10 Phoenix for the latest news: