A Very Cory Christmas for 2021
'Tis the season to grab the family and cruise around neighborhoods to check out holiday light displays across the Valley.
Big or small, Phoenix-area residents celebrate the festive season with plenty of options aside from your typical Christmas lights, like inflatables, projectors or even syncing up music with the display.
Every week, FOX 10 will be featuring decked-out houses and their Christmas-loving owners throughout the season, and the list will appear on this page.
We'll be updating our list of top Christmas light displays as we feature more homes on our broadcast. If you'd like to get your house or a house of someone you know featured on FOX 10 Arizona Morning, click on https://ksaz.fox/verycorychristmas to send photos of the decorations.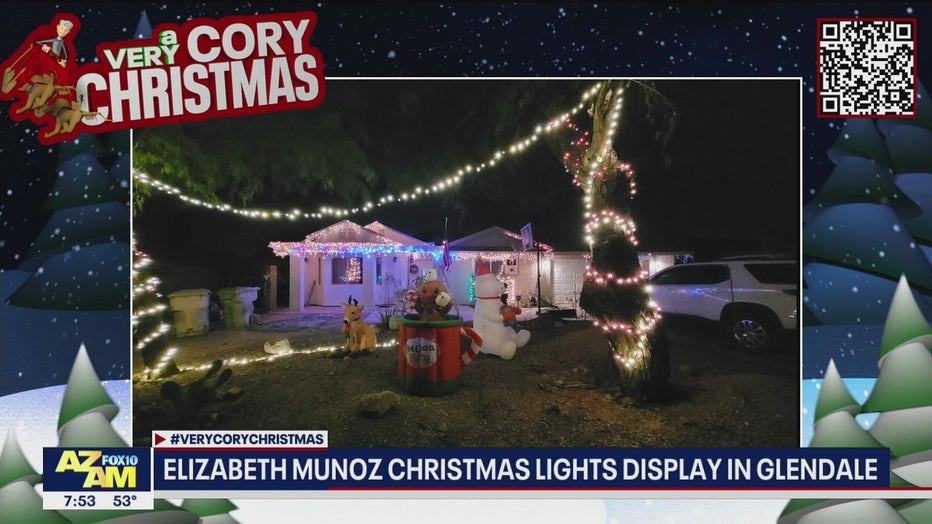 Elizabeth Munoz's Christmas lights in Glendale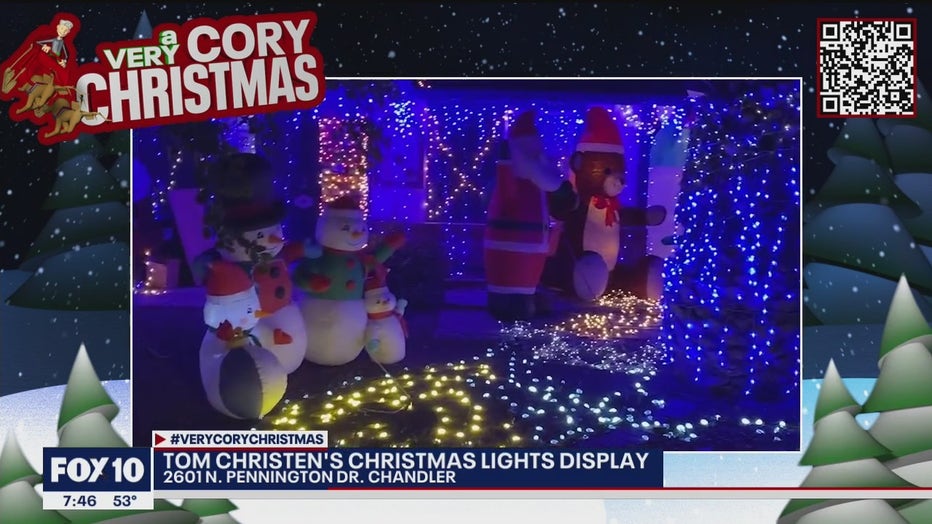 Tom Christen's Christmas lights display at 2601 N. Pennington Dr., Chandler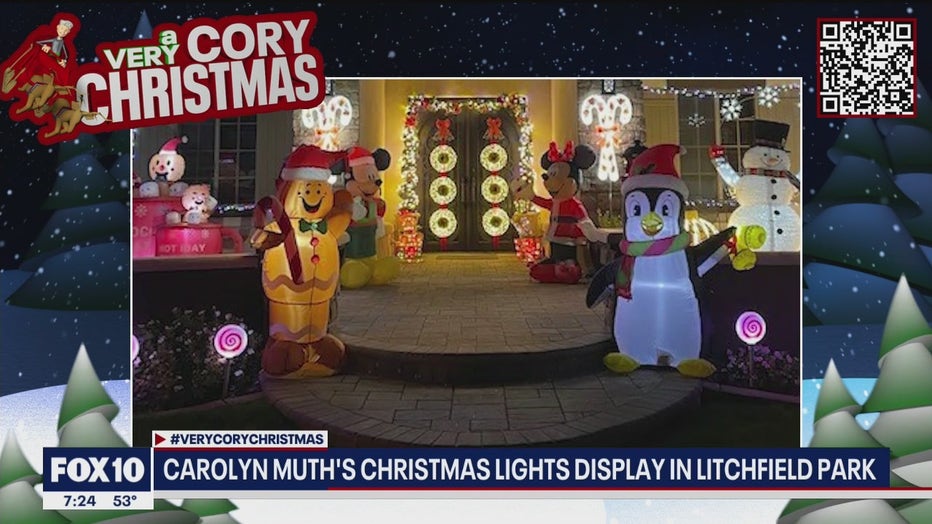 Carolyn Muth's Christmas lights display in Litchfield Park.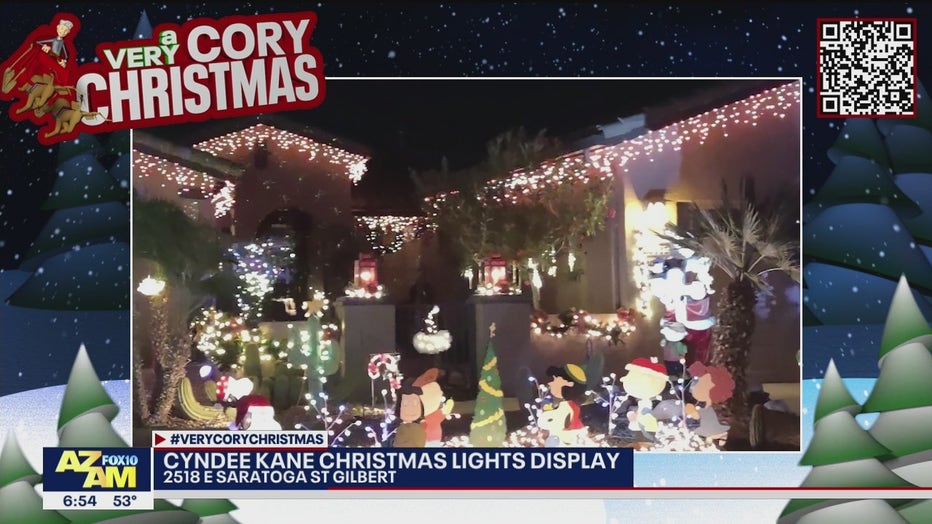 Cyndee Kane's Christmas lights display at 2518 E Saratoga St. in Gilbert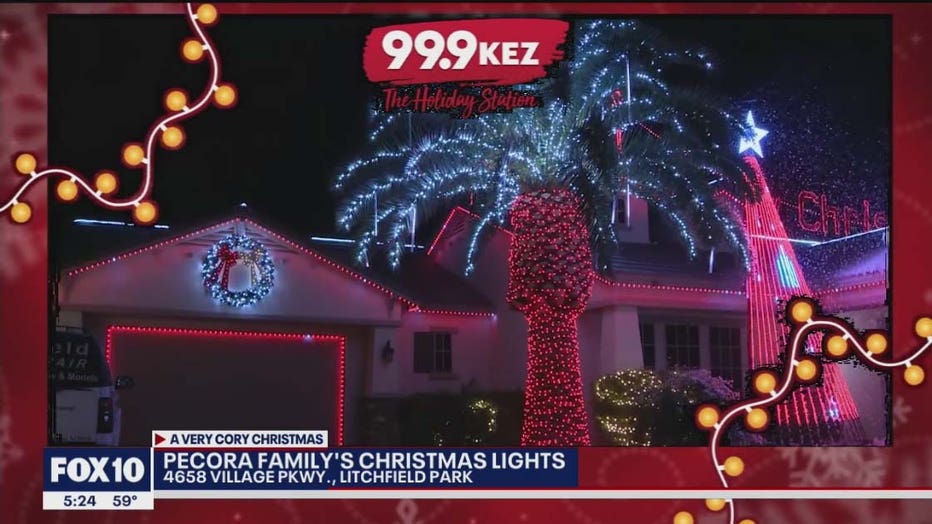 Pecora family Christmas lights, located at 4658 Village Pkwy., Litchfield Park, AZ 85340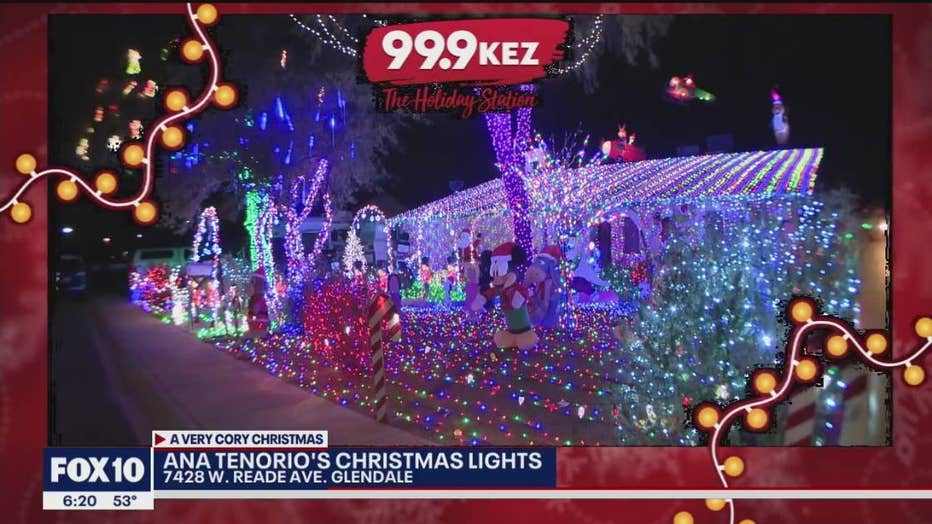 Ana Tenorio's Christmas lights, located at 7428 W. Reade Ave., Glendale, AZ 85303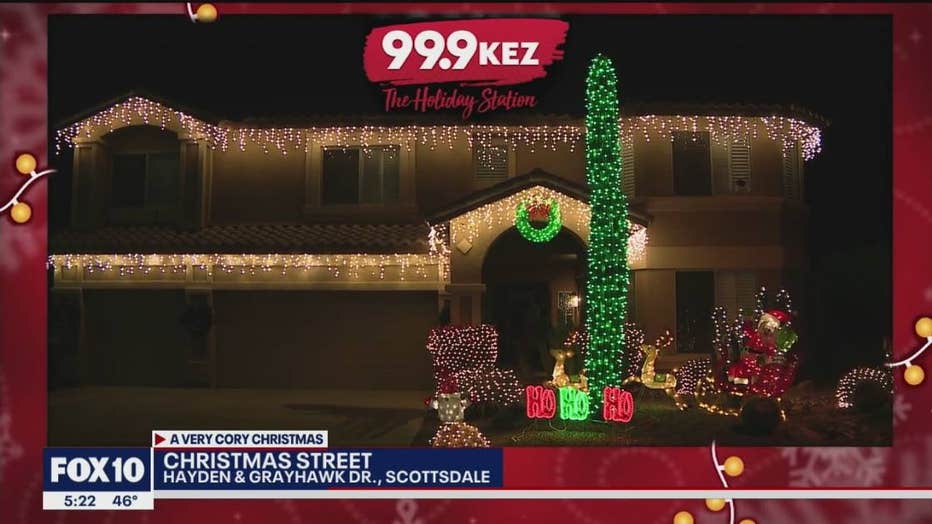 "Christmas Street," located in the Montevina neighborhood at Grayhawk Drive and Hayden Road in Scottsdale.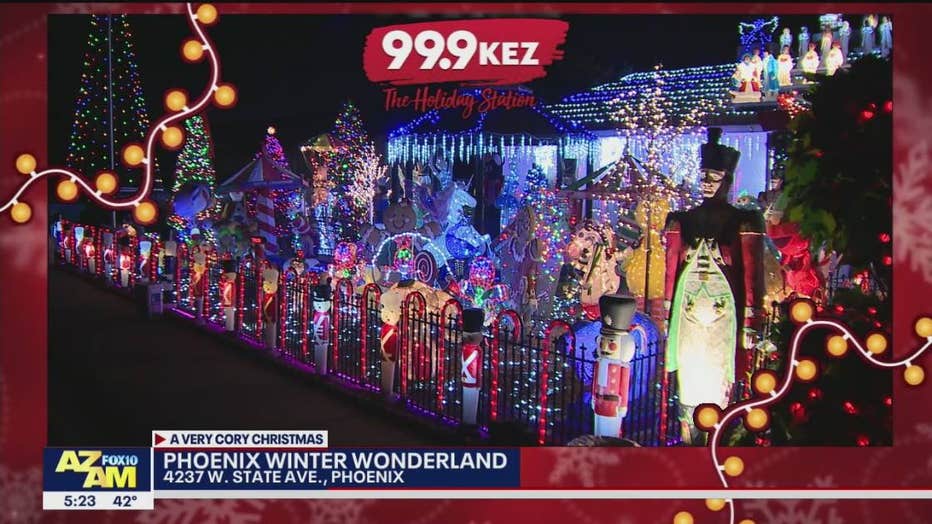 Phoenix Winter Wonderland Christmas lights, located at 4237 W. State Ave., Phoenix, AZ 85051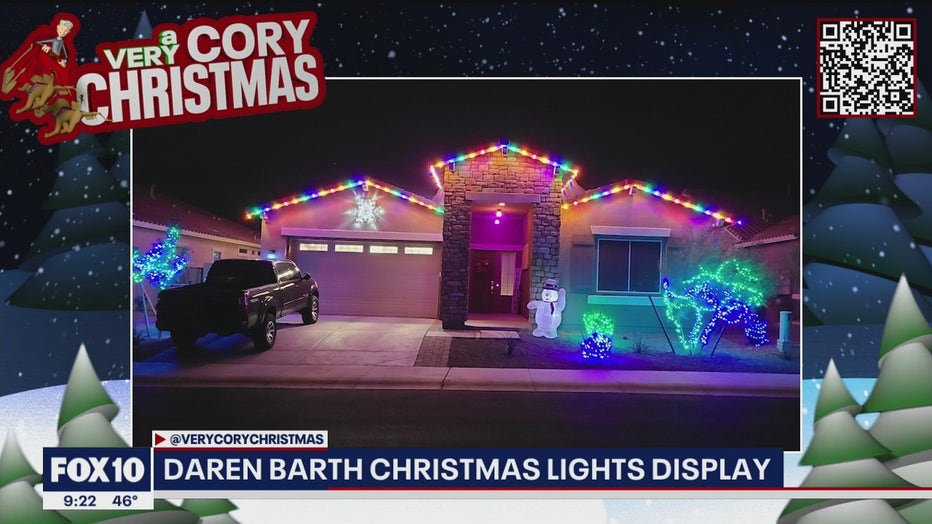 Daren Barth's Christmas lights in Goodyear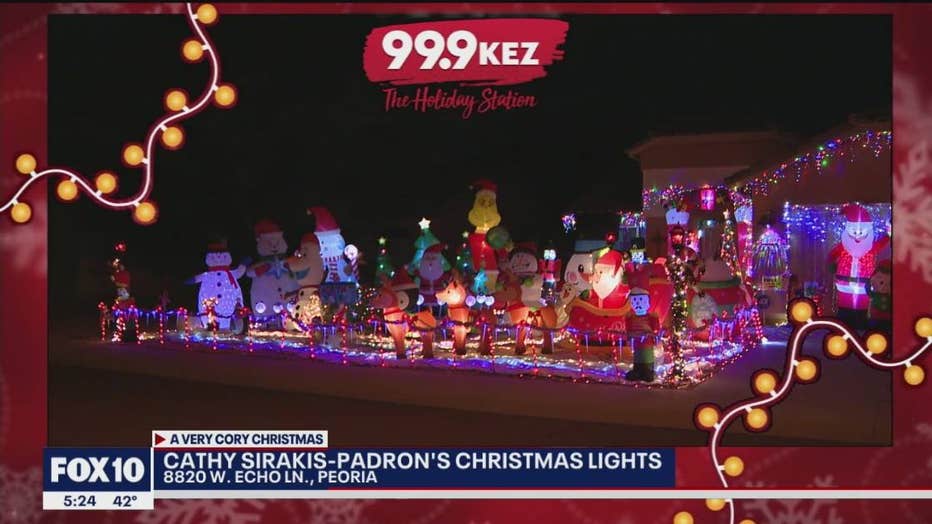 Cathy Sirakis-Padron's Christmas lights located at 8820 W. Echo Ln., Peoria, AZ 85345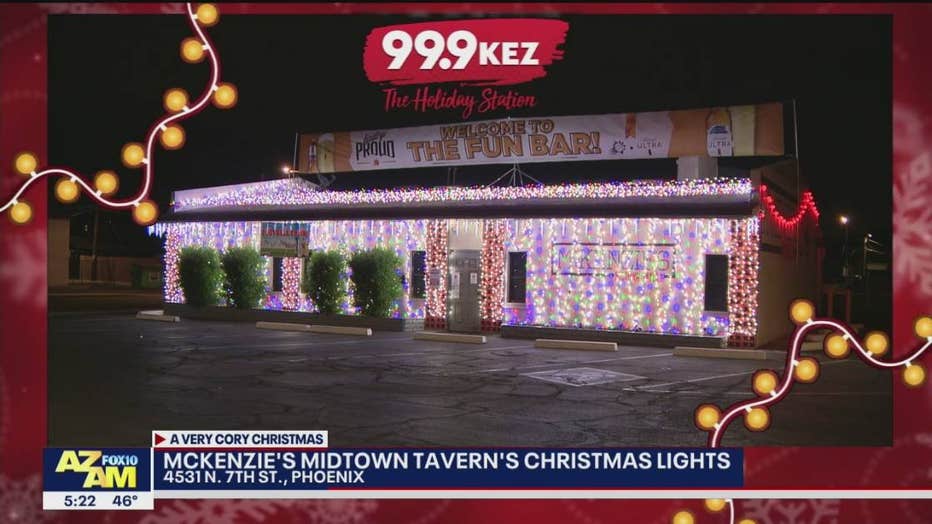 Christmas lights at McKenzie's Midtown Tavern, located at 4531 N. 7th St., Phoenix, AZ 85014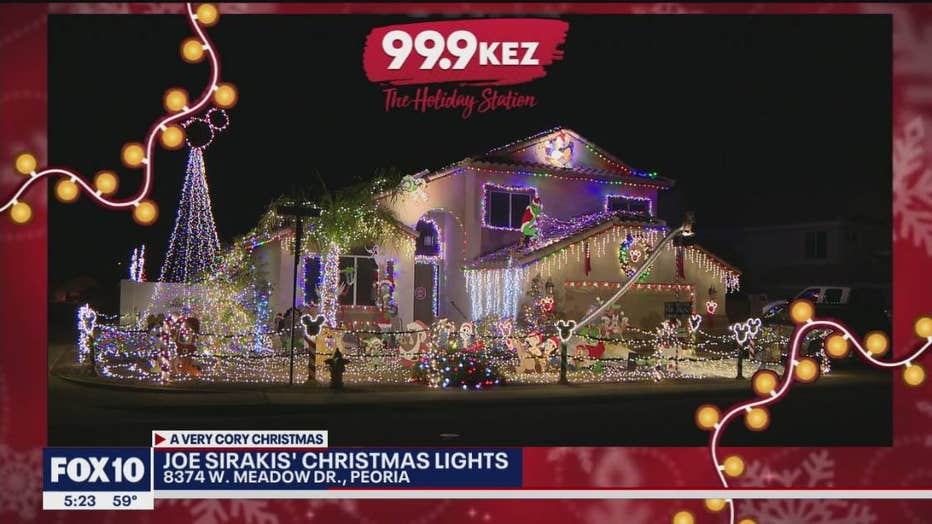 Joe Sirakis' Christmas lights located at 8374 W. Meadow Dr., Peoria, AZ 85382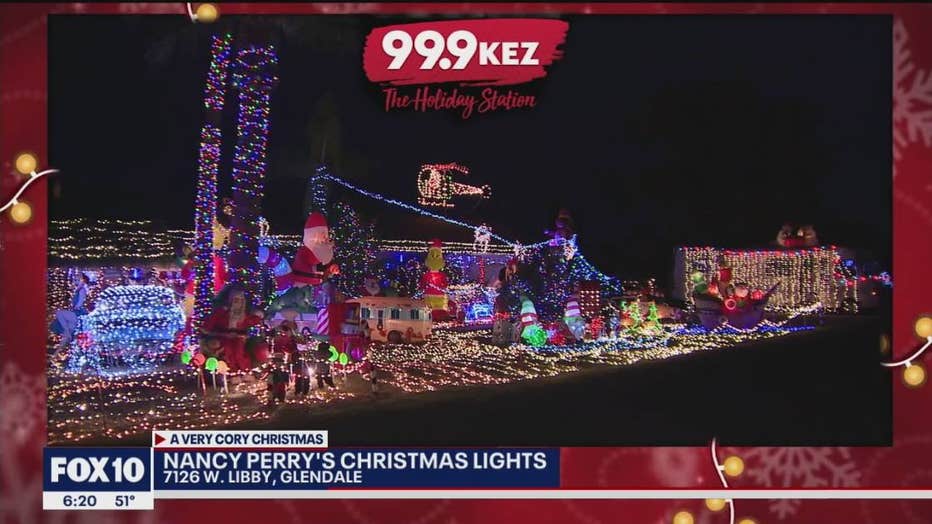 Nancy Perry's Christmas Lights located at 7126 W. Libby, Glendale, AZ 85308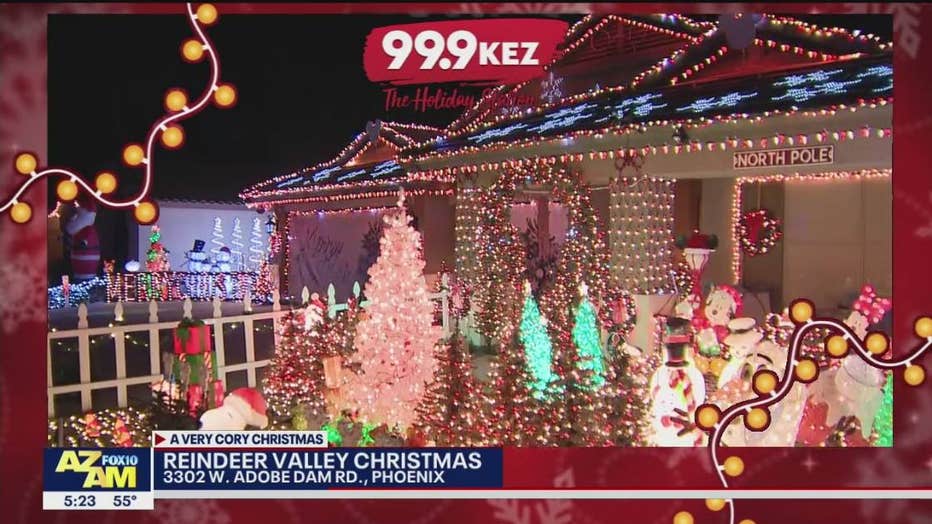 ReinDeer Valley Christmas located at 3302 W. Adobe Dam Road, Phoenix, AZ 85027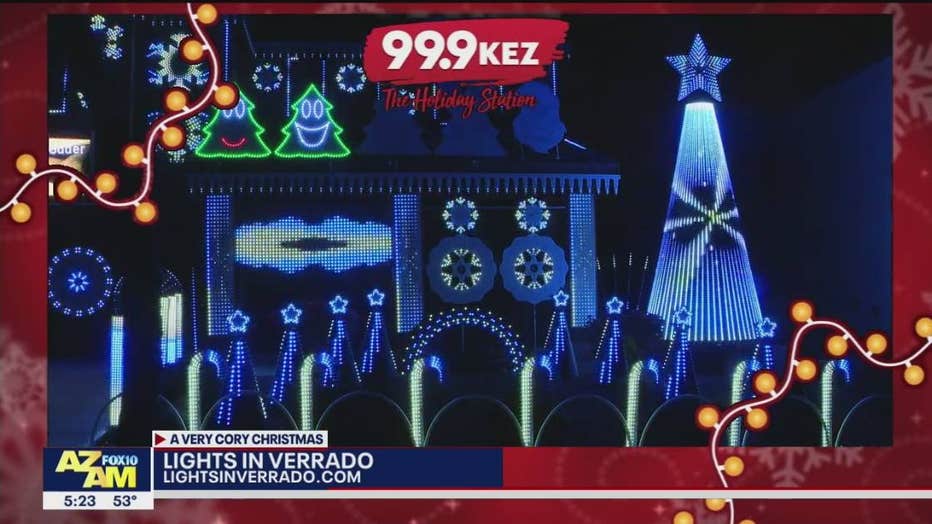 Christmas lights in Verrado. More information at www.lightsinverrado.com.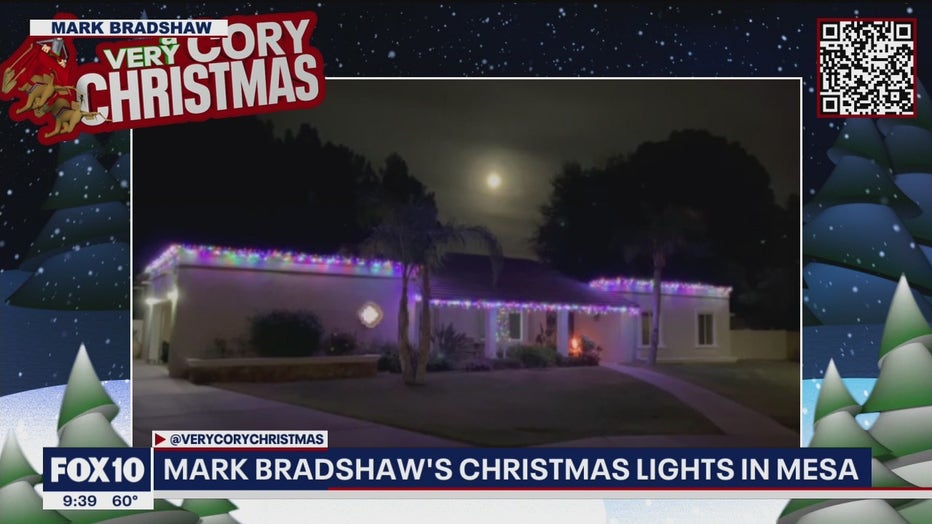 Mark Bradshaw's Christmas lights in Mesa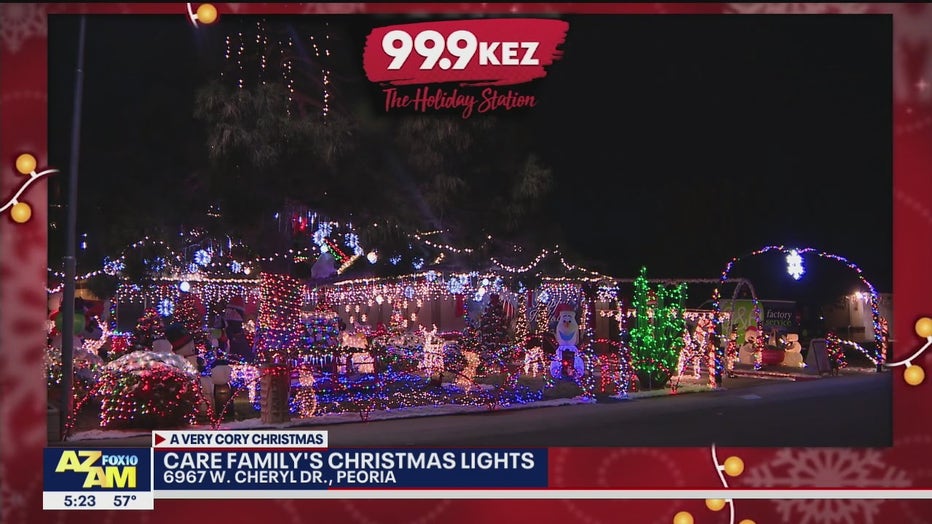 Care family's Christmas lights at 6967 W. Cheryl Dr. in Peoria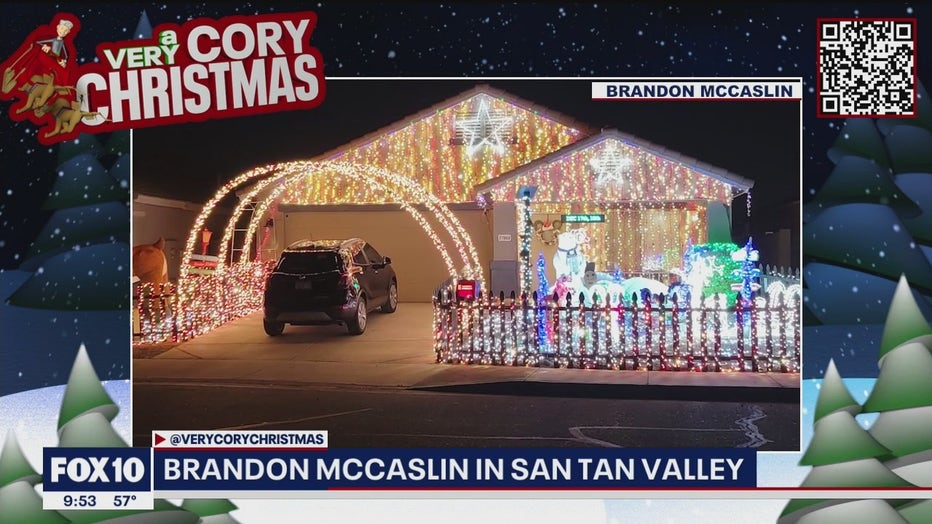 Brandon McCaslin's home in San Tan Valley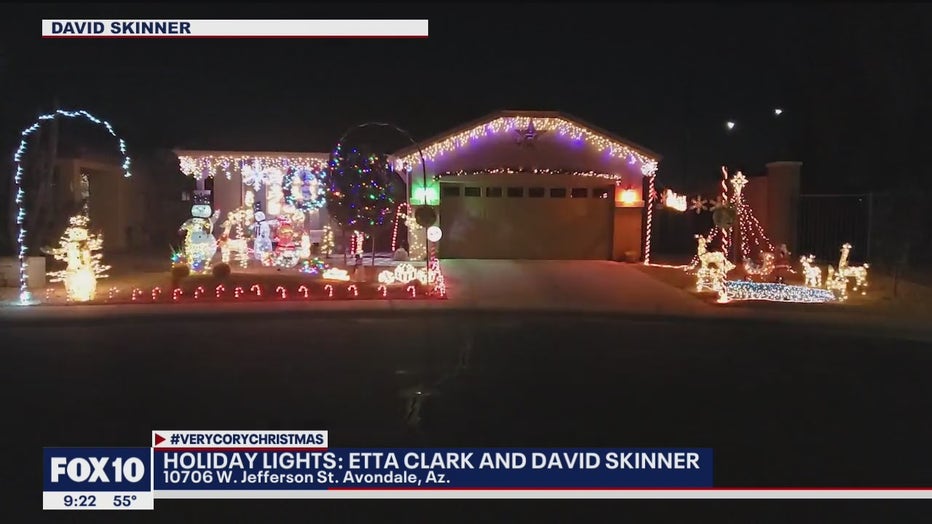 Etta Clark and David Skinner's Christmas lights at 10706 W. Jefferson St. in Avondale.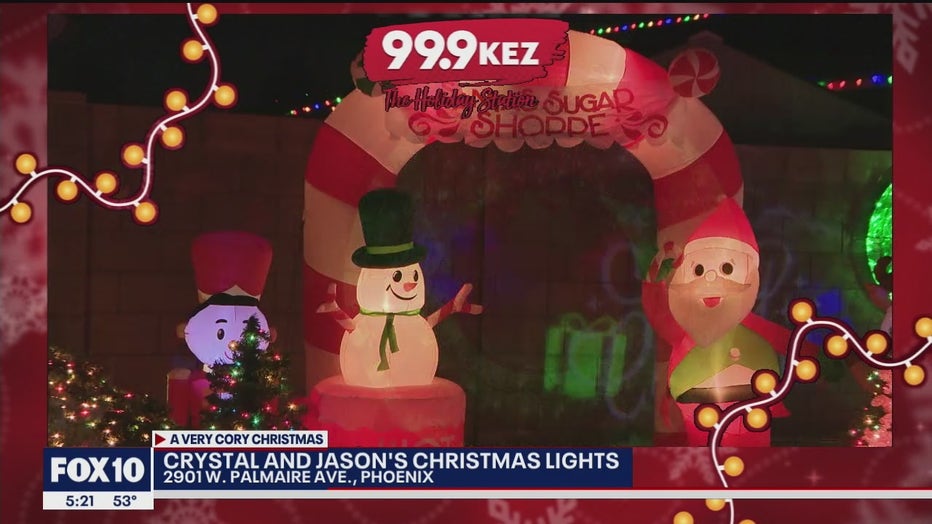 Crystal and Jason's Christmas lights at 2901 W. Palmaire Ave. in Phoenix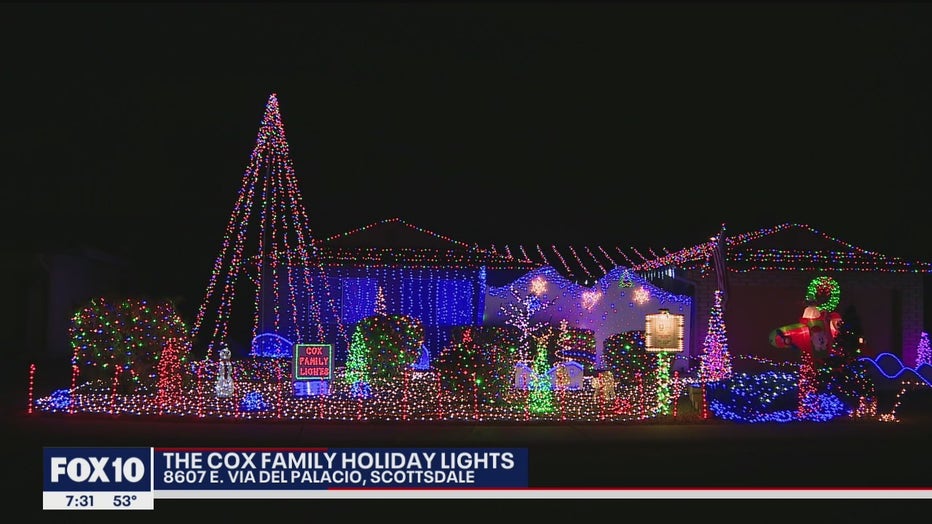 Cox family holiday lights at 8607 E. Via del Palacio, Scottsdale, AZ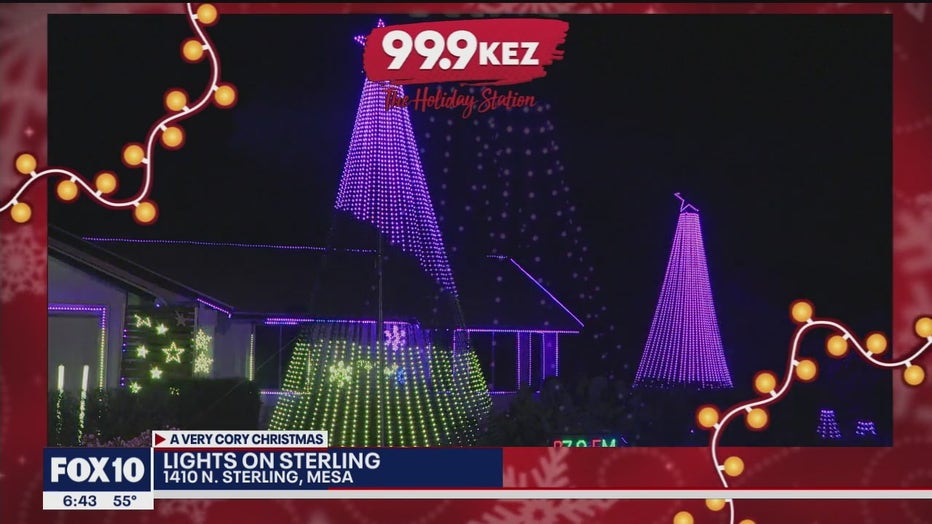 Christmas lights at 1410 N. Sterling, Mesa, AZ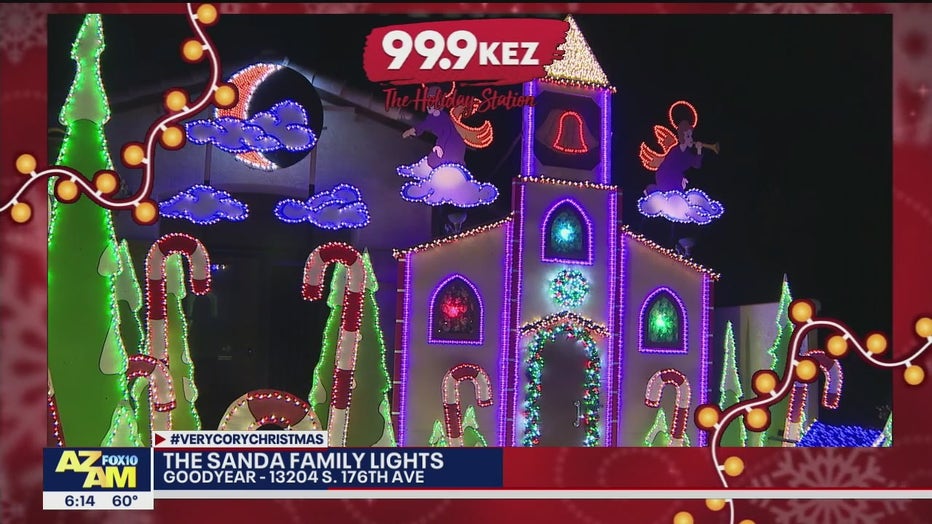 Sanda family Christmas lights, located at 13204 S 176th Ave., Goodyear, AZ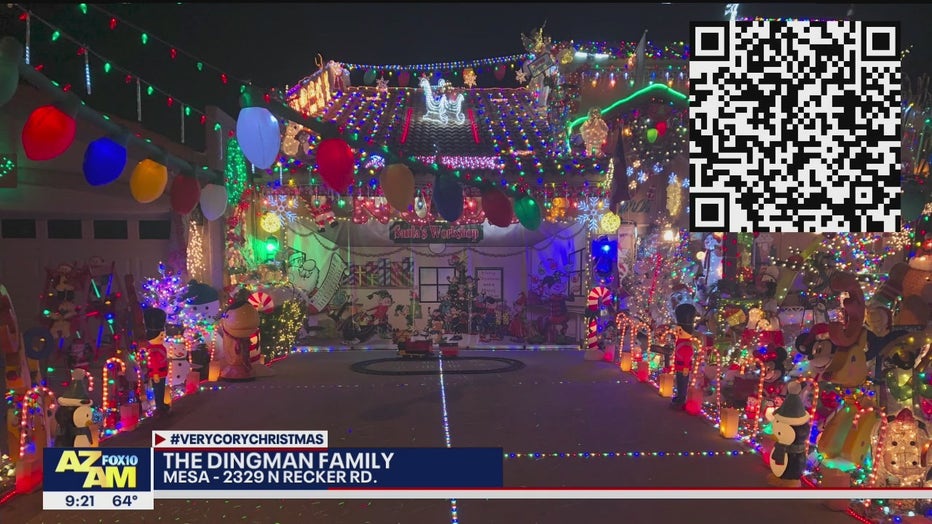 Dingman family Christmas lights, located at 2329 N Recker Rd., Mesa, AZ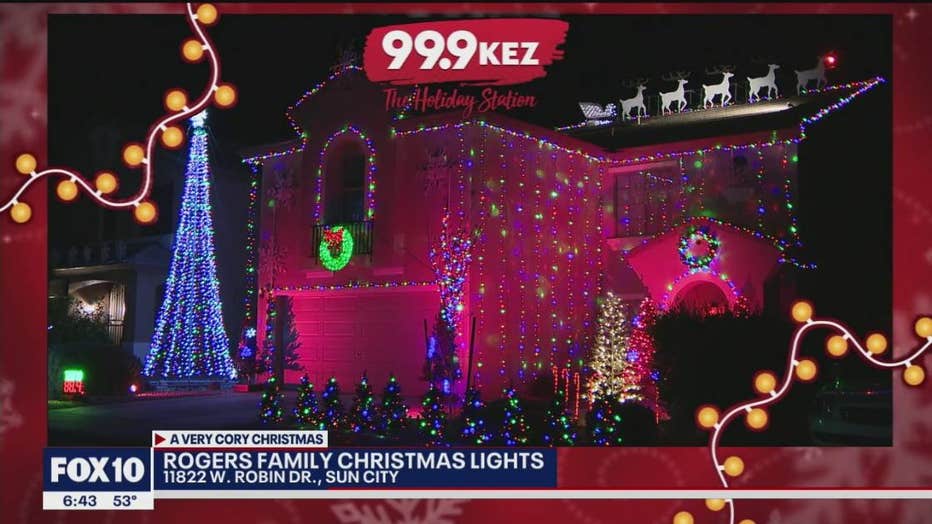 Rogers family Christmas lights, located at 11822 W. Robin Dr., Sun City, AZ 85373.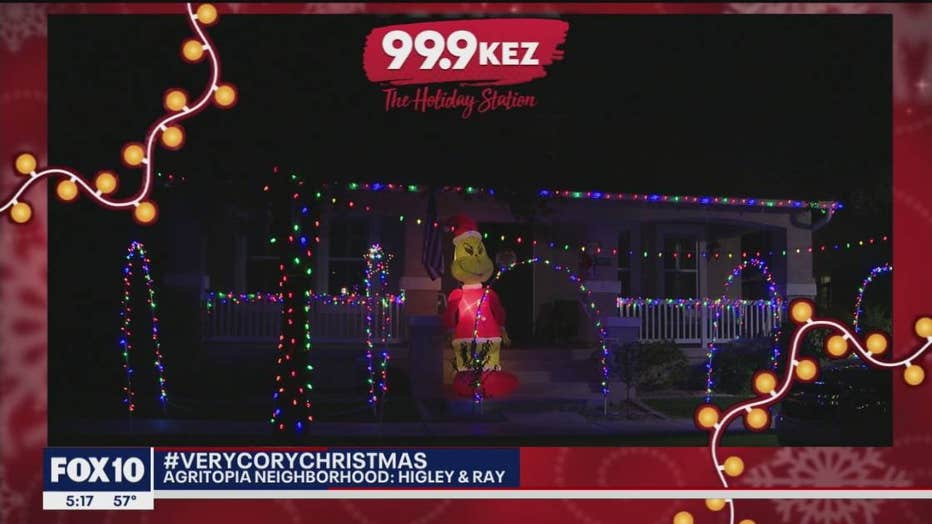 Christmas lights at the Agritopia neighborhood in Gilbert, located near Ray and Higley Roads.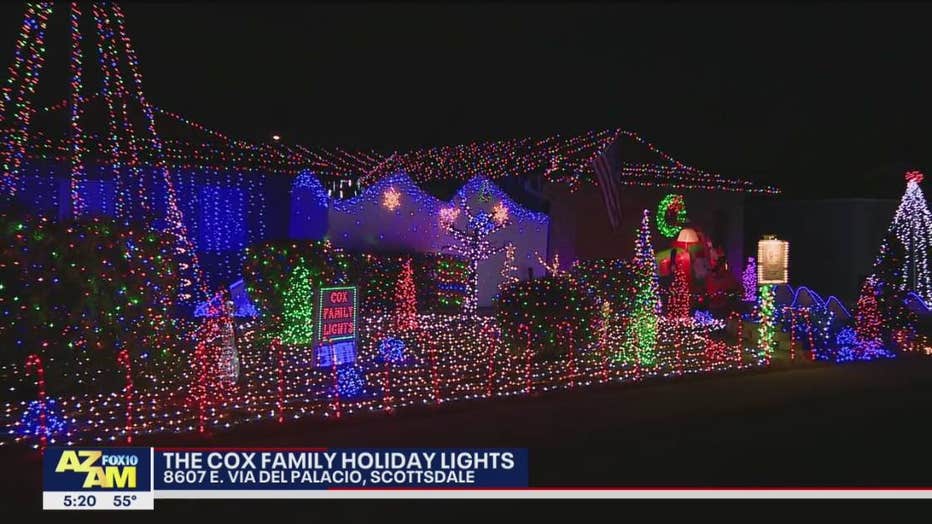 Christmas lights located at 8607 E. Via Del Palacio, Scottsdale, AZ 85258