Apache Junction flooding causes water rescue calls, road closures, property damage
APACHE JUNCTION, Ariz. - Heavy monsoon rains in Apache Junction caused numerous road closures, as well as a number of water rescues Thursday afternoon.
A Flash Flood Warning was in effect for the area until 5:45 p.m. on Thursday, according to the National Weather Service.
More than a dozen major roads had been shut down due to the flooding, but most of them were reopened Friday morning.
"Our officers just had to rescue a lady from this car swept down the wash," the Apache Junction Police Department tweeted on July 28.
"It was going off left and right," said Sgt. Wes Kelly with Apache Junction Police. "When one of my units would say, 'hey, I'm out with somebody, I'm getting them out of danger,' we were going to the next one."
Trenton Gonwa said her grandmother was driving when her car got swept away.
"She called me and was just like she's stuck in a wash," said Gonwa. "And then, she hung up real quick."
By the time Gonwa got to the scene, his grandmother was already being loaded into the ambulance.
"She was just freaking out because she lost her dog," said Gonwa.
Gonwa and others spent hours looking for their grandmother's puppy, Claire. The puppy has yet to be found.
In the rescue involving Gonwa's grandmother, crews were dealing with 6-foot-high water.
Officials are urging drivers to avoid driving into bodies of water.
Cleanup from severe flooding continues Friday
Not even 24 hours ago, these roads were rivers. Today, they're mud.
Apache Junction Police say they were getting rescue calls all day as people tried to travel through the flooded waters.
"The creek started filling up, eventually it reached the fence line," Steve Weaber said. "The whole property, the arena, the cattle pen-- about 2 feet underwater."
Weaber says his ranch on Wickiup Road lost about 400 feet of the fence line. Thankfully, none of his animals were hurt.
"Me and my buddy had to wade in there about thigh deep, wade in there to get the cattle out," he said.
Down the road, Lisa Rowan boards her horse named "Phoenix." She says the water rushed into their pens – it was flooding like she's never seen before.
"The water was maybe about 3 feet high, maybe more, and just rolled in like it was a river," she said.
The water was so strong, that sandbags weighing about 100 pounds each drifted several yards away.
While she has plenty of cleanup work ahead of her, Rowan says the main thing is they're all safe.
"The horses stayed safe, they got a little wet, but they're safe, and the humans are safe, and that's what matters," she said. 
Woman rescued after being swept away by floodwaters
Police have released body-cam video showing the dramatic rescue of a woman who was swept away in her car during storms in Apache Junction.
Sue Teders was out delivering food with her puppy, Claire, but her car got stuck in the mud.
A man stopped to help at first, but then water from another direction swept her away until her car got pinned against a guard rail.
Police officers were able to pull Teders to safety, but her main concern was what happened to Claire.
"I don't remember not having her in my hand and what happened when she wasn't in my hand," she said. "The only thing I do know is one time when we hit this major tree, I think it scared her, and she hopped out of my hands."
Family members have been looking for the 3-month-old Shih Tzu-Yorkie mix ever since, but so far, they have not found her.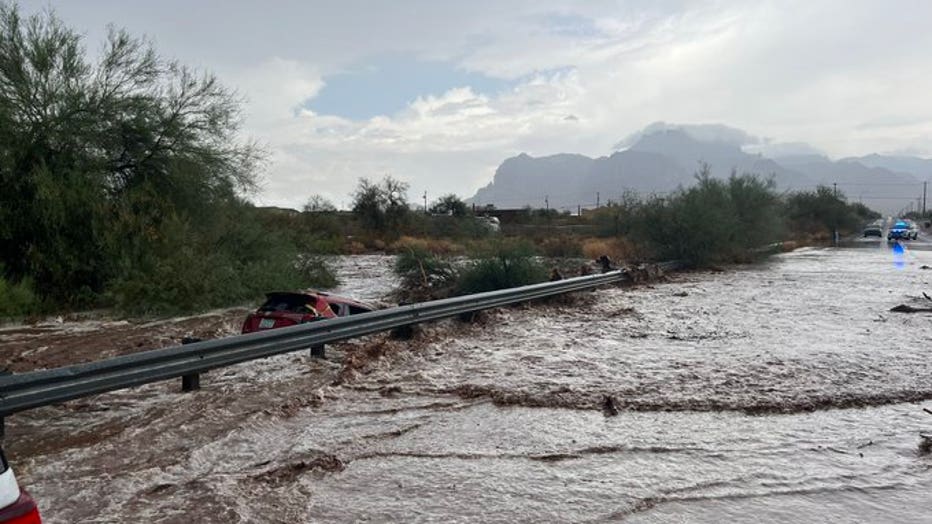 Heavy monsoon rains in Apache Junction have caused numerous road closures and at least one water rescue Thursday afternoon. (Credit: Apache Junction Police Department)
Updates
Satellite and radar image
Tune in to FOX 10 Phoenix for the latest news:
Rain/flood safety tips
The American Red Cross' tips for heavy rain situations and flood safety:
Turn around don't drown! If you must drive and you encounter a flooded roadway, turn around and go another way.
If you are caught on a flooded road and waters are rising rapidly around you, get out of the car quickly and move to higher ground.
Tune in to your local radio, NOAA radio, or news channels for the latest updates.
If your neighborhood is prone to flooding, be prepared to evacuate quickly.
Follow evacuation orders and do not attempt to return until officials say it is safe.
If power lines are down, do not step in puddles or standing water.
If power is out, use a flashlight. Do not use any open flame as alternate lighting.