Arizona family meets 911 dispatcher who helped them deliver baby on the side of a road
PHOENIX - It is very rare to have a baby on the side of the road, but that was exactly how one Arizona child was born on, and on May 26, the child's parents met the dispatcher behind the 911 call that helped them in that moment of need.
"Help! I'm having a baby on the side of the road!" a person was heard saying on that fateful 911 call.
Nicole Emery, at the time, was a Mesa mother of two. She was four days overdue when she started having contractions. She and her husband, Daniel, quickly got in the truck and headed to the hospital.
"We started counting the contractions, and then by the second one, we were just getting onto the 202 and she was just like, 'he's coming. Call 911 and pull over to the side of the road because he's coming. He's here.'" Daniel recounted.
Daniel jumped into action once he pulled over onto the the side of the road, with help from the 911 dispatcher, Jaden Valentine.
"It's definitely a surreal feeling. It's crazy to see that just me answering a phone call resulted in bringing a human life into this world," said Valentine.
Valentine gave Daniel step-by-step instructions on how to deliver his baby before paramedics could get there.
"Do you see anything coming out? So right now, I need you to be there when the baby comes out," Valentine was heard saying.
Adrenaline was rushing through Daniel's mind, but he followed Valentine's advice, and remained calm.
"He was like, 'what do you see?' And I was like, 'I don't know what I see, you know. I don't know what this is,'" Daniel recounted.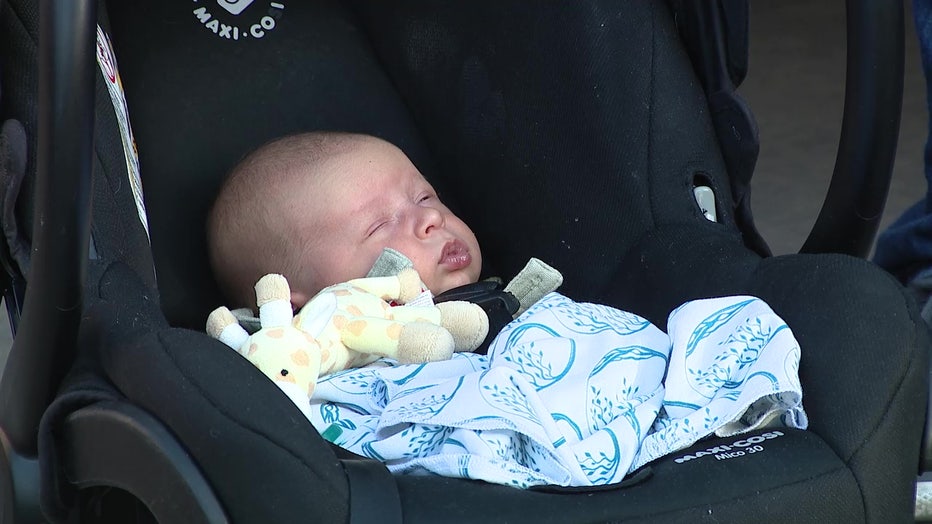 At the end, Cooper Emery was born. He was born on May 6, and weighed seven pounds, 14 ounces.
Paramedics were able to arrive a minute after Cooper was born and took over, and this is a story the Emery Family will never forget.