Arizona missing persons case leads to discovery of wounded man, 2 bodies: Questions remain
UPDATE: In a news conference held on Aug. 16, 2023, Maricopa County Sheriff Paul Penzone announced that Chad Holvig's body, along with another person's body, was found inside a home while Maricopa County Sheriff's Deputies were serving a search warrant near Goodyear. For details on this latest development to Holvig's disappearance, click here.
Below is the original story on Holvig's disappearance. 
––––––––––––––––––––––––––––––––––––––––––––––––––––
PHOENIX – An Arizona father and son disappeared back in July - now, one of them has been found with gunshot wounds, another is still missing, and two more bodies have been discovered during the investigation.
The Maricopa County Sheriff's Office says Chad Holvig, 51, was last seen leaving his home in Tonopah to visit his son, Dalton, in Goodyear.
The 51-year-old had not been heard from since July 6, and deputies launched an investigation into his disappearance on July 11.
Dalton Holvig, 25, was also reported missing that same month. He had been last seen on July 10 at his home near Citrus Road and Roosevelt in Goodyear.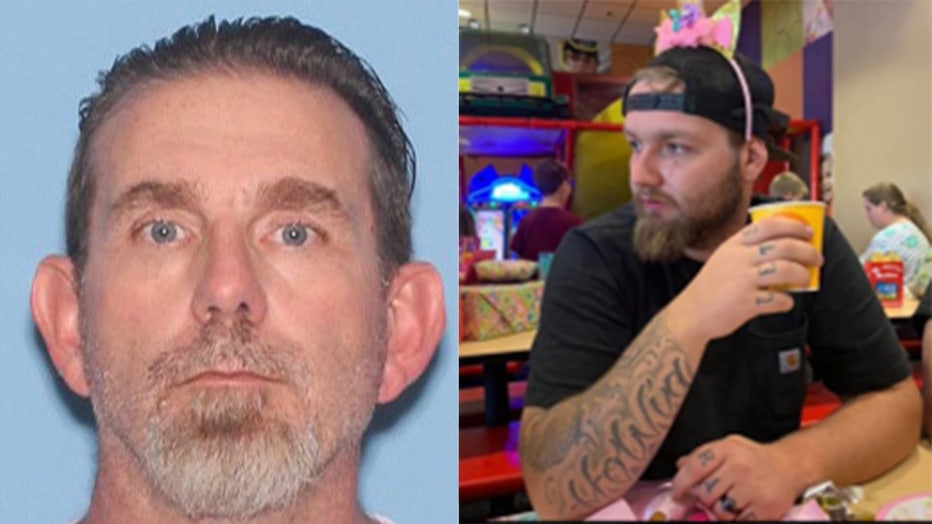 Chad Holvig (left) and Dalton Holvig (right) (Maricopa County Sheriff's Office)
Now, a month later, deputies provided an update to the case that leaves many questions unanswered.
Detectives served a search warrant on a home near 181st Drive and Latham Street and found Dalton, who was shot multiple times, according to MCSO Sgt. Joaquin Enriquez. He is still alive, but it's unclear how serious his injuries are.
Authorities found two other bodies on the property during the search. They were not identified.
Two people living at the residence were arrested, but on suspicion of charges unrelated to the human remains that were found, Enriquez said.
Chad Holvig is still missing. It's not known when the search warrant was executed, what led detectives to that home, or what events led up to these discoveries.
"Multiple weapons and other potential evidence was recovered from the property and the investigation is in an aggressive and fluid state," said Enriquez. "Further details will be released at the appropriate stage of the investigation."