Arizona storm brings rain, wind, snow and dangerous driving conditions
PHOENIX - A storm dropped about a foot of snow in parts of Arizona's high country Wednesday, hampering travel and closing schools in some areas.
The National Weather Service issued a winter storm warning until 11 p.m. Wednesday for an area stretching from Flagstaff to Show Low and including the Mogollon Rim, the Kaibab Plateau and the White Mountains.
High country
The Arizona Department of Transportation (ADOT) warned drivers to reconsider traveling up north, but if you can't postpone your trip, bring a winter driving kit. Items in the kit include, ADOT says, "packing plenty of warm clothes and an emergency kit that includes things like a fully charged cell phone, blankets, food and water, medications you need and even kitty litter or sand in case you get stuck in the snow."
Arizona Department of Public Safety officials said there were some slide-offs on Interstate 40 involving tractor-trailers but no serious injury collisions were reported.
Expected maximum snow accumulations into Thursday in higher elevations ranged up to 14 inches (35.5 centimeters). On Wednesday afternoon, Arizona Snowbowl says it got more than a foot of snow in the last 24 hours.
NWS out of Flagstaff says it estimates Sunset Park will see just over an inch of snow, Flagstaff will see about 8 to 12 inches and Kachina Village will possibly see the most with 12 to 18 inches.
Several inches of snow covered Grand Canyon National Park. Snow-packed roads and trails as early as 7 a.m. Wednesday, and park rangers say roads are icy. 
Sedona could get 2 to 4 inches, and firefighters there say rescues can be pretty difficult during a storm. They've added snow chains to their fire trucks and ambulances in preparation.
"We get a lot of vehicles that drift off the road. Especially in Oak Creek Canyon, the first thing people want to do is get out of their vehicles which causes, you know, issues in itself …" said Jordan Bake, Battalion Chief for the Sedona Fire District.
He adds, "Try to recommend that individuals stay off the roadways. Giving you know as much notice as possible that this storm is coming in. Avoid some of those unnecessary slide-offs but if you do find yourself in that situation, we ask obviously you have a fully charged cell phone to get ahold of somebody for assistance, make sure you have some warm blankets, some water in case we're unable to get to you and stay in your vehicle."
Flagstaff (Credit: Calvin Johnson)
There will be dangerous winter road conditions over the next few days along I-17, I-40, and highways 87 and 191. ADOT says they have 200 snowplows across the state, 150 of them are in northern Arizona – about 65 to 70 are in Flagstaff alone.
"The safest option is to let the storm pass and give our snowplow operators a chance to clear the highways clear the roads," says Ryan Harding with ADOT. The storm is predicted to last into Thursday, but the worst time to travel was Tuesday night into Wednesday morning.
"Not only can conditions change very rapidly, which can be dangerous when you're traveling, but it also less cars on the roads or vehicles gives our plow drivers just a chance to clear the roads more quickly and more efficiently when there's not a bunch of traffic built up on the highway," Harding added.
Business delays:
"All City of Flagstaff non-essential services will operate on a two-hour delayed start tomorrow morning, Feb. 24, due to inclement weather and poor road conditions," the city said.
School cancellations, delays: 
Northern Arizona University closed its campus at 3:45 p.m. on Wednesday and will have a delayed start on Thursday. The campus, along with its offices, will open at 10 a.m. and any classes that begin before that time are canceled.
For Flagstaff Unified schools, the district said, "All schools of the Flagstaff Unified School District are on a two-hour delayed start tomorrow morning, Thursday, Feb. 24, due to current weather conditions. The delayed start means that all schools will begin two hours after their normal start time and release according to the regular full-day dismissal time."
Morning buses will run two hours later than normal. "Parents and guardians in Kachina Village, Mountainaire, and Munds Park should bring their children to the alternate winter weather bus stop," the district added.
Alternate bus stops:
Kachina Village: Bus loop at Raymond County Park on Tovar Trail

Mountainaire: The Mountainaire Country Store located at 106 Mountainaire Road

Munds Park: The Munds Park Outpost (Post office) located at 50 Pinewood Boulevard
The Blue Ridge School Districts says all schools and offices will be closed Thursday.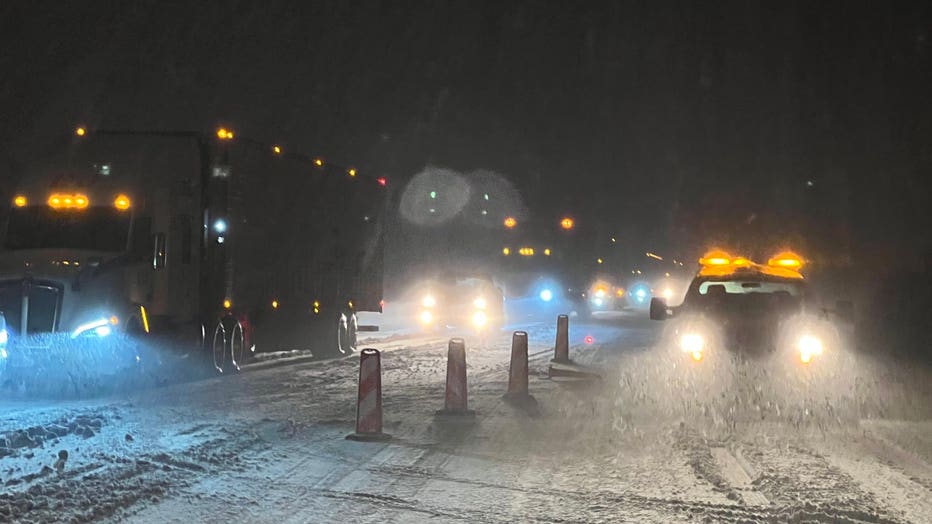 Snowplows trying to clear I-10 near Ash Fork
Phoenix area
In the Phoenix area, the National Weather Service (NWS) says after a rainy Wednesday, a round of light showers will continue into the Phoenix metro area, but to expect little to no rain.
Parts of north Scottsdale saw snowfall Wednesday morning. Troon North Golf Club was blanketed in fresh snow, putting a damper on golfers who came to Arizona to play in the sun and warm weather.
A little further north in Carefree, it snowed enough to form a thin layer on the ground.
"These areas – most are over 2,000 feet many 2,500 feet, so every couple of winters they can get a little bit of snow, including today," says Marvin Percha with NWS Phoenix on Wednesday. The snow flurries didn't stick around for long.
The last time snow was seen in Scottsdale was January 2021. In February 2019, parts of Scottsdale saw a few inches of snow that actually stuck to the ground.
Click here for all FOX 10 weather alerts.
Get the latest weather updates by downloading the FOX 10 Weather app, which is available on Apple iOS and Android.
Road Conditions
Call 511 anywhere in Arizona or 1-888-411-ROAD (7623)
As weather develops, we will continue to update this story. The Associated Press contributed to this report.
Rain totals, so far
Latest weather forecast:
Continuing Coverage:
Related Stories:
Tune in to FOX 10 Phoenix for the latest news: